Vicki Welsh and I have been conspiring about another joint project for 2013.  The emails and drawings have been flying between us for a while and I think we've come up with a wonderful plan.  I'm so excited about it, I can hardly wait to get started.  Of course, I think it's a beautiful quilt.  The name of this project will be "Back to Square One" Mystery Quilt.
Here's a button that anyone participating can add to their blog.  Simply copy the code from the right sidebar and paste it into your sidebar . . however that works for you, depending on the blog software you're using.

Here's the plan . . and it might be a bit confusing when I describe it but just ask questions here and I'll answer them here and we'll get it all straight.
We're going to do a mystery that lasts through the entire year.
The Quilt – It will be a medallion type quilt.  The finished size will be 92″ x 92″.  Don't panic . . you don't have to do the whole quilt!  🙂
The Plan – On the first day of each month, instructions will be given to do a portion of the quilt.  From January – August, there will be choices.  (1)  You may stay on track to make the quilt as described above or, (2) Vicki will be giving alternate ideas for how the blocks can be used.  Things she might share could include placemats, table runners, wall hangings, or whatever smaller project she might come up with.
September through December, we will be adding borders and assembling the top so for those who are not making the entire top, those four months, you can make one or more of the small projects that Vicki will design throughout the year.
The Rules – There will be a link box at the bottom of each new month's post.  In that box, as before, you will place a link to your photo or blog post which shows that you completed the previous step.  From those links, a winner will be drawn and that winner will receive a Stash Pack of their choice from Vicki's Etsy shop.  Please use the comment sections of each month's post to offer questions, suggestions and comments.  Please use the link box for your photo sharing.  I am asking that no Facebook, Flickr or other external groups be formed for this project.
The Fabric – Now the fun begins!  It's a mystery and Vicki and I will guide you to make good fabric choices.  Vicki will be offering kits of her hand dyed fabrics for sale.  These kits will feature fabrics from her new Transcend Palette and they will be offered for a limited time only.  You can read about the kits on her blog in this post.  Vicki will be accepting orders for these kits only through January 10.
Here are the fabric requirements.  Binding fabric is not included in the requirements.  If cutting your strips 2-1/2″ wide,  you will need 11 strips across the width of the fabric, or 27-1/2″ of binding fabric. (or just a tad over 3/4 yard).
Fabric 1 – 3-5/8 yards  (Background)
Fabric 2 – 4 yards (Dark Main, including most borders, as well as outer border.  I'm suggesting you use this for your binding too.)
Fabric 3 – 2 yards (Medium Main)
Fabric 4 – 1-5/8 yards (Medium/Dark fabric that is completely different from Main fabric but works nicely with your Dark Main fabric.)
Fabric 5 – 7/8 yard (Medium fabric in the same family as Fabric 4)
Fabric 6 – 1-3/8 yards (A highlight fabric.)
Suggestions:
Fabric 1 – This is your background.  It can be white, or ecru or it can be scrappy very light fabrics.  I am recommending that you not use a dark background fabric.
Fabrics 2 and 3 – These will be your main or predominant fabrics.  Whatever color you choose for this will be the color used to describe your quilt.  If you choose a dark blue and a medium blue, you will think of your quilt as a blue quilt.  Your Medium Main should be plenty dark enough so that it stands out against your background.  There should be no blending.  Your Dark Main should be dark enough that there's no blending with your Medium Main fabric.
Fabrics 4 and 5 – These should work with your main fabric but not be in the same family.  If you're using blues for your Main fabrics, for Fabric 4, you could use greens or rusts or  golds.  Your Medium/Dark Fabric 4 should not be as dark as your Fabric 2.  When deciding which fabrics to use, lay Fabric 2 next to Fabric 4 and make sure you can easily see the difference and there's no blending.  Fabric 5 should be a bit lighter than Fabric 4.  The two should not blend but make sure that Fabric 5 does not blend with Fabric 1 (background).
Fabric 6.  This will be your highlight.  It should work with your other fabrics but be completely different.  A medium to dark value fabric would work nice.
These are the fabrics I will use: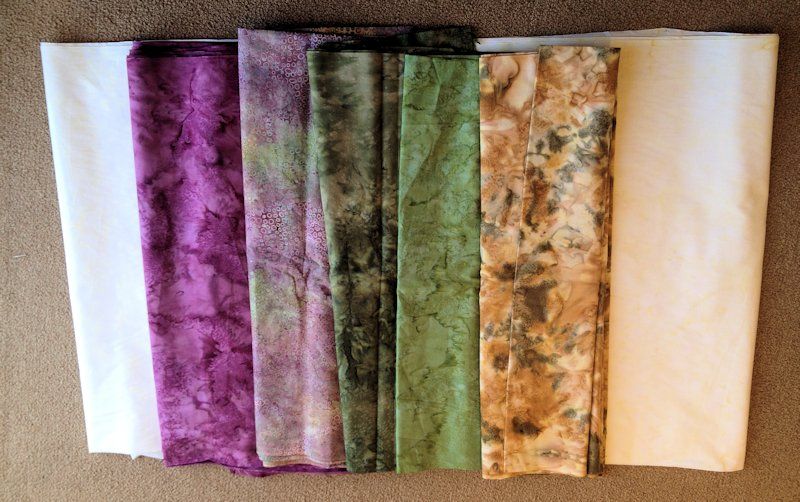 The fabrics on both ends are the same fabric.  The lighting makes the fabric on the left look more white than it is.  It's actually closer to the fabric on the right.
For my choices:
Fabric 1 is the background – far left and far right.
Fabric 2 is the purple closest to the left.
Fabric 3 is the lighter purple/lavender.
Fabric 4 is the dark green.
Fabric 5 is the lighter green.
Fabric 6 is the tan.
Other fabric choices I considered, with the background on the far left and far right, and the fabrics numbered left to right are:
There are also fabric ideas on Vicki's blog.
On January 1, New Year's Day, the first clue will be posted.  Get your fabrics chosen and join us for the fun.  At the end of the year, I believe you will be thrilled with your project!
Please post your questions here and I'll answer them here.  Thanks for participating with us!
Links to Clues & Info:
Swatch Sheet
January
February
March
April
May
June
July
August
September
October
November
December