Reminder:  Please do not form outside groups in Flickr, Facebook, etc. for discussing this project.  Please pose your questions, comments and discussions as a comment below so all can benefit.
At the bottom of this post will be a link box.  Please link up to your blog post or photo showing your Clue #1 completed.  A drawing will be held on Tuesday for the winner of a stash pack from Vicki's Etsy shop.  Thanks again, Vicki, for sponsoring this mystery and the gifts!  And, while I have your attention, let me tell you . . I've seen Vicki's finished top and it is so beautiful!  If you got one of Vicki's hand dyed fabric kits, you are going to be so thrilled with your quilt.  I think they're all going to be beautiful but oh . . the ones made with Vicki's hand dyed fabrics . . wait til you see them!
Clue #2, Step 1:
Fabric 1 – Cut the following:
8 – 2-1/2″ x 8-1/2″ rectangles
8 – 2-1/2″ x 4-1/2″ rectangles
Fabric 6 – Cut 4 – 4-1/2″ squares
Using these fabrics make 4 of these units: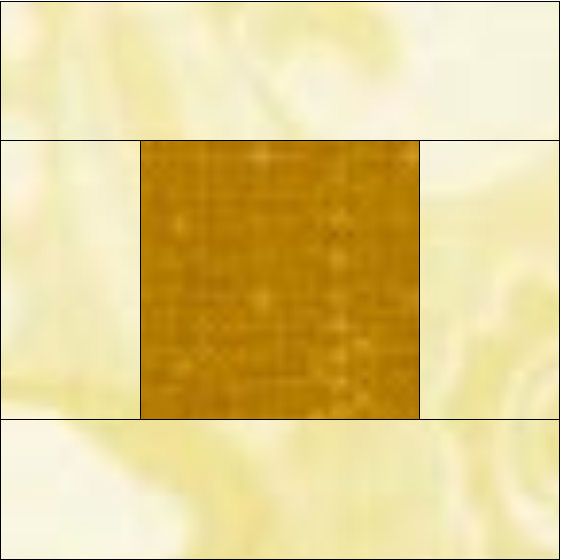 Clue #2, Step 2:
Using the units from Clue #1, Steps 1 and 4, make 4 of the following units:
Clue #2, Step 3:
Fabric 6 – Cut 1 – 6-1/8″ square.
Fabric 1 – Cut 4 – 3-3/8″ squares.
Sew the flying geese from Cue #1, Step 4 to opposite sides of the Fabric 6 square.
Sew the Fabric 1 – 3-3/8″ squares to opposite ends of the remaining two flying geese and sew those to the top and bottom of the above unit.
That's it for February!  Get all these steps completed and be ready to share a picture on the first of March!