Sounds like a recipe, huh?  First you shape the eggs into a little box and then you stuff them.  Not really!
Wasn't there once a "game" where folks tried to see how many people could cram themselves into a phone booth?  Don't even ask me "What's a phone booth!"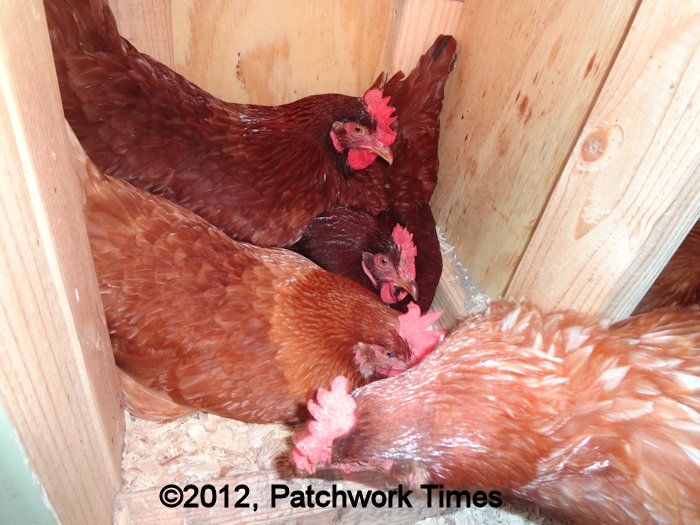 There are four nesting boxes and 13 hens.  In the unlikely event they ALL decided to lay eggs at the same time, there might be a need to have four chickens in one box.  Shortly after daylight they begin laying and I usually get the last egg around 1 p.m. so there's a slim chance there really needs to be more than one chicken in a box at any time.
So, why are there three hens already in the box and a fourth trying to find a spot for herself?
I do believe Tractor Supply got a shipment of goofy chickens on the day we got ours.  We love them though and they are so entertaining.
Yesterday Miss Hattie was out and she kept following Vince and me around.  We were walking around in circles and here and there and she would follow us where ever we went.   Once when I was walking, she walked right between my feet and almost tripped me.  It just cracks me up to see Vince walking along with a little red hen right on his heels.
Ruby was my favorite chicken in Missouri and I think it's pretty obvious that Miss Hattie is my favorite here.