The other night while reading Facebook, a friend, Jane, mentioned she was making "Butter Tarts".  That sounded good and I asked her for the recipe and got her permission to share it here.  She had written that this was her grandma's recipe and it was handwritten by Jane (as a child) on the back of an envelope.  I love those type recipes.  "Grandma" recipes are my favorites!.  This is the recipe as Jane gave it to me.
Beat 2 eggs. Mix in 2 cups brown sugar, 1/2 cup corn syrup, 1 tsp salt, sprinkle of nutmeg, 2 tsp vanilla, 1 TBS+ butter, raisins (or fruit)…4-5 handfuls and/or nuts. Use more raisins than nuts.
Put approx 1TBS of filling in each tart shell. Bake at 325F. Don't let filling boil too long. 15-20 minutes. Do not wait for pastry to brown…judge by filling.
Jane told me that she buys her tart shells and she told me they were about 3″ across and about 1″ deep.  Then I remembered some pecan mini tarts that my mom makes that are so good.  We're not much on raisins so I substituted cherry flavored Craisins and combined mom's recipe and Jane's recipe and I'm calling them Butter Pecan Tarts.
Some are mini and some are full size tarts.  All are good!
For the crust, I pinched off a ball, a little larger than a marble for the mini tarts, and about half the size of an egg for the larger tarts.  I simply smashed and flattened the dough out in my hand.
Then I mashed it into the tart pans, which had been sprayed with non-stick spray.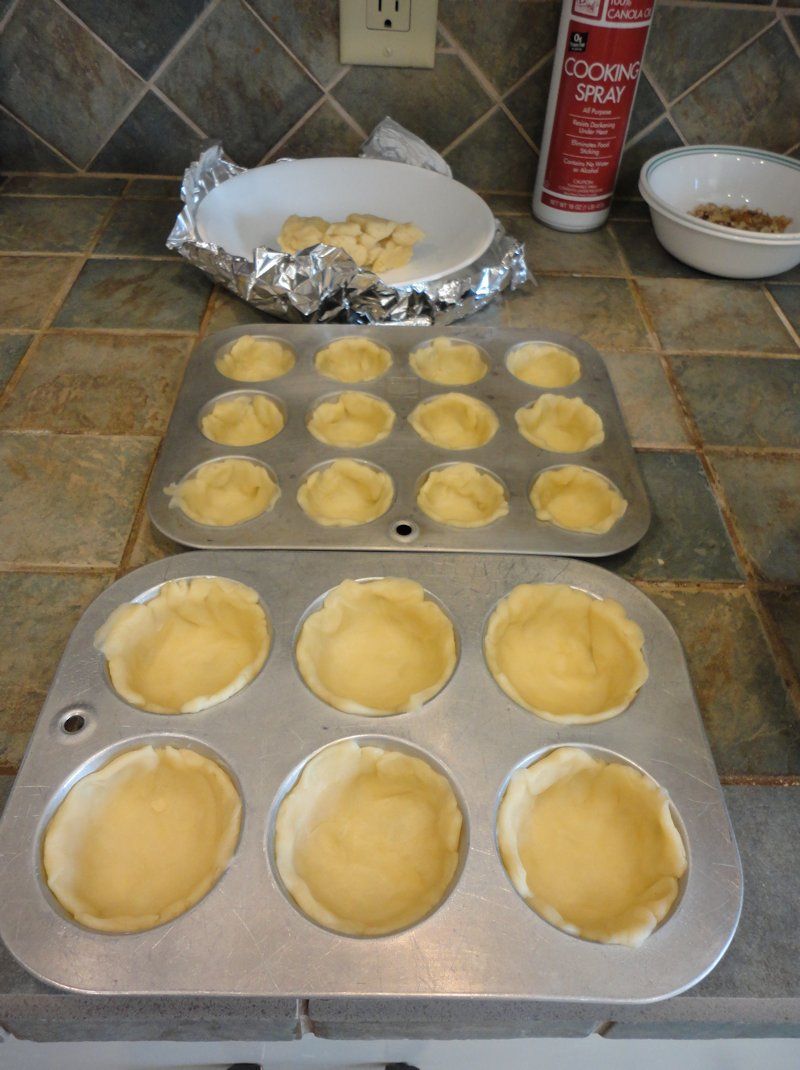 Mom's recipe said to fill the mini-tart pans about half full and Jane's recipe says to put about 1 tablespoon in the tart pans.  You will think that's not quite enough (I added more which was too much) but stick with the half full suggestion for the mini tarts and the 1 tablespoon for the tarts.
Bake til done!
I let them cool in the pan for about 10 minutes.  The tarts that had overflowed a bit, I loosened them with a butter knife but the others just popped right out of the pan.
These are great if you need to take a dish somewhere or for giving as little goodies.
My neighbor came over to get some.  While she and I were out talking, Vince ate one and he came running out and said "Theyr'e not good!  Give them back!"  She looked at me kinda funny and I said "He's joking!"
Butter Pecan Tarts
Crust:1 stick butter
3 oz. cream cheese
1 cup flour
Let butter and cream cheese come to room temp.  Beat together and add flour.  Place mixture in the fridge til it's cold enough to work with.  Press enough into the bottom and sides of the pans.  I used about a marble sized ball for the mini tarts and a ball about half the size of an egg for the tarts.
Filling:
2 eggs
2 T. butter (softened or melted)
1-3/4 cups brown sugar, packed
1/4 tsp. (scant) ground nutmeg
1/4 tsp. salt
1 tsp. vanilla
2/3 cups raisins or Craisins
2/3 cups chopped nuts (If making mini-tarts, chop the nuts rather finely)  I used pecans
Mix all ingredients.  For mini-tarts, fill the shells half full.  For tarts, place 1 tablespoon of filling in each shell.  Bake at 350º.  Bake the mini-tarts for about 25 minutes.  Bake the tarts for about 30 minutes.  When the top of the filling is brown and crusty, they're done.  Don't wait for crusts to look brown.
Allow to cool in pan for about 10 minutes.  Remove from pan and allow to finish cooling on a wire rack.