I just love that little rooster, despite him being the orneriest little creature I've ever seen.  You remember on Sunday evening  we took him out of his regular coop and locked him into the garden.  On Monday morning when I went outside, I could hear him crowing so I told Vince that at least he made it through the night.  We had a huge storm that blew through here Sunday night with lots of wind and lightning but sadly for us . . no rain.  Other parts of town got some rain so I'll be happy for them.
That's a tall fence.  I think it's 10′ tall.  It kept the deer out of my garden.  It did not keep Roscoe in the garden though!
I went out to check on Roscoe and couldn't find him anywhere.  I knew he was around because I could hear him crowing and then I looked up and there he was . . in a tree . . outside the fence!  That little chicken does love to fly! I wish I had a video of him getting out of that garden fence.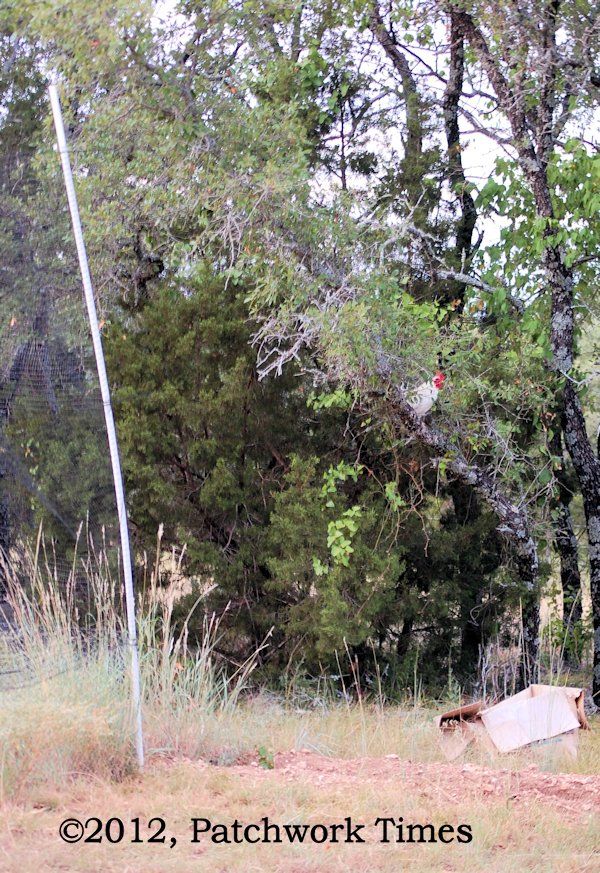 Can you find the little chicken in the tree?  Vince said . . don't worry about him.  He got up there . . he'll get down when he's ready.  So, I didn't worry about him.  Next time I went out . .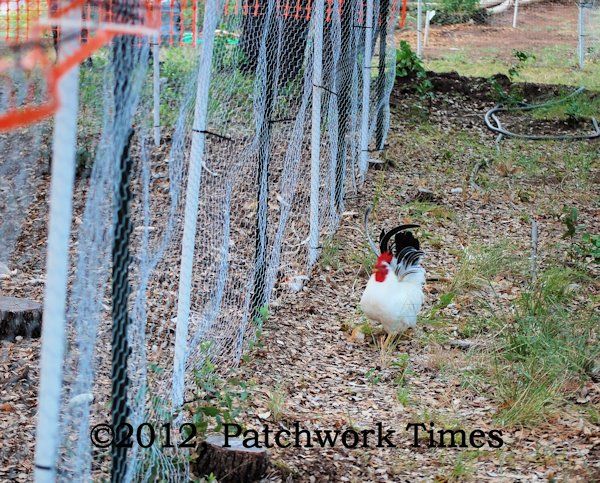 . . he was trying to figure out how to get in the run with the red hens.  Smart little chicken, isn't he?  13 hens, no roosters . . whoa doggies.  Sounds like a fun place for a feisty little rooster.