Step 1:
Using the half square triangles from Instructions 3, make 12 of the following units: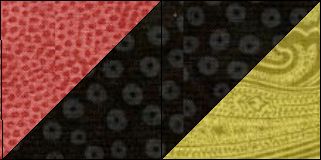 Step 2: From Fabric 3, cut 2 – 3-1/2″ strips.  Cut these into 16 – 3-1/2″ squares.
Step 3:  Using the squares from Step 2 and the four patches, make 8 of the following:

Step 4:  Make 4 of the following:

That's it for today.  In the next instructions, we'll finish up with the main blocks.  Please get caught up if you're not already caught up.