Since sweet potatoes are our "What's Cooking?" food for this week, I made them several times.  I started with this Creole Shrimp with Sweet Potato Grits recipe.
I'm not sure where the "creole" came from because this tasted way more Thai than Creole.  It was good but . . shrimp are outrageously expensive here and beings how I'm used to southwest Louisiana shrimp straight from the coastal waters off Cameron Parish, I have a real hard time with frozen shrimp from the grocery store.  After making the recipe, I realized that it would be just as good and much less expensive using chicken instead of shrimp.
Creole Chicken with Sweet Potato Grits
1 cup uncooked regular or Quick Cooking grits
1- 3 tablespoons Creole seasoning
4 chicken breasts, boneless and skinless
2 garlic cloves, minced
1 medium onion, chopped
2 T. butter
2 T. olive oil
1 bunch chopped green onions
1/4 cup chopped fresh cilantro
1 tablespoon lime zest
Juice from 1 lime (if it isn't very juicy, use 2 limes)
4 teaspoons Asian Sriracha hot chili sauce
1 cup cooked, mashed sweet potatoes
1/2 cup shredded smoked Gouda cheese
1/2 cup shredded Pepper Jack cheese
2 tablespoons butter
1 teaspoon salt
1/2 teaspoon freshly ground pepper
Directions:
Slice the chicken into fairly thin strips.  Season the chicken with as much Creole seasoning as you think will work for you.  If you don't have Creole seasoning, use a bit of salt, black pepper, garlic powder, paprika — just season it up good.  Let it sit for a few minutes after seasoning.
Cook the grits according to the directions on the package.
Heat the butter and olive oil in a thick skillet.  Add chicken and cook til done and a bit brown.  Add the chopped onion and garlic.  Cook until the onion is clear.
Stir in the lime juice, zest and green onions.
Add the cilantro and chili sauce.  Continuing cooking just until heated.
Serve over the sweet potato grits.
Preparing the Grits:
Once the grits are done cooking, add the butter, cheeses and sweet potatoes.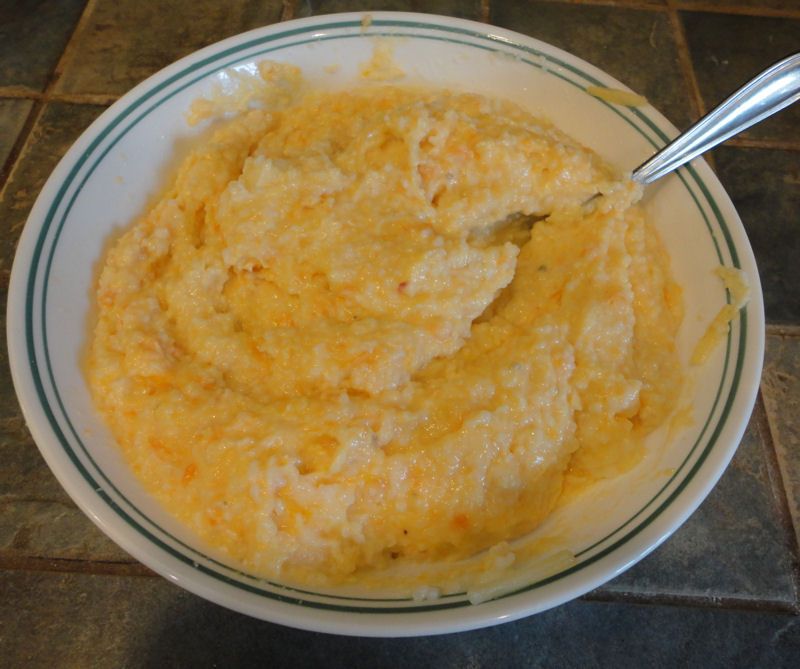 The original recipe called for cooking the grits in a mixture of water and milk but they're just fine using only water.  The original recipe also called for 1 cup of smoked gouda cheese and I think that would have been way too "smokey" so I mixed half smoked gouda and half pepper jack.
When cooking chicken, I always brine it first.  Chicken these days has so much liquid added to it that I try to drain it on towels for a while before cooking it.  Here, it had been laying on paper towels on a cookie sheet in the fridge for a couple of hours.  After taking it out of the fridge, I placed the chicken on a kitchen towel, seasoned it and let it sit for about 15 minutes.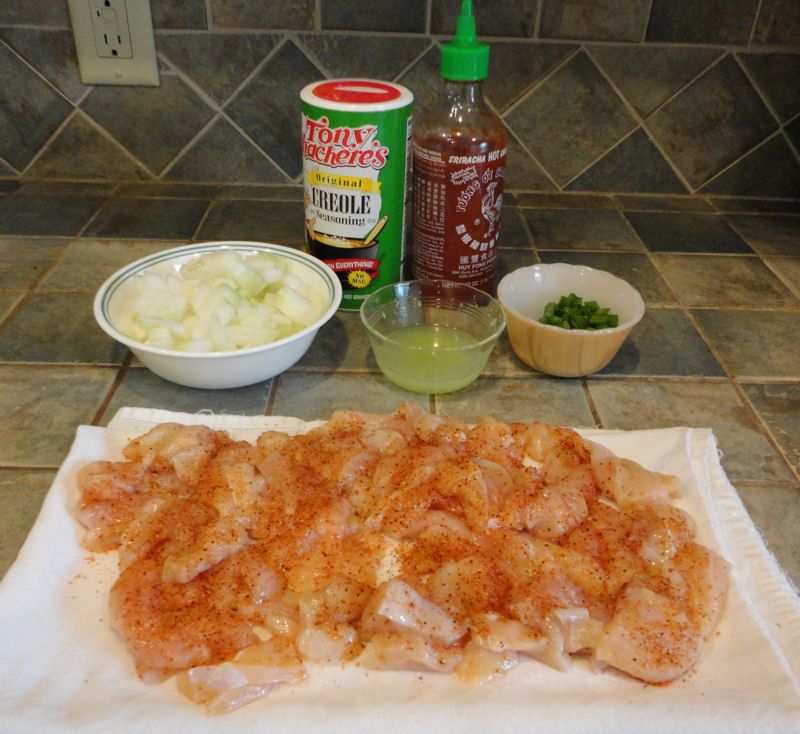 We had this dish with just a salad and bread.  Once the grits are cooked and the chopping and seasoning is done, the chicken (or shrimp) dish is very quick to fix.
It was very tasty, it was quick and fairly inexpensive with the chicken. I'm thinking if any of you who don't like sweet potatoes tried this, you would love it but really, I suppose . . what's the use of eating sweet potatoes if they're totally disguised into a bowl of grits?  We love sweet potatoes and still have quite a few of them from the garden so I'm happy to find something different to do with them.