I feel like I should write a country music song . . too many hands in my pocket! 🙂  I told Vince this afternoon that I feel like our bucket has too many holes in it!
I was outside when the appliance repair folks called to tell me that the repair bill on the washer is pretty steep and I told them we'd buy a new washer/dryer instead of fixing the old one.  As I was walking into the house to look online at the washer and dryer they recommended, I looked to my left and the gate/fence guy was over installing another gate.
He's been here at least two weeks and isn't done yet.  The big gate at front has taken a lot of time.  He would have gotten it all hooked up today but there's a bad board in the gate opener so that's on hold til the middle of next week.  We're adding a gate behind the bantam coop and another gate behind the house.  I'm sure he'll be here at least through the first half of next week.
Then I looked to the right and the guy was here filling the propane tanks.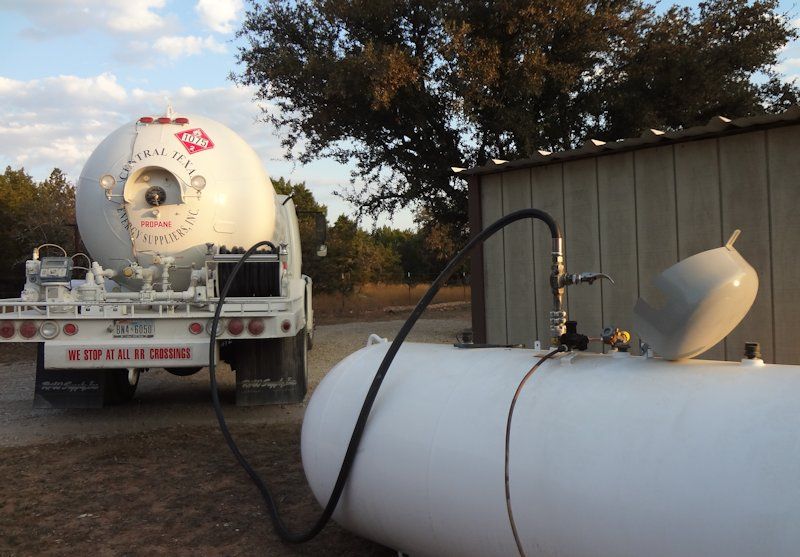 Having both tanks full is like money in the bank but it is kinda painful at the time they're filled.
This afternoon I missed a call from my doctor after my "annual" on Tuesday.  He left a message and said "We need to talk .  . nothing bad . . it's about your cholesterol, thyroid and Vitamin D levels."  I'm already taking meds for all three but I guess something isn't right.  If the thyroid levels are low, that will explain why I'm so tired . . I just thought I'd been working extra hard.  I've been in bed by 8 or 8:30 almost every night it seems.  Not sure if I'll talk to the doctor tomorrow or Monday.  I told Vince and he said "at least only three things are wrong" and I told him I thought they only checked three things!
I'm going to sit and knit and hope that we can at least make it til bed time without spending half our life savings!  🙂