One of my favorite yarn shops is Eat, Sleep, Knit.  They have a "Yarnathon".  You get prizes . . the more yarn you buy, the more prizes you get.  Grand idea, right?  For them . . not so grand for my credit card!  🙂
They also have a Black Friday sale.  The way it works is this:  You put your yarn in your cart. You check out and then you determine how much "surprise" discount you got.  It could be anywhere from 10% to 100%.  If you're a member of the "10K Club", you get to start shopping one hour earlier than those who are not members.
I got to start early and I placed my first order. I got a 10% discount but that order put me into the next level on the yarnathon and I got a $20 gift certificate.  I explained to Vince . . oh, should I buy more while there's a discount or should I just wait??  I knew what he was going to say because he was so sure I would get a bigger discount.  I placed another order and again got a 10% discount.  I was still going through my patterns in my Ravelry library and decided I wanted yarn for another project.  Another 10% discount.  But, once again, that put me into another level on the Yarnathon and I got another $20 gift certificate.  What's a girl to do? Place another order.  This time I got 15% off.
The boxes . . all four of them . . arrived yesterday  For a while Vince was ordering old fountain pens off ebay.  When Vince orders something, if 20 are good, he orders 50.  The mail lady kept saying "what is he ordering?"  I told her pens and she didn't quite get it.  That's ok . . because I didn't either.  But when my mail lady handed me those four boxes, I sheepishly said "The yarn shop had a sale."  She said "Thank goodness the pen shop didn't!"  I thought that was funny because Vince hasn't gotten any pens in probably 3 months.
So . . here's the yarn!
It's not as much as it looks like.  That's what I keep telling myself.  That's what I keep telling Vince.  I think I'm beginning to believe it.  Not so sure about him though.
Another prize I got was when I reached the 5 mile mark. A cute little Namaste bag.
The little bag was full of goodies.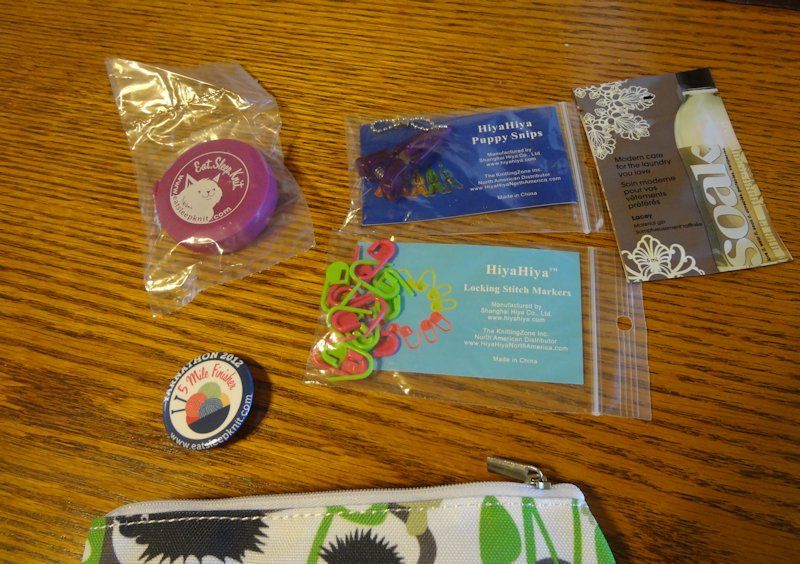 There's a button, a measuring tape, stitch markers, puppy snips and a sample of Soak (for washing socks).
As an added perk, with each package from Eat, Sleep, Knit, you get a "lotto card".  You scratch it off and you can win more prizes!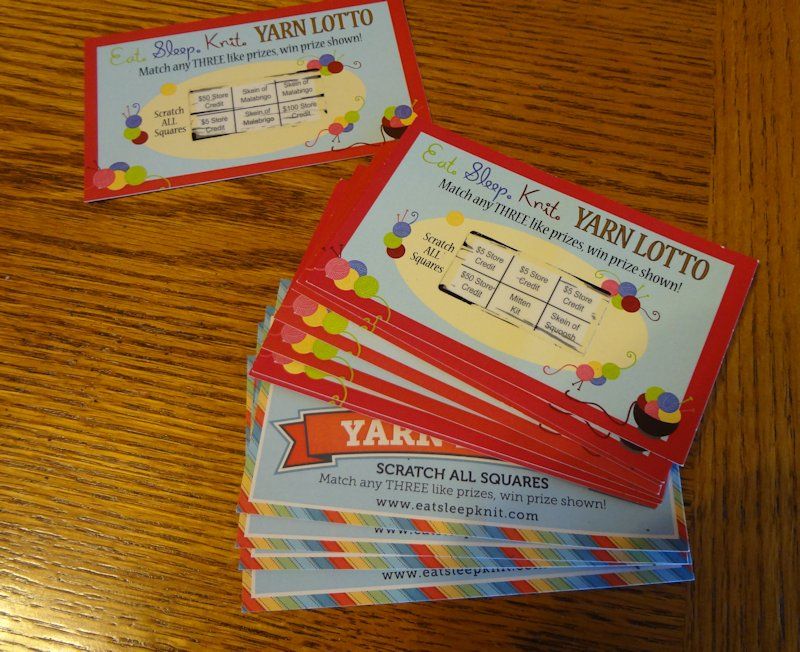 We send these back in and get credit in our account.  I've never sent any of them in but I'm doing it soon.  I have 11 – $5 gift certificates and 1 for a free skein of Malabrigo yarn.
Can't beat that, huh?
About that yarn buying . . I have a plan for next year.  I had a plan for this year and I failed pretty miserably.  We'll see if I can do better in 2013.  If not, I'm going to have to add a "Yarn Room" to my house.