Vince has come and gone from lunch.  He fixed the TV . . which wasn't really broken as I had hoped, but some button was on that wasn't supposed to be on.  The TV is hooked up to some box, which is hooked up to some box, which is hooked up to the Dish receiver so one wrong button and nothing works.  The truth is . . I've turned into my grandma and all things electronic scare me to death.
The washer . . not so lucky.  We've called Comanche Appliance but since they're in Comanche and we're in Brownwood, I'm not sure when they'll get here.  The good news is . . Vince set up the washer and dryer in the shop over the weekend.  The dryer is hooked up but the washer needed a longer hose to reach to the septic tank hookup.  He's going to stop and get that today and I can use the washer and dryer out there til the washer in the house is fixed.  The washer/dryer in the house are the mini units that are stacked.  The ones in the shop are full size.  I may just decide to take the ones out of the house and use that whole room for a pantry/kitchen overflow storage area and not even have a washer/dryer in the house.  We'll see how it goes using the washer/dryer out in the shop before making a decision.
Speck is doing better.  He has these little "spells" about once a week.  He ate lunch and everything was fine.
About all that ground beef I bought — 7 pounds.  It's not always easy to find grass fed beef and I try to get that as much as I can so I was real happy to find 7 packages of it marked down.
Last night we were watching Diners, Drive-Ins and Dives and they visited the Metro Diner in Florida I think.  They made the most wonderful looking meat loaf and I wanted it . . right then!  It will be a few days before I fix it . . probably next week because my menu is made for this week and meatloaf is not on the menu.  This is the video of the meatloaf I want to make.  I'll probably use one pound of ground beef and one pound of ground turkey for my meatloaf.
Chili is on my menu for Wednesday (tomorrow).  Vince loves Cincinnati Chili.  I think that we ate it so much that I no longer like it but I am such a good wife (really . . I am!), that I make it for him.  When we lived in Kentucky, we had a Kroger and they had a packet of Cincinnati Chili spice mix.  It's another one of those things that I can make from scratch but it tastes just as good made using that mix.  One day at Kroger, they told me they were no longer going to carry the spice mix so I bought all they had (hoarder way back then!).  I think they only had 5 or 6 of the packets.  When we would be out of town and saw a Kroger, we would stop to see if they had the spice mix and they never did.  A manager or someone finally told us it was no longer available so we gave up.
This morning I was getting taco seasoning to make taco soup and what was sitting right next to the taco seasoning mix?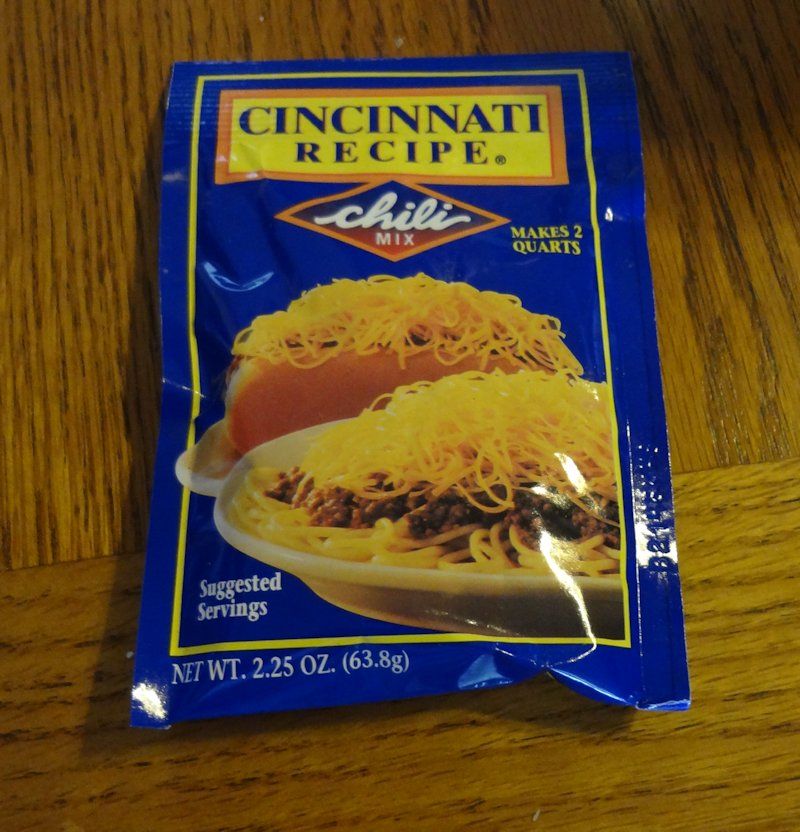 Being the good wife that I am (you do remember that I'm a good wife, right?), I'm substituting Cincinnati chili for real chili tomorrow night.  Two pounds of ground beef went into that.
Then I'm going to schedule real chili for one night next week because I like it.  Two more pounds of ground beef will go into that.
That only leaves two packages in the freezer so .  . I am not a hoarder because I have plans for all the ground beef I bought except for two pounds and having two pounds of ground beef in the freezer does not make one a hoarder!  🙂
And, I broke a glass while washing dishes.  Thank goodness it wasn't a mirror!  🙂