The book I'm using for instructions on making two socks at once on two circular needles is Knitting Circles Around Socks:  Two at a Time on Circular Needles.  I highly recommend the book if you want to try this technique.
A couple of years ago when I first got this book, I tried this technique and while it worked ok, I still liked using DPNs better.  With the issue of having to make myself make that second sock and with the legs sometimes coming out a bit longer on one sock than the other, I decided to give the two socks at once technique a try again and that's what I did with the yellow & blue socks.  I needed the book to get the cast on done and to get the heel turned.  What I didn't pay any attention to was the length of needles the author was recommending.  I used a 32″ and a 40″.  I stayed tangled up the entire time I was knitting those socks.
At some point, I figured if everyone else could do this without getting so tangled up, I could too but maybe I should read the book again and see if there was anything obvious that I was doing wrong.  The first thing I saw was that the author recommended using a 16″ needle and a 24″ needle.  Hmmm . . that was quite a bit shorter than I was using.  After speaking with a friend who uses this technique and asking her what needles she likes, I ordered from Knit Picks both 16″ and 24″ in 2.25 mm, 2.50 mm. and 2.75 mm.
What a difference using those shorter needles makes.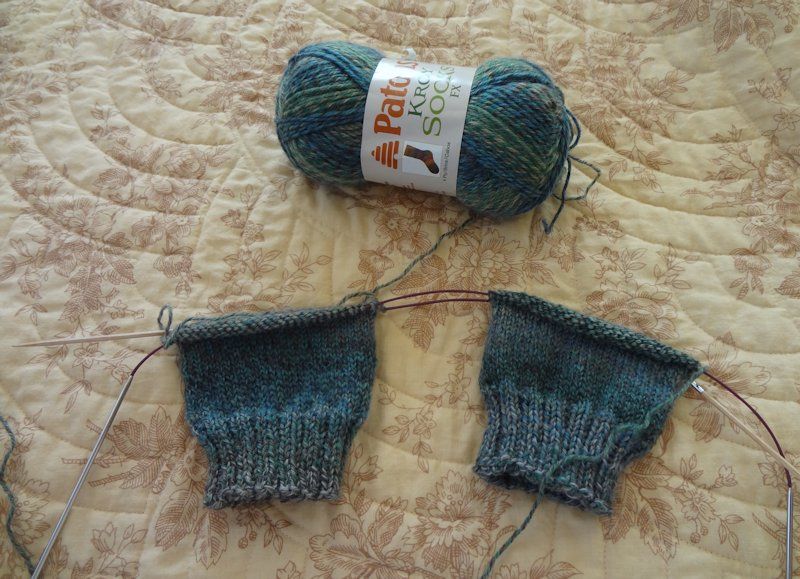 The stitches are much more uniform and I'm not getting "ladders" where the stitches go from one needle to the next.  This is so much easier!  No tangling with the yarn or with the needles.
Sometimes it just pays to read the instructions and follow them!