Imagine that!  I opened the mail and the electric company is reprimanding me with a frowny face due to my "energy efficiency rating".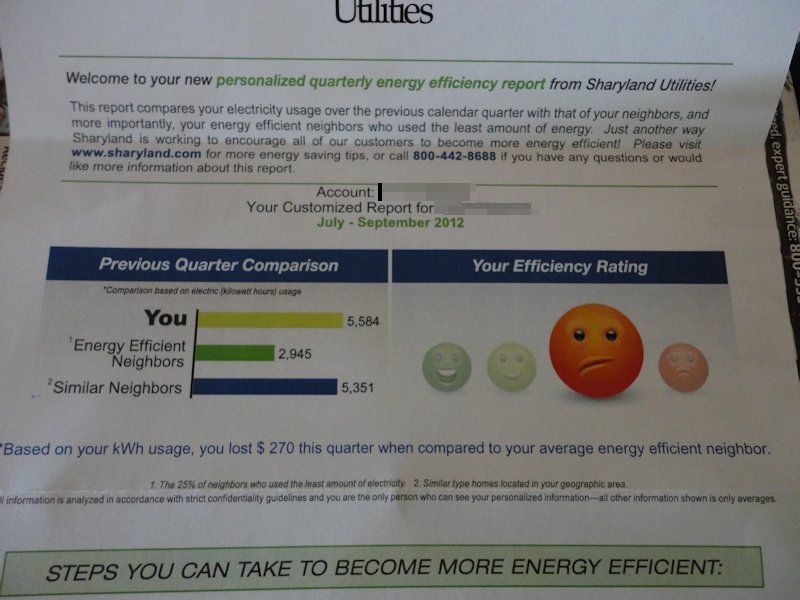 In my opinion, this is an example of out of control bureaucracy. I'm no math or statistics major but in order to make a comparison, and come to this conclusion, wouldn't you need just a little more information than how much energy I used.
My closest "neighbor" during this time was a house for sale and part of that time had someone "house sitting" who wasn't there very often at all.  My next closest neighbor admits she doesn't cook much.  Another "neighbor" is an elderly lady living in a house that's probably about 800 square feet, and she rarely cooks.
This little survey is about the same thing as me saying my car is more energy efficient than yours because I buy gas once a month and you buy gas once a week.  Forget the fact that I never leave the house and you may be going to work every day and hauling three kids to various activities.
Think about how much Sharyland Utilities spent to produce this little tidbit of information!  Did every one of their customers get this.  How much paper was used?  What was the cost of the postage?  Are those costs passed along to the Sharyland customers?  Is that efficient . . when really all it tells me is how much power I used, which I already know because I get and pay a bill each month.
I did call about it this morning and the lady said it was a pilot program simply designed to let me know how much power I use.  I already know that!  What I really want to know is "Who thought this was a good idea?  A worthwhile expense?"
About the only information I can figure out from this is:  Someone like me who grows veggies and cans food all summer, thus using a bit more power, is less energy efficient than someone who drives to town often to eat out.
As someone mentioned on Facebook when I shared this, I left one town to get away from bureaucracy (red tag man) and move out in the country in Texas, thinking there's less "big brother" watching, and then, someone who doesn't have a clue about making comparisons, sends me a frowny face based on my energy "efficiency".
It truly doesn't bother me that we got the frowny face.  We have a programmable thermostat.  We keep our lights of when we're not using them.  I know we're energy efficient but it takes energy to can vegetables, keep the house cool with the stove going almost non-stop and water a garden (well pump is electric).  It aggravates me that a utility company can make a decision to do something like this and while I don't know for sure, I'm assuming all costs they incur are passed along to the customers.  Then they want to inform me about my efficiency.