We knew the furniture was being delivered on Monday so Sunday evening Vince pulled out the old stove.  The tile work on my countertops is not the best and pieces of tile kind of haphazardly extended into the opening for the stove so Vince got his sander and sanded those edges so they're all uniform and smooth.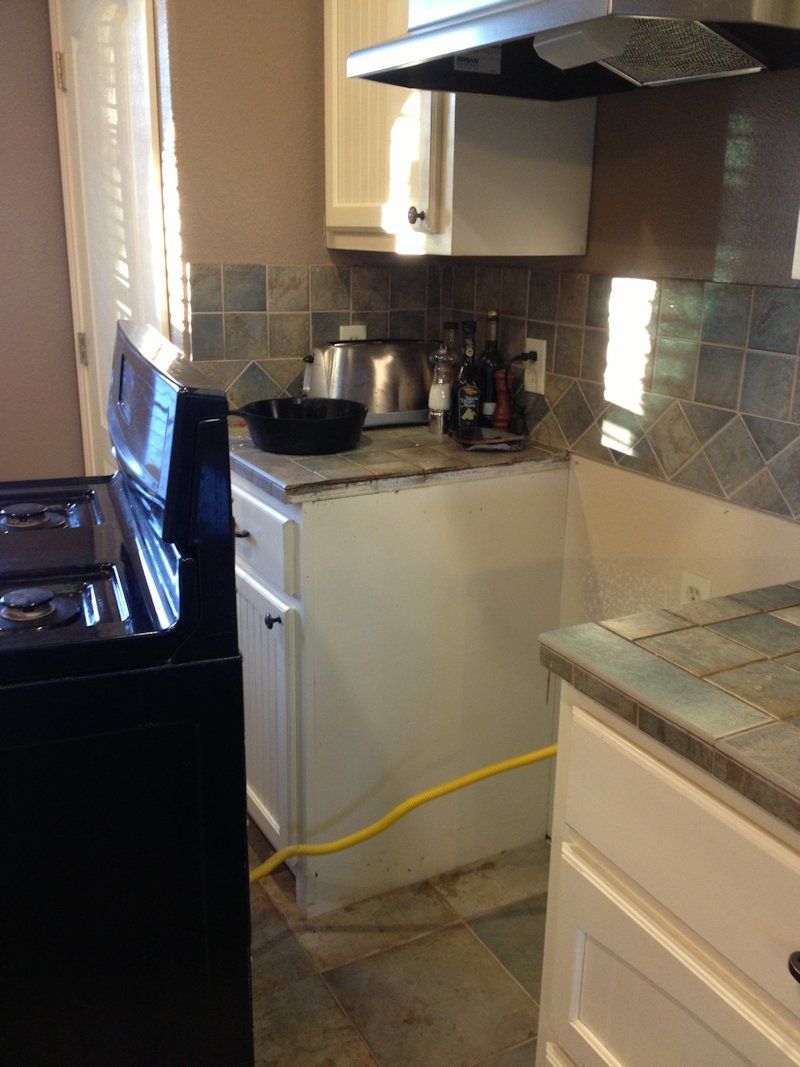 He disconnected the gas and unplugged the stove but left it in the middle of the kitchen.  The delivery guys moved it over to the shop, where we'll hook it up to a propane tank to be used when we need a second oven.
Yesterday I had made white bread and we almost always have toasted cheese sandwiches when we have fresh white bread.  Vince requested toasted cheese sandwiches and tomato soup for lunch.  I was able to heat the soup in the microwave but . . how was I going to make toasted cheese sandwiches.  It was kinda chilly to go out and do it on the grill but then I remembered the Griddler so I ran upstairs and got it and it made perfect toasted cheese sandwiches.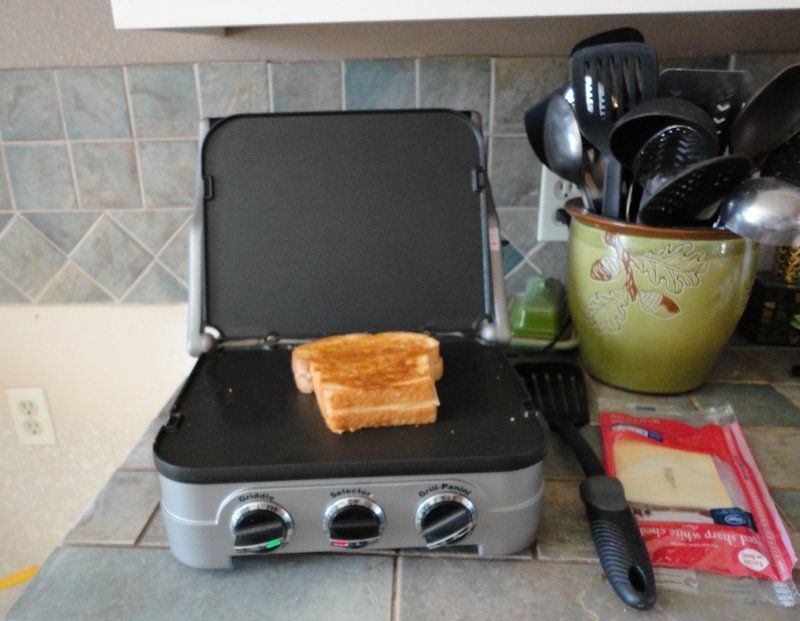 Shortly after lunch, the delivery guys called and said they were just a couple of miles from the house so I ran down to the gate to let them in.  They took the old stove out and carried it to the shop.  They took the old sofa to the sewing room.  The put the freezer in the shop and they brought the new loveseat into the house.  I guess the only thing I was excited enough about to take a picture was the new stove!  I love the way it looks and so far, I love the way it cooks.  Going from a 12,000 BTU power burner to a 17,000 BTU power burner is going to take some getting used to.  I almost burned someone onions and garlic I was cooking.  The oven heats up very quickly and there's no gas smell in the house.  I could always smell the old stove when the oven was on.  The house is only 6 years old so it wasn't really that old but it was probably a very cheap model.
The front left leg that screws up or down for leveling the stove wasn't working so they had to order a new little housing unit thing for it and they had to adjust all the legs to be equal to the broken one so right now, the stove is sitting a bit lower than the top of my countertop but they'll fix that within the next week or so.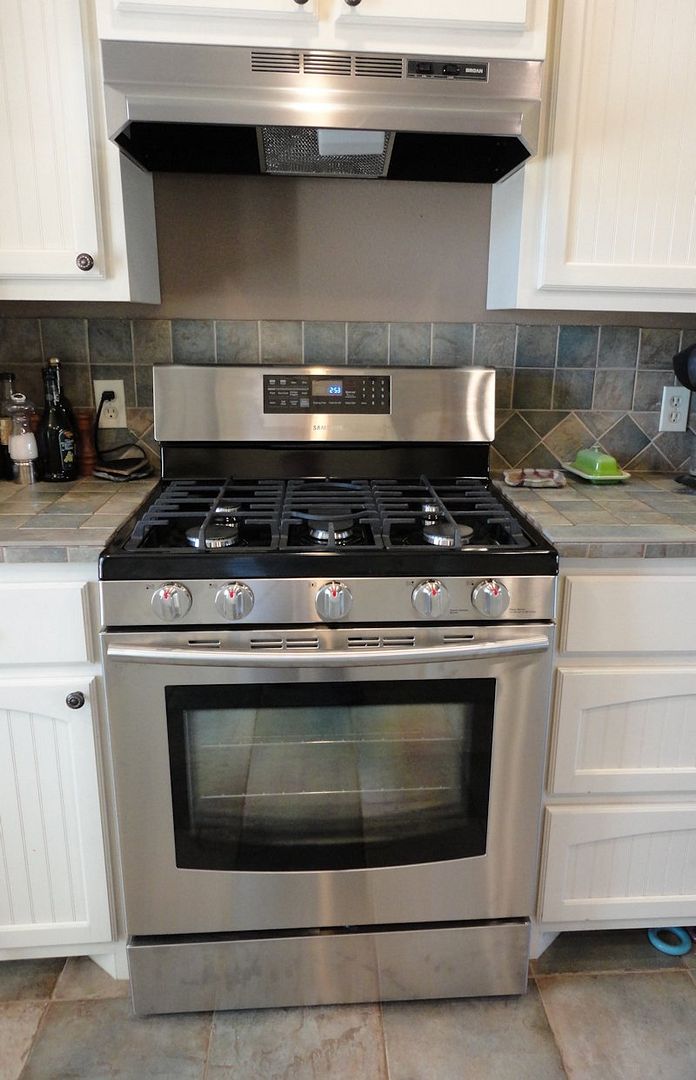 Amazing what you see in a photo . . there's a dog toy under the edge of the cabinet!  Our first meal in the new stove . .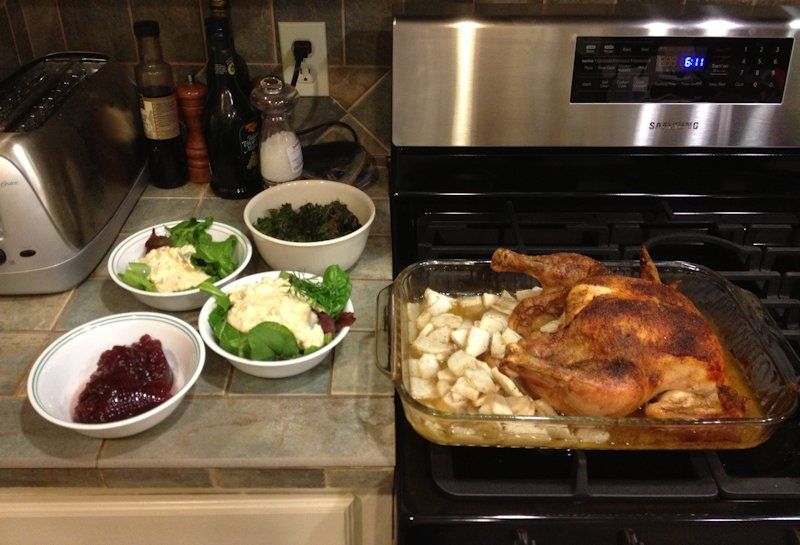 Roasted chicken with turnips, kale, cranberry sauce and salad (from the garden), along with homemade Thousand Island dressing.  At lunch, Vince said "Why don't we plan to go out for dinner so you aren't rushed when the new stove gets here?"  Huh?  Did he really think I would let that stove sit there more than 10 minutes before I fired it up and cooked something?  I'm happy, happy, happy!!  🙂