After reading this post,  my reputation as a non-shopper may be ruined but I think I can redeem myself.  Does the expression on his face give any indication that he's about ready to drag me out of this store by my heels? This photo was taken as the lady told him how much he owed . . the two ladies working in the store were cracking up at him.  Poor Vince!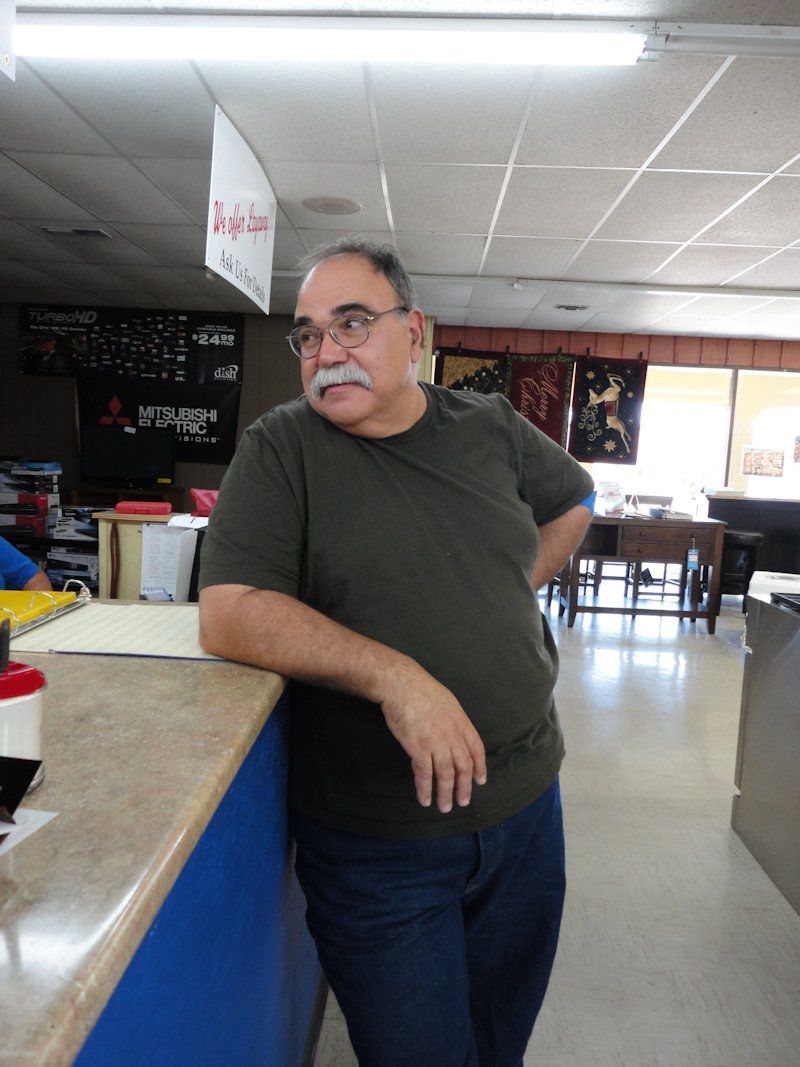 He had to have some medical tests done this morning at the Comanche Hospital.  (Note the blue tape on his left arm.)
This will be in a separate blog post if we get it but Vince has found a really good deal on a vintage Airstream trailer.  Vince would buy a steamship if he thought he was getting a good deal!  We had heard that there was a really good Airstream dealer in Dublin so when we left the hospital, we headed to Dublin to talk to them about some questions we had about the trailer we're looking at.  They were absolutely the nicest people!  The man who owns the place spent over an hour with us.  He had worked at 3M for many years, and he knew a lot of the same people Vince knows.  He's also familiar with the trailer we're looking at and told Vince it's a great deal. My guess is that by this time tomorrow, we'll own an Airstream trailer.  But . . we'll talk about that later.
As we were headed back home, we decided to stop by the appliance store in Comanche and look at freezers.  We need a second freezer and it's not always easy to find a manual defrost freezer.  We told the lady in the store that we wanted a large manual defrost upright freezer.  She checked her computer and said they had one . . a 21 cubic foot (20.6 actually) but it was in the "scratch & dent" section.  BARGAIN signs began flashing in Vince's head.  Then we saw it.  When I think of scratch & dent items, I think of having to search for the scratch or dent . . not this:
The price they had on it was not a deal but you know Vince . . by the time he got done, we got a great deal.  It will be out in his shop, where it's dusty and not air conditioned.  That's not good for a freezer  so it won't last forever but it will be fine out there and it comes with a full warranty.
We were walking over to pay for the freezer and I said "Oh, let's look at the love seats!"  I heard Vince grumbling behind me and I think he said  "I didn't come here to look for a love seat!"  I pretended not to hear him.  The family room in this house is so small that with a sofa and two recliners, it's terribly crowded.  We so rarely have more than four people here and since the dining area is part of the family room, a 5th or 6th person could just grab a chair and join us so I had decided to get a love seat instead of a sofa.   My current sofa is 23 years old!   It's floral.  Besides being too big for our small family room, a floral sofa just isn't what you expect to see in a ranch style home out in the middle of the woods.
I wanted the love seat that's a recliner on both sides.  I found this one: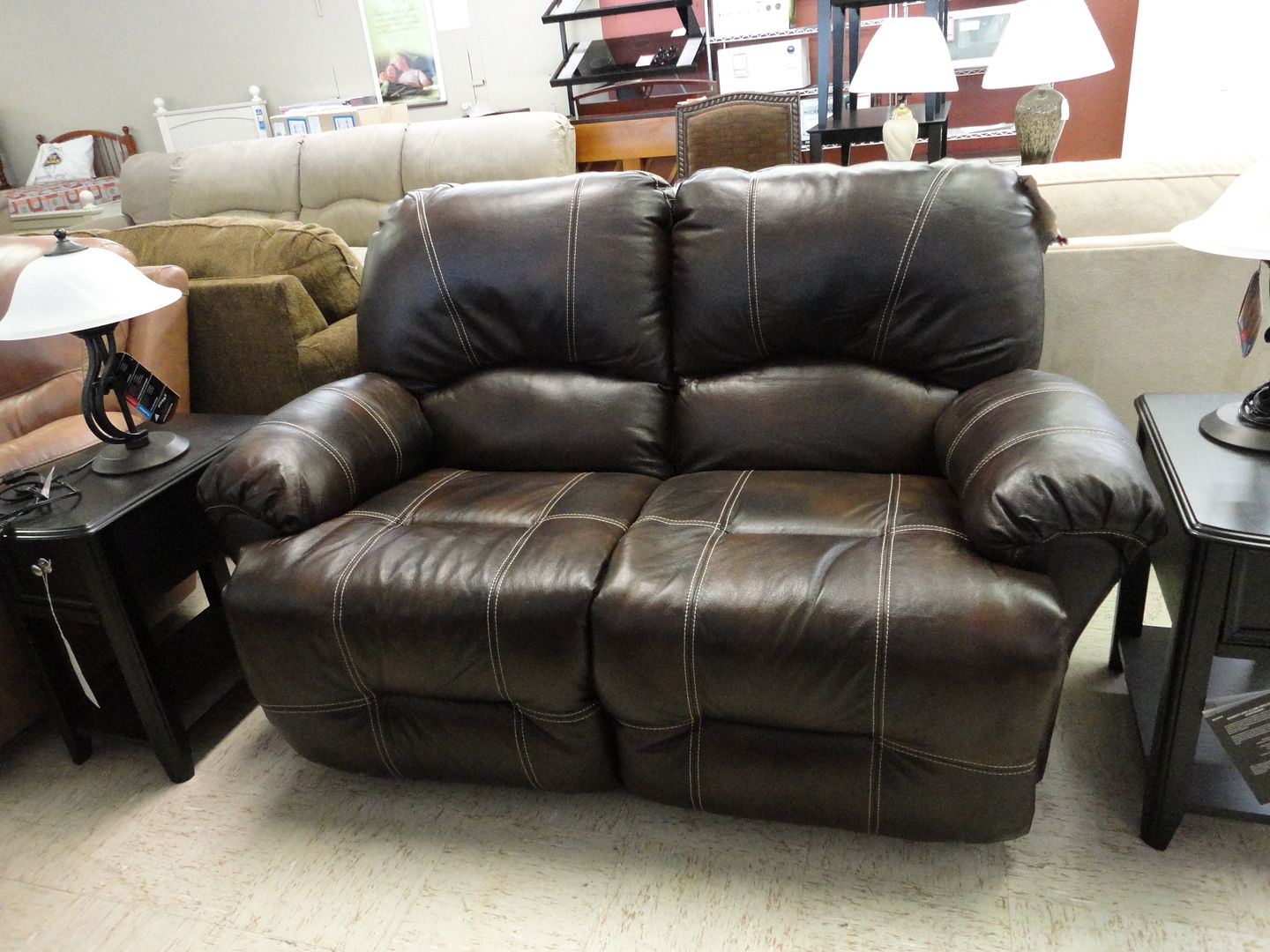 I liked it a lot!  We sat on it and it's quite comfortable.  Vince said "I don't like leather!"  I said "I do!"  Our agreement has always been that, within reason, I get to choose what I want for inside the house.  Obviously, with my sofa being 23 years old, I haven't made too many decisions!  So, I said I'll take the love seat and a matching recliner.  Vince's recliner is less than a couple of years old, he swears he loves it and was not willing to get rid of it so I got the love seat and one recliner.  I've already ordered new slipcovers for both chairs and the loveseat.
We made our way back over to the checkout counter and at the end of a row, they had a big 6 burner gas stove and I was looking at that and showing Vince.  He said . . too bad because we're not building the new kitchen for a while.  A man was standing there, probably the shop owner, and I asked about the BTUs of the burners and was telling him that I have 2 burners that are 12,000 BTUs and it takes forever to bring my canner up to pressure.  He said "Come look at this stove!"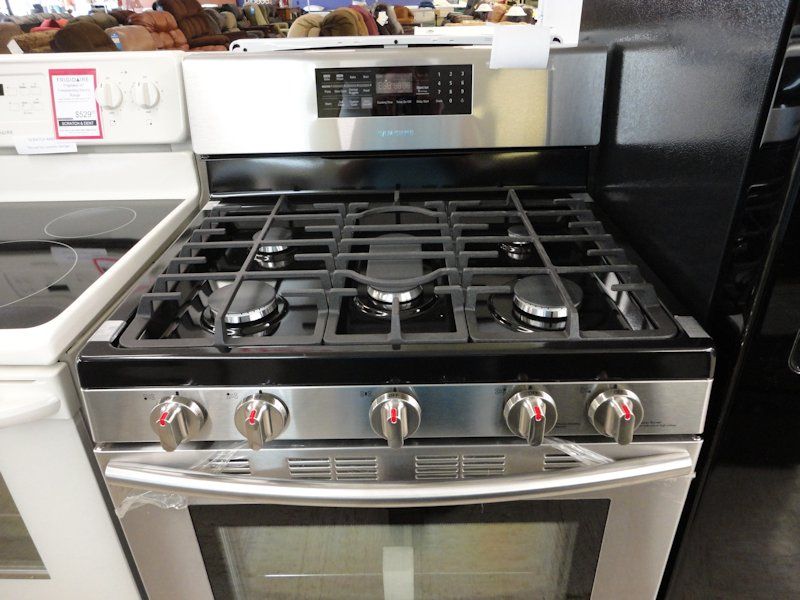 It's a 30″ so it fits into my spot and it has a 17,000 BTU burner, and a 15,000 BTU burner, as well as the center 5th  curved burner.  The oven has convection, as well as a variety of settings I don't currently have — pizza and proofing to name a few.  I called Vince over and he was saying "NO!  We're not getting a new stove!"  Then I said "We can take the current stove to the shop and hook it up to the propane and then when I need a second oven (Thanksgiving!), I can use it!  He was getting pretty frustrated but he said  . . fine . . get it.  So, I did!
Some of the options can be seen on this picture of the control panel.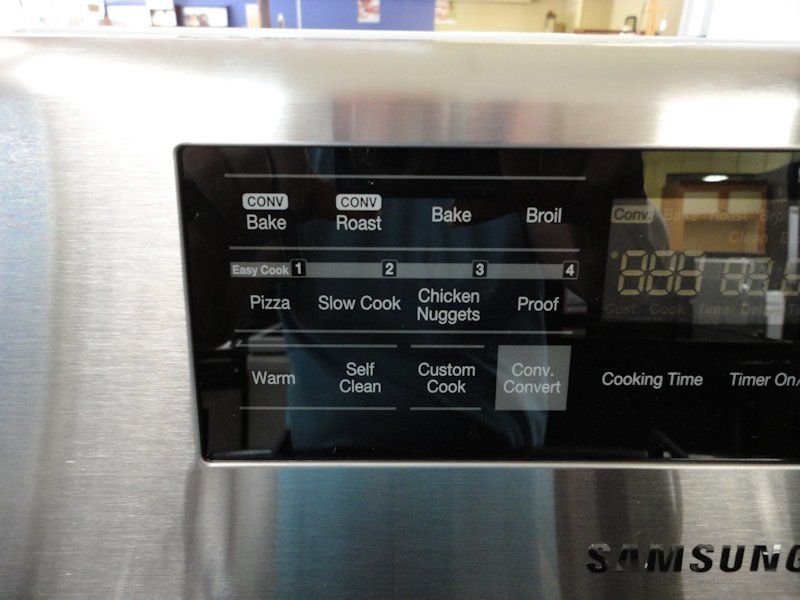 Everything except the recliner will be delivered Monday.  It has to be ordered and won't be here for a few weeks.
I can hardly believe I walked into that store looking for a freezer and ended up with the loveseat, recliner and stove but I'm happy we did . . and happy we were able to do it all in one stop.
One thing that's funny is that when we first moved here and had to buy a fridge because the house we rented didn't have one.  Having no idea what house we would end up buying, we didn't have a clue what type appliance to buy.  For some reason we ended up getting a stainless fridge.  Then when we bought this house, it had the black stove with the black microwave over it.  We took the the microwave up and put up a traditional vent hood.  Vince asked if I wanted to go with black or stainless and I said it didn't matter and he got stainless.  Now, with the new stainless stove, all of our appliances will accidentally match!