Chad and Nicole are so lucky!  One, they have me in their life!  🙂  Seriously, when they were looking for a place in Nevada, everything we had looked at was just horrible.  When I say horrible, I mean . . we wanted to race out of there and take a shower.  Then they found the place they ended up renting and it is so nice — clean, with nice kitchen appliances, good carpet, right next to the police station and a park, a wonderful screened in porch with a porch swing . . just a really nice place.
With their upcoming move, we've all been checking Craig's List and the classified ads looking for a place.  Chad had already seen a couple of places down there and he really liked one of them.  He, Nicole, Adalina and I went down last week to look at it and Nicole kept saying she was ok with it but I didn't like it at all.  As Vince was quick to point out . . I'm not the one living there!  Maybe . . maybe not!  🙂 I can't even say what I didn't like about it but I didn't like it.  Nicole said she wasn't crazy about the kitchen because she knows how much Chad likes having a large kitchen with lots of countertop and it hardly had any counter space.  Chad was getting a bit "man" and I could tell he wanted to say "I found a place.  I like it.  If you don't like it, YOU find something else."  So . . we did!  Nicole and I had been searching and calling every possible lead.
We found one house that sounded so good — everything was new and re-done.  The house itself would have been great but the neighborhood was unbelievably bad!  Terrible!
When we were down there Friday, we passed a little house that had a "For Rent" sign out front.  Nicole said "I LOVE that one!" and we tried to call the number but it was an office number and the owner had already gone home.  We called him Monday and it was in their price range so we made arrangements to see it and two more today.
We saw it first and both of us fell in love.  We went ahead and saw the second house and it was not good.  The third house was good.  It was being totally re-done.  New tile in the kitchen, new appliances, all new paint, new toilet, new bath tub, new garage door with a new garage door opener.  It was a little bigger and the rent was $100/month more but Nicole went with the first house.  The first one is just so darned cute and has so much character!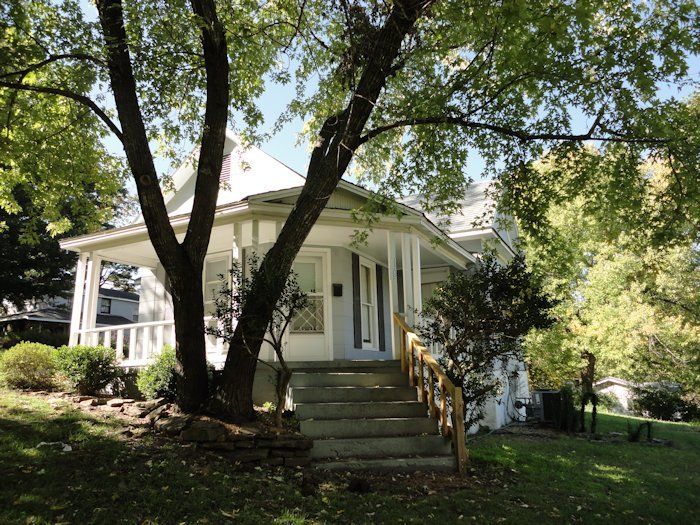 The driveway is on the left side and there are no steps if you go onto the front porch from that side.  Don't ask me what that thing is by the air conditioner that looks like a dinosaur.  We never noticed that when we were there.  It has that cute little front porch that goes all the way across the front and across one side.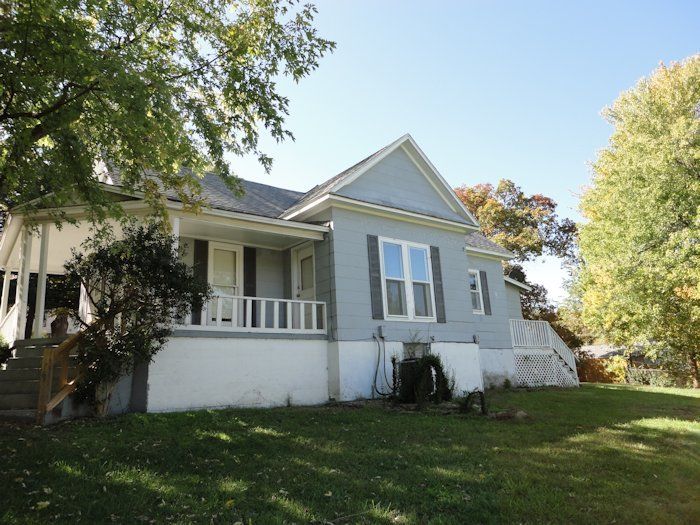 Here's one side.  There's a little back porch too.  The yard is huge.  If I know Chad and Nicole, they'll have a garden of some kind next year.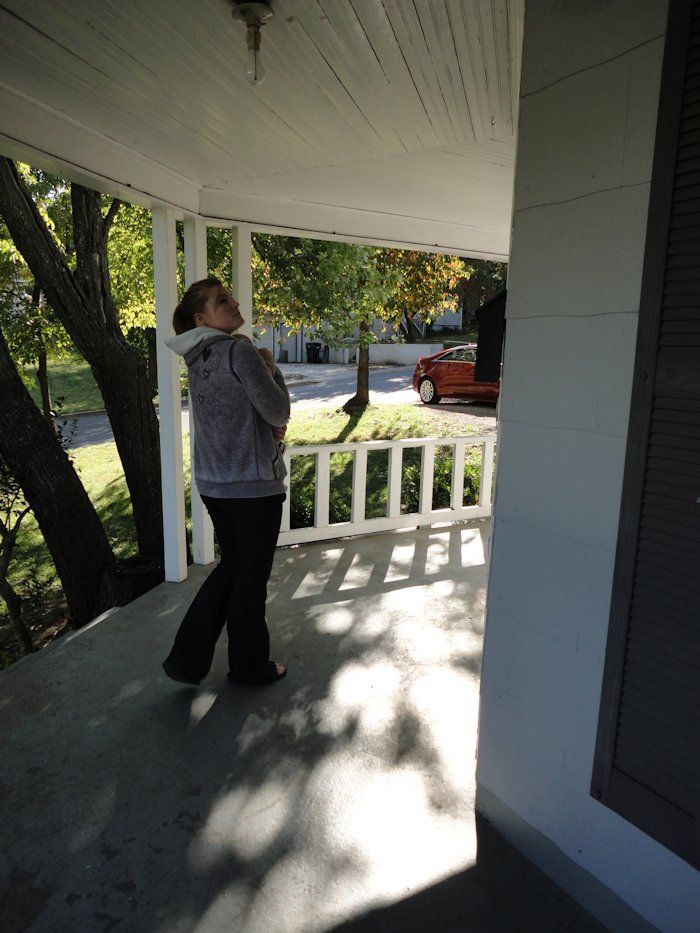 Nicole checking out the front porch.  See how nice it is?
This will be either the dining room or family room.  There's another room, maybe a little larger . . just not sure which room they will use for what.  Both rooms have the beautiful hardwood floors.  I love the almost floor to ceiling windows.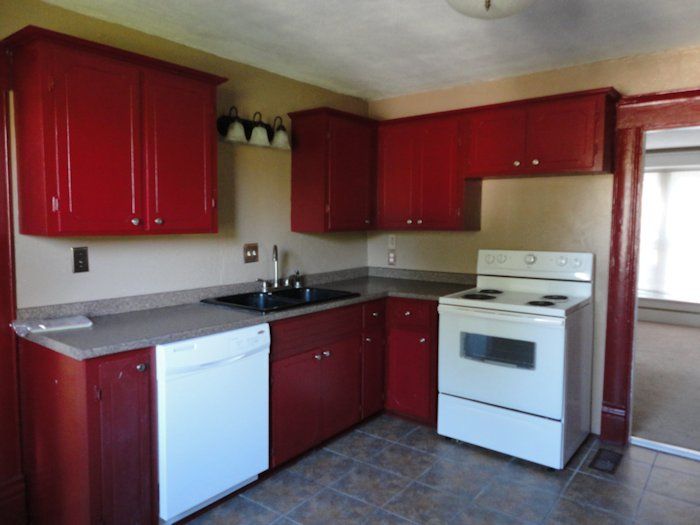 The kitchen is just perfect!  Brand new dishwasher!  Nice, deep sink!  Almost new stove . . though it's electric, thank goodness it isn't glass top.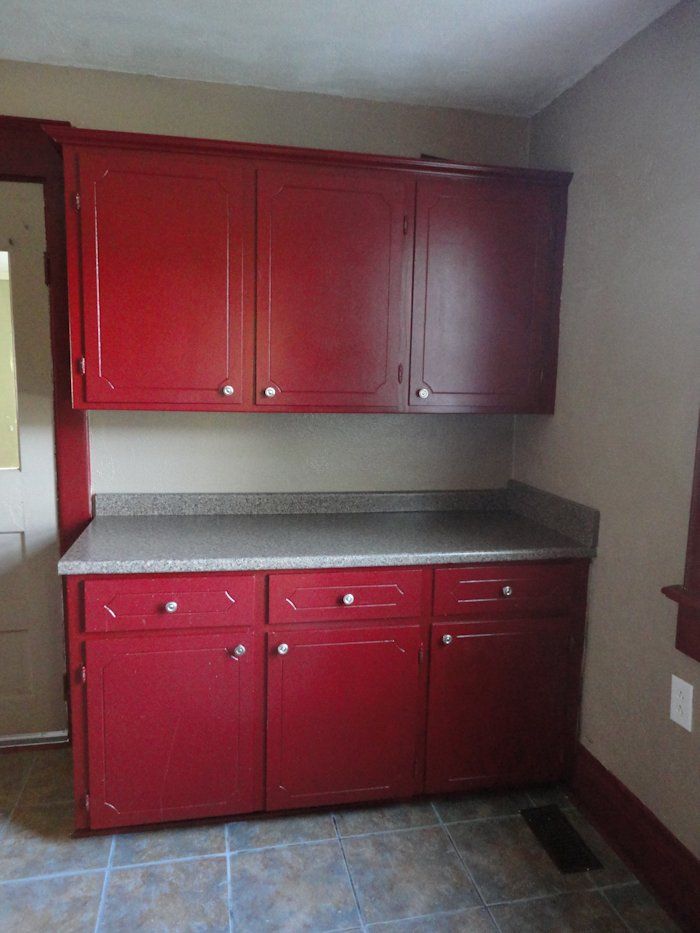 Nicole has already claimed this little corner as Cookie Baking Central!
In another corner is a nice pantry and where their fridge will be.  It's such a neat little house.  I know Nicole loves it and I hope Chad will too!