Things have been a bit weird around here this morning.  We're getting  new driveway and what should be a fairly simple process has turned into a bit of a bigger process.  We need extra rocks in the area where we currently park and extra gravel where the UPS trucks turn around.  And while Vince was out with the contractor, I made the mistake of saying . . don't waste the gravel by putting it here because this is where my new kitchen is going to be. Apparently we have a whole lot more discussing to do about that kitchen!
In this area where everyone has a gate, I think your gate design is seen as a status symbol . . kinda like the size of a woman's diamond.  I don't even wear a wedding ring so you know how much a diamond means to me.  Mine sits in the safety deposit box.  If you want to know what matters to me . . it's the size of one's yarn stash!  🙂  Not really . . I'm not one to get real excited about what anyone has.
To me, a gate is something you open and close to get in and out.  I could care less what it has on it.  Vince really doesn't care either but he knows we get one shot at getting what we want and we have til the end of the week to decide.  Guess we'll be googling "gate designs" this afternoon.  I'm just hoping we don't end up with a yellow jacket but I'll just wait and see what happens.
So, while we've been discussing the gate design and the new kitchen, I've been knitting.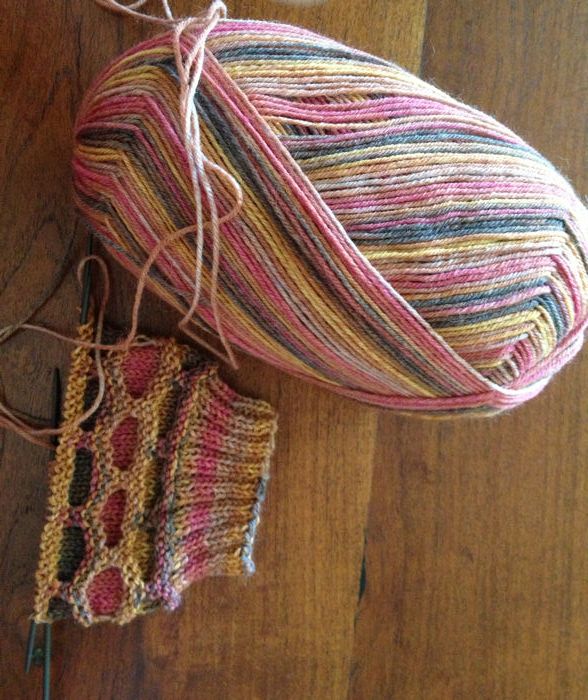 It's the Circle Socks and I added a ribbing.  The pattern doesn't have ribbing and I read what others said and most everyone thought they stayed up ok without the ribbing but I do not like floppy socks so, mine will have ribbing.  I had these in my favorites for a long time but I was scared they were hard.  Then when Judy said she was going to knit them, I decided to try it too.  They're so easy and I love how they look.  That's one of my Opal yarns.
For dinner, I'm dressing up some leftover Fricot by adding some carrots and dumping in leftover homemade tomato soup and then to please my husband and hope to get that new kitchen, I'm making homemade pasta.  The pasta is already made and the fricot is already on the stove so I should get lots of knitting time in this evening.
Anyone else start new socks for Socktober?