I'm the biggest chicken ever.  I'm not very brave and everything scares me.  Yesterday I was in the sewing room and the back door was open but the storm door was closed.  The wind was blowing and causing it to make some noises so I was halfway on edge anyway.
Since my sewing room is inside the metal barn, to get into the sewing room you go through a regular house type door, then walk about 6 feet in a little hallway and then there's the door to my sewing room.  Most days I leave the outside door open and just close the sewing room door.  I'm back and forth to the house a dozen times (or more) each day so it's easier to have to open one door and the outside door is locked when it's closed.
So, yesterday I was sitting there sewing . . already kinda jumpy because the storm door kept creaking and then I heard "tap, tap, tap" on the main door.  I stopped and listened.  I wasn't expecting anyone.  It didn't sound like it could be the UPS man.  I heard it again . . "tap, tap, tap".  It sounded like a little knock.  My neighbor has 3 year olds and I thought maybe they had ridden over and it was a little 3 year old knock.  I got up and went to open the door.
Not a 3 year old but 6 chickens!  They had come through the door and down the hall and were knocking on my door.  Technically, they were pecking on my sewing room door.  When I opened the door, they were ready to come inside.  NO!  I chased them out and will have to keep the outside door closed now.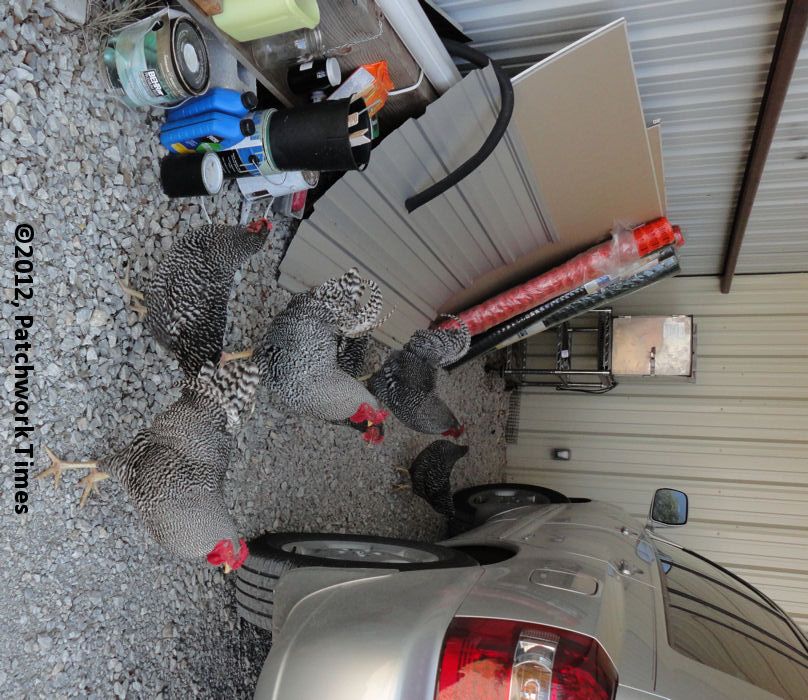 The outside door is right in front of the Highlander.  When I chased the chickens out, this is as far as they got.  I told them . . if they want to live to see another day, they best not get anywhere near that Highlander!  I hope they take my advice!  Vince will be happy to have chicken and dumplings if he catches one on his beloved Highlander.