Before I can give the Saturday report, I have to give the Friday night report.  First thing you probably all know is that about 98% of the time, Vince and I get along spectacularly.  With his Sicilian heritage, that just proves what a wonderful wife I am!  🙂
Seriously, he doesn't give me much grief about the time I spend in the sewing room, about the chores he has to do to help with the garden and the chickens . . all of which are my "hobbies".  He likes to rattle my chains about the yarn I buy but he really doesn't care.  But, every now and then, we just have to have a "how the cow ate the cabbage" conversation and last night was that night.
I do not like the TV and I suppose it would be more accurate to say that I terribly dislike the way Vince watches TV.  He comes home from work and turns it on.  He may be outside or in some other part of the house but the TV never gets turned off.  Almost the minute he sits down to watch it, he falls asleep . . with the remotes.  At 8:00 p.m., there might be a show I can tolerate but when he goes to sleep at 8:10 and then something else comes on at 9 and I wake him up and ask him to turn it to something else please, he usually says "I'm watching this!".  I'm betting it's the same way at some of your homes.
So, last night we had a discussion about the TV and he's going to keep it off more.  I tried to explain that I don't mind him watching something he wants to see if he's truly interested in it but keeping it on non-stop — storage wars, pawn shop whatever, the gun show, the Texas storage wars, the Louisiana pawn shop and gun shop . . I can't take it!   So, he said ok . . he understood completely.  He wanted us to watch a show about "happiness".  Can't remember what it was called . . Happy maybe!  It was something on Netflix.  OK.  I'll watch it.  Right off the bat, he decided it might not have been a good choice because a whole lot of it is what I've been telling him.
Guess what happened about 1/3 through the show!  Yep, Vince was asleep.
What is wrong with going to bed when you're sleepy?  I've never seen anything like it.  I'd say . . wake up Vince!  He'd say he was awake.  I'd ask him a question about what they just said.  He got all the questions wrong!  🙂   It was not a good ending to our discussion about the TV.
Now . . that gets us to this morning.  He knew I wasn't real happy with the whole incident so he said "Let's go eat breakfast somewhere."  I'm thinking . . there's a Cracker Barrel in Abilene . . but he was thinking more like McDonald's.  McDonald's it was.  But before we left, I went and got a tape and measured our doors.  Vince was getting nervous because he knew what I wanted and he knew how much the blinds had cost for the doors in Missouri.
We have nothing covering the glass in our doors.  I'm not worried about anyone looking in.  I'm pretty darned sure no one is ever going to wander back here but the problem is . . with the lights on in the house, the glass is covered with bugs wanting to see what's going on inside.  When we open the door to take Speck out, all those bugs come in.  There are moths and mosquitoes (West Nile is a big deal here right now), some little green, crunchy speckled bug . . lots of bugs come in.
After McDonald's, we went to Home Depot and I found blinds that I'm so hoping will solve the bug problem.  But . . get this . . I guess because Vince was feeling kinda bad about last night, instead of coming home and sticking the blinds in the corner, he immediately got out his tools and installed the blinds on the French doors and the back door.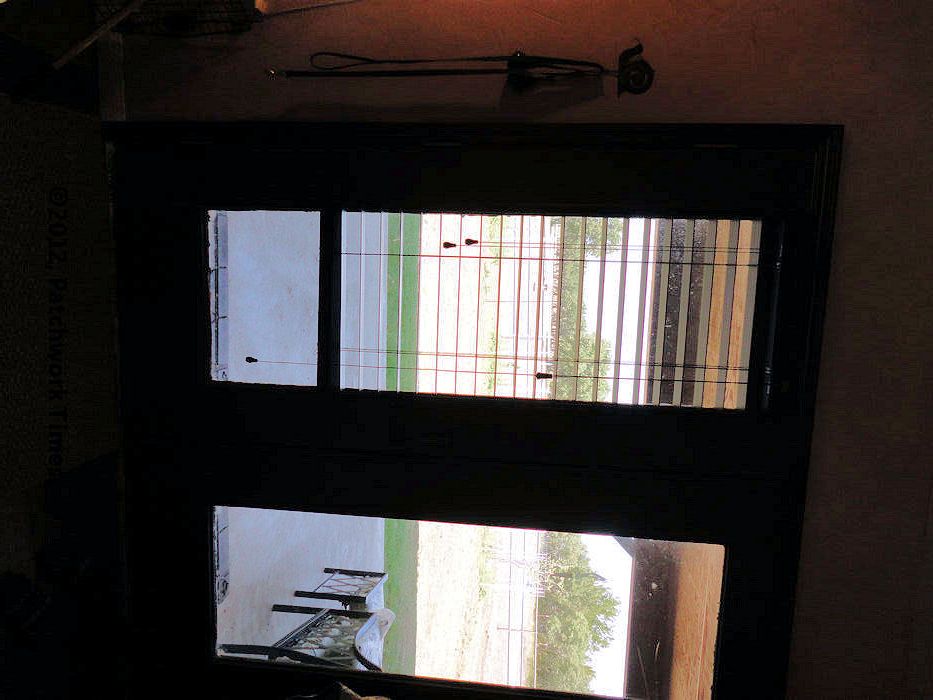 The picture is kinda dark and the windows are kinda dirty but these blinds are perfect!  He had the anchors on the bottom but I had to undo them to clean the glass.  They're the exact color as the door, they fit perfectly, everything works and they were $32 each.  I knew I wasn't going to spend what we spent in MO but I figured I'd spend at least $100 per window.  I'm so happy . . I think I'll order more yarn!  Or maybe I'll just add more channels to our Dish lineup!  🙂
Here it is 3:30.  Vince is watching football.  He loves college football and I'm happy when he watches that . . it's just keeping it on non-stop that bugs me.  I'm just now getting over to the sewing room.  Not much sewing today but there's another football game on tonight so maybe I'll end up making some good progress.