When I post and so many ask me the same questions, I realize I'm not doing a great job of explaining or that I just do some things in such a weird way that no one, often including myself, understands why or how I do things!  🙂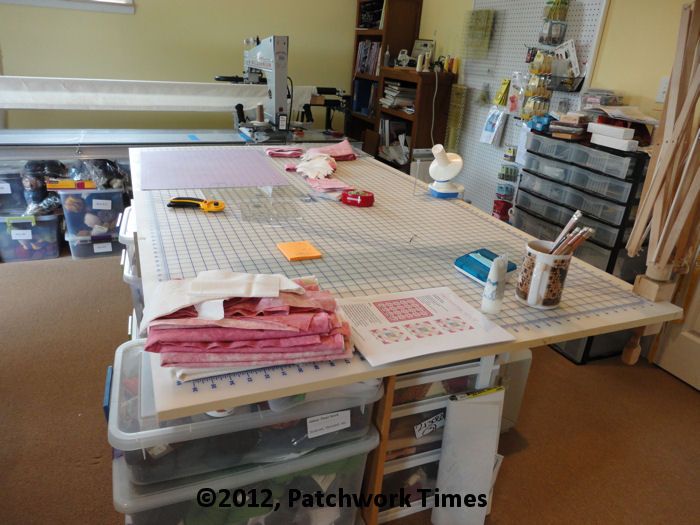 When I showed the picture of my cutting table, several asked why I have the smaller cutting mat at one end.  The measurements on the large mat are 36″ x 68″ so it's probably about 40″ x 72″ and covers the table perfectly but it is expensive!  I tend to stand on one corner and cut, usually because that's the only clean spot, but I wear out those large mats in that one spot and it just makes more sense to me to use a smaller, less expensive mat for the majority of my cutting and replace it when needed instead of replacing the bigger mat.  Even a self-healing mat will eventually have to be replaced.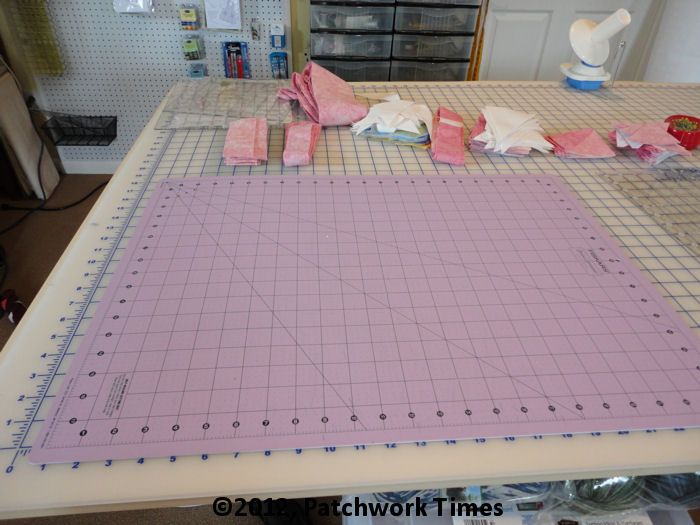 I like the mats that can be flipped over and used on both sides.  I feel I'm getting my money's worth out of those.  This one is lavender on one side and blue on the other side.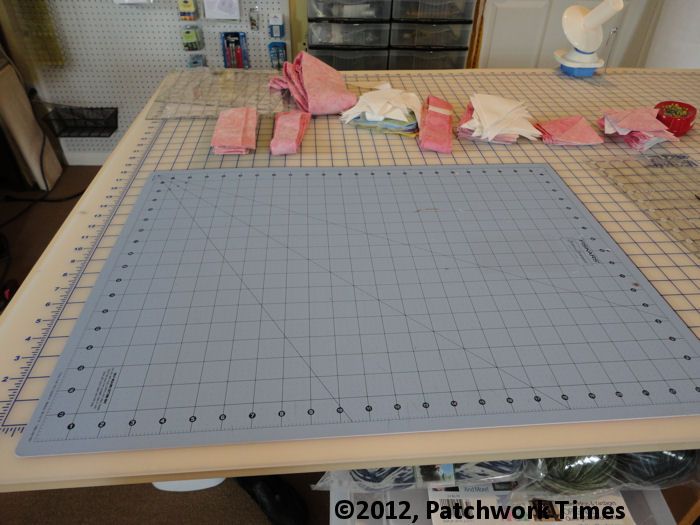 In Missouri, my room was smaller, or more accurately, it was a basement room and had support pillars in the middle of the room that created a difficult space to work around.  The longarm could only go in one spot and because it was also a room that got a lot of traffic through it, I had to be careful where I placed things.  The big cutting table was in the way so I bought this workbench type thing at Sam's Club.
It's about 20″ wide and 72″ long and I love that it has the heavy duty drawers.  From an old large cutting mat that had one side worn out, I cut it in half lengthwise and used the side that was not terribly worn out and that's what I have on this cutting table but you can see that I also use the smaller mats on there too.  Pegboard is on both sides of both of those banks of drawers so I keep rulers and rotary cutters at this cutting table too.  When I have friends over to sew, it's nice to have areas where we can all work without being crowded.  I offered Vince that workbench for his shop because I could easily get by with the one big cutting table but he didn't want it so I'm very glad to have it.
There are all kinds of setups for cutting tables, many can be made relatively inexpensively.  The big table I have is one I bought in about 1989 when I bought my Bernina 1230.  I'd say I've definitely gotten plenty of use out of that.  My ideal cutting mat would be something custom made that has deep drawers that go halfway through and are on both long sides, with shelves on the short sides but I don't see that ever happening.  I'm 100% happy with what I have!