Last night Vince was working so hard to get the water line in and buried before dark because it was supposed to rain today.  I tried to pretend that he was fine without my help but about an hour before dark I made myself go see if he needed my help and . . just my luck . . he did!
See this chair . . it plays a crucial role in this story!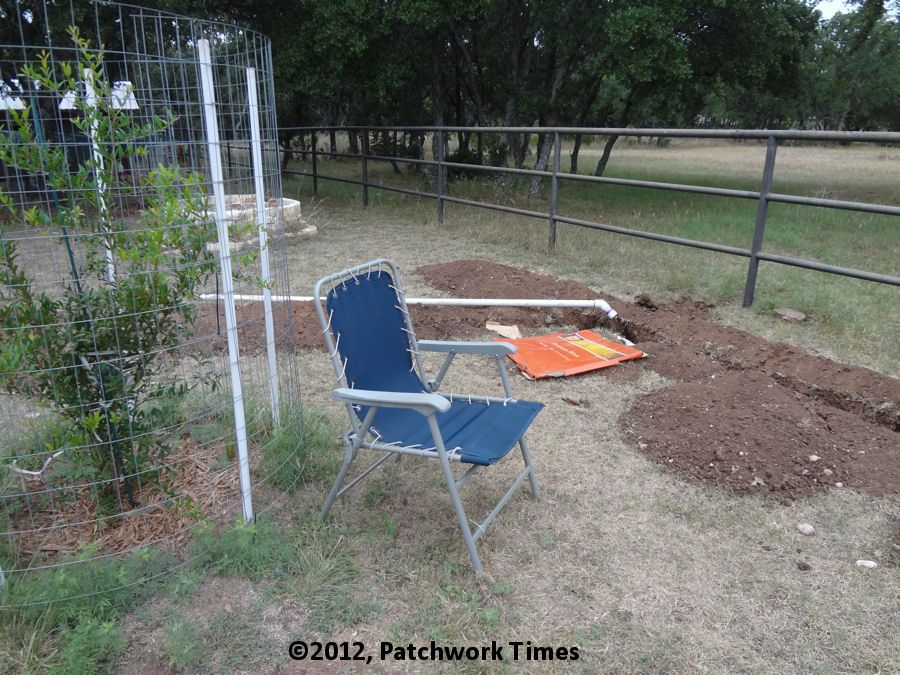 So, I asked Vince if he needed my help and he did.  He was taking that piece of orange cardboard and laying on top of it and leaning over the trench to fit the pieces of pipe together.  He needed me to stand at the other end of the pipe and hold it . . almost level with where he was working down in the trench.  Huh?  I can't stand on my feet and bend over with my head way lower than my feet!  No, I am not laying on the ground either!  I said . . I'll get in the trench and hold the pipe.  He didn't think I could get in the trench and of course, I was going to do it just to prove that I could.  Getting in was the easy part.  Getting out was the hard part so instead of getting out with each new pipe extension, I'd just walk backwards . . more like scoot, because the trench was barely wide enough for one foot.
Our dirt is great the first 4 – 10 inches and then it turns into rock and while the trencher had cut through the rock, it was awfully jagged and my legs were both bleeding by the time I got out of the trench.  It was just scrapes but it was getting dark and I could hear mosquitoes beginning to buzz.  I figured they'd smell the blood and come for their share so I went in and sprayed mosquito spray all over myself.
While we were waiting for the glue to dry, Vince went to give the chickens fresh water.  By the time Vince got done and was ready to turn the water on to test the line, it was really dark.  I was sitting in the chair, with my back to the woods and I thought I heard something in the woods.  I has halfway turned around in the chair trying to see if there was a mountain lion or something fixing to get me.  When he turned the water on, he had not bled the line and the end cap blew off . . sounded like a gun . . right there where I was sitting, already scared!  I jumped out of that chair and went running towards Vince.  He had heard the cap pop off and turned the water off and was cracking up when I got to him.  I realized already that the cap had popped off but I was still scared!
We gave up on that project for the night and this is what our weather looked like all morning.  (How picturesque with a red Solo cup laying on the ground!)
We got a few little sprinkles but he was able to get it fixed . . and he added a valve to bleed the line when he first turned it on.
One thing for sure . . I will not be sitting in that chair right next to that line when he turns it on, even though he has assured me that he has it all fixed now.
Sure enough . . no exploding caps, we have water coming out the valve and there are no leaks.  Good job, Vince . . even though you scared me half to death last night!