That weatherman!  He told me . . I think he promised . . that there were no more 100+ degree days in our forecast but then . . the temperatures are up over 100 degrees again.  Yesterday was so hot.  I worry about the chickens.  There are fans on them but blowing hot, dry, dusty air around just isn't real comfortable.
I noticed yesterday morning that the Dominique chickens were right up against the foundation on the west side of the house.  The exposed concrete was probably still cool from the lower night temperatures.  By the afternoon, the sun had heated that side of the house and they had moved around to the south side of the house in an area with a bit of shade.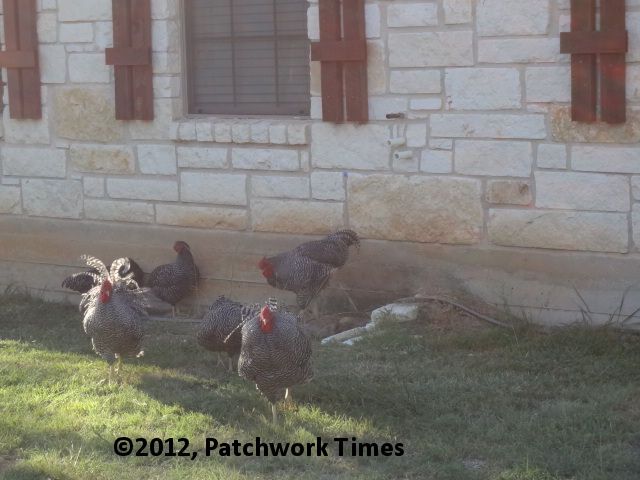 Spoiled chickens!  As soon as they see me with the camera, they come running because they love having their picture taken and they especially love that their pictures are on the blog.  They actually have been asking about having their own blog but when I told them that most of my blog readers love reading my recipes . . especially chicken recipes . . they decided they might not like the blog so much.
Seriously, they think any time I go outside, I have treats for them.  They come running, they follow me around all over the yard.  There's one place they will not go . . . they will not cross into Roscoe's territory.
The Dominique chickens know exactly where Roscoe's "Do Not Cross This Line" mark is and if they even think of venturing into his territory, he goes after them.  He is so darned fast . . reminds me of a little rocket and those big Dominique roosters are scared to death of him.  Roscoe flies right at one of them and actually flies into them and they take off running.
Poor Roscoe  . . he parades around the chicken yard on the outside . . all day.  From the outside, he protects the 13 hens on the inside.  I'm surprised he hasn't figured out a way to get inside the run.  What he wouldn't give for a "conjugal visit" with those girls!