Oh, my  . . Vince is about to send me over the edge.  As he would say . . it's a short trip!
It was cool this morning so he was out in the shop bright and early cleaning and re-organizing.  Truly, it's very similar to re-arranging the deck chairs on a sinking ship.  There's so much stuff.  I'm not saying it's all his . . way too much of it is mine.
The fabric shelves in the sewing room are packed . . so packed that I've even resorted to stacking fabric on the floor in front of the shelves.  He's brought in three boxes of fabric.  With each box, I say "Oh, THANK YOU!  I've been looking for that!"  The more accurate response would be "I don't even remember ever buying that fabric" but he would give me such a hard time if I said that.
He's brought in two boxes of quilting books, which I was happy to see.  There are more books but I guess we'll find those soon.  In MO, I had three tall bookshelves full.  Here, I have two tall ones and a short one.  Cannot find the third tall one anywhere!  But the book shelves I have so far aren't even half full so I know there are more books.
One box had more UFOs . . mostly quilts that need quilting.  I will never get all the tops quilted nor will I ever make much of a dent in my fabric stash.  I'm trying but I'm not hopeful.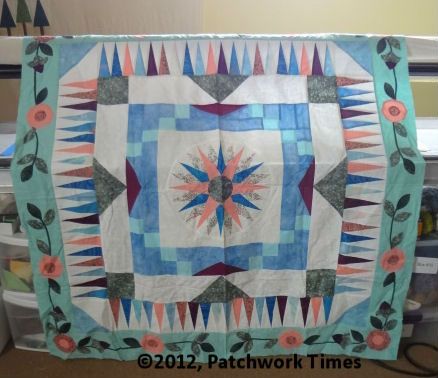 This top was a round robin that was done in 1997 – 1998 . . somewhere in that range.  I didn't like the outer borders so I took them off.  I need to add some more borders and finish it.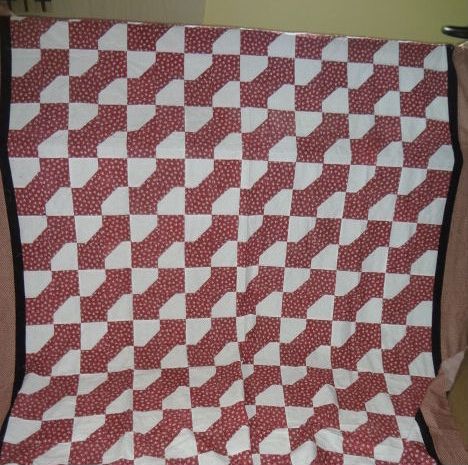 This quilt has cat paws on the bow ties.  Chad's high school mascot was the panthers.  I made this quilt for him and he thought it wasn't so great.  He's been out of high school 6 years.  Time to finish this and find a home for it.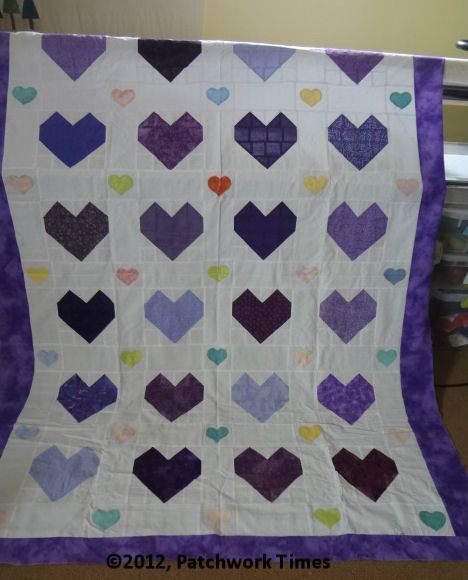 I would have bet my last dollar (if I hadn't already spent it!) that I had finished this quilt and given it away but obviously, I was wrong.  If you look very closely, you will see little hand appliqued hearts in the sashing.  Yes, I did those!
This quilt was one I did when I was still making quilts to enter in shows . . back when I got real picky about my points and left lots of wide open spaces for quilting.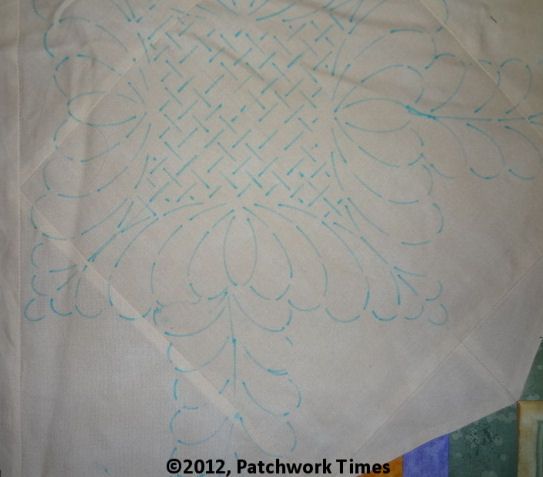 Obviously I was way more excited about custom quilting back then than I am now.  The top is already marked and read to quilt.  Maybe someday I'll do it . . maybe not.
I wasn't looking for any of these quilts.  I had actually forgotten about them all and would not have been disappointed if I had never seen them again.  But they're added to my stack of "To Finish" tops and some day . . hopefully . . I will get them done.