When there are recipes all over the internet that I've been making for years, I hate posting the recipe and not giving credit to someone but . . what's a girl to do?  This is a recipe I love to make when I need to take a covered dish somewhere.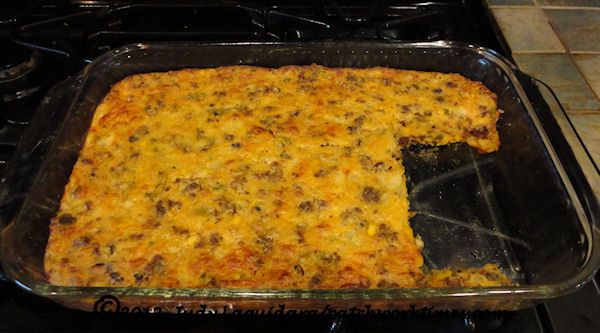 Yes, I baked a whole dish full but forgot to take a picture before cutting out our portions for dinner.  During fall and winter, this is great for serving with soup and the leftovers heat up nicely.
Things I change depending on circumstances:
If I'm making it just for us, I use hot sausage.
If I'm making it to take somewhere, I leave out the jalapenos.
Instead of cheddar cheese, I use a Mexican cheese blend.
I buy a regular size can of cream style corn.  1/2 cup goes into the recipe and I put two additional 1/2 cup (or close to that) containers in the freezer so when I want to make this recipe again, I take one of the containers out of the freezer and defrost it before using.
When you make black eyed peas and have leftovers, freeze those in 1-1/2 to 2 cup containers and they can be used in this recipe.
Black Eyed Pea Cornbread
1 lb. bulk pork sausage (see note above)
1 onion, chopped
1 jalapeno pepper, seeded and chopped (see note above)
1 c. white cornmeal
1/2 c. flour
1 tsp. salt
1/2 tsp. baking soda
2 eggs, slightly beaten
1 c. buttermilk
1/2 c. vegetable oil
1 (4 oz.) can chopped green chilies, drained
1/2 c. cream-style corn
2 c.  grated Cheddar cheese (see note above)
1 (15 oz.) can black-eyed peas, drained
Directions:
Preheat oven to 350 degrees. Grease a 13 x 9 x 2 inch pan.
Cook sausage in a large skillet.  When it's almost done, add the onion and jalapeno and cook til they are tender.  Drain on paper towels and set aside.
Combine cornmeal, flour, salt, and soda in a large bowl.
In another bowl, beat eggs, buttermilk, and oil together. Combine with dry ingredients, stirring til barely blended.  Do not over mix.  Add sausage, onion, chilies, corn, cheese, and black-eyed peas. Pour into prepared pan and bake at 350 degrees for 1 hour.