This bread has become one of our favorite sandwich breads.  It does require sourdough starter but I'm sure an experienced breadmaker could substitute a little more or less flour  and a little more or less water and still get a good result without the sourdourgh starter.  Of course, your bread would not have any sourdough flavor but even without that, I think this would still be a tremendously good bread.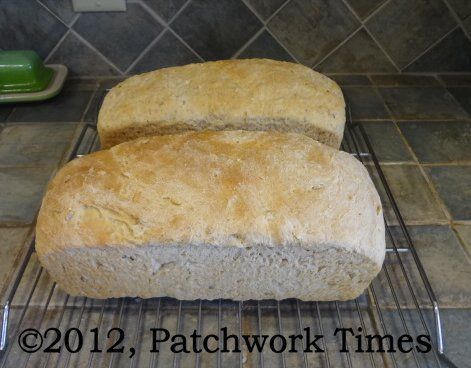 I've also made the bread leaving out the whole wheat flour (when I was too lazy to grind it) and adding an extra 1/2 cup of all purpose flour.
The last time I made meatballs, I used the end of a loaf for the breadcrumbs so the meatballs had a bit of crunch every now and then from a seed of some kind and they were so good!
My recipe is based on Clay's Multi-Grain Sourdough Sandwich Bread and I've added a few other ingredients.
Sourdough Sandwich Bread:
Ingredients:
2/3 cup sourdough starter, fed or unfed
2/3 cup lukewarm water or milk
2 tablespoons olive oil
1 tablespoon sugar
1 1/4 teaspoons salt
1 3/4 cups all purpose flour
1 egg
1/2 cup instant potato flakes
1/2 cup whole wheat flour
2 teaspoons dough enhancer
1 T. ground flax seeds
3 T. finely chopped toasted walnuts or pecans (or similar type nuts)
1/3 cup King Arthur Harvest Grains Blend
2 teaspoons instant yeast
Directions:
1.  Dump all the ingredients into a large mixing bowl with dough hook and mix at medium speed for 5 – 7 minutes.
2.  Scrape into a greased bowl.  Cover and let sit til about double in bulk –  usually about 1 to 1-1/2 hours, depending on the temperature of your kitchen.
3.  Turn from bowl onto a floured board.  Knead minimally, just to remove the air.  Shape into a loaf and place into a greased loaf pan.
4.  Let rise until about 1″ above the sides of the pan.
5.  Preheat oven to 350º.  Bake 30 – 40 minutes until the top is golden brown.