I remember the first time Chad left to go to college.  I put on a brave . . or maybe it was somewhat wimpy . . smile and waved goodbye as he drove away but never in all my life had I felt my heart breaking like it did that day.  Believe me, I know that there are much worse things that can happen and I understand that he wasn't gone forever . . just moving into the dorm an hour away but for me, that was a huge separation.  I was glad he was growing up, glad he was going to college, looking forward to some time alone with Vince and not being a full-time parent as in . . what time will you be home for dinner, don't use all the hot water til we've had our showers, run water in your milk glass . . that kind of stuff.  So, my head knew it was a great thing that he was moving off to college but my heart just didn't quite get it.
After he drove away, I walked into the house sobbing.  Vince didn't get it . . he's not a mom!  Aren't you happy he's going to college?  Yes!  Aren't you glad he's only an hour away?  Yes!  Aren't you glad he's coming home every weekend for his job here?  Yes?  Aren't you glad we have some alone time together? Yes!  So, what's the problem? I guess I want him to stay home forever!
No, I really didn't want him to stay home forever but I got past that hurdle of him driving away and it was a few days before I got up the courage to go downstairs where his room was . . where I sat and sewed and listened to his duck calling from his room, where he came out to talk to me while I was sewing or quilting.
When I went downstairs . . I smelled his body wash and smelled his cologne and then I cried again!  But, that was several years ago and I'm mostly past that.
This weekend I was digging through boxes looking for something and I found this: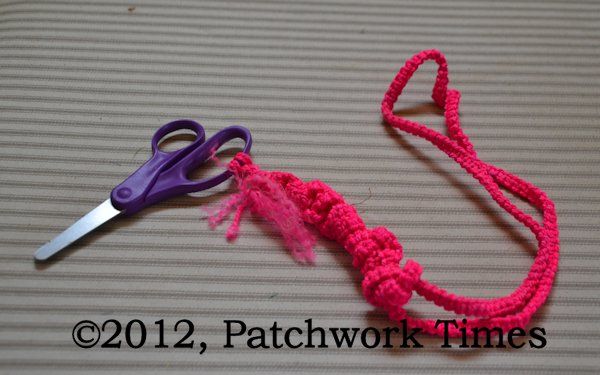 I pulled out the scissors with their little macrame cord that Chad had made when he was in elementary school and the tears flowed again.  I remember him buying that pink cording and he told me he was making something for me and he made this because I'm always losing my scissors.
When he gave it to me, I was happy to have it.  I kept these by my longarm and they weren't so easy to lose with the bright pink cord.  At the time, I never dreamed how much I would miss him or thrilled I would be many years later to find this little masterpiece.  It makes me want to dig through more boxes to find more treasures butt hen it's always so nice to find things like this, things that bring a flood of good memories . . find them out of the clear blue when I'm not expecting it.