This is my Shaw's Cove Shawl for the third Camp Loopy project.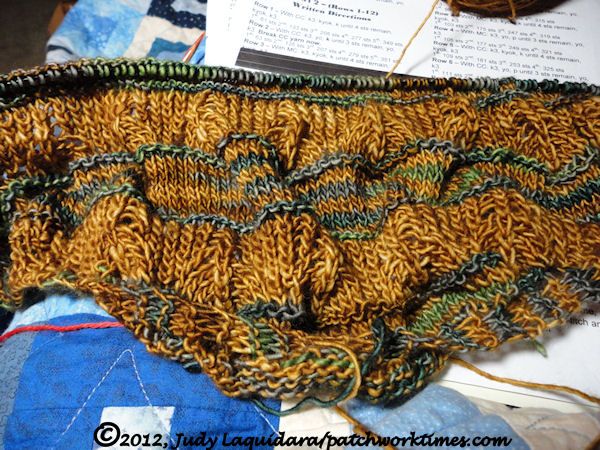 There are several sections that have to be repeated and there are three or four rows in Section 2 that give me fits.  The first time, I got about three inches in and had to rip it all out. During these frustrating rows, there are all kinds of cross overs and knit two together backwards and it's almost impossible to rip out right.  I was trying so hard to pay careful attention and the phone rang and I got messed up.  So, I just cut it all off and started over.  I got to the same point again and Vince was watching the Olympics and he said "Look at this!" and I did and got messed up again and hard to start over.  The third time, I decided to add a life line before I got to the hard part.  I got through it just fine and added the second time, I got messed up again and had to rip back to the life line . . thank goodness I had put it in there.
For those who have never had to use one, a life line is some kind of waste yarn (it's the orange string you see in the picture) that is pulled through a row as that row is knitted.  Then if I have to rip out, I can rip back to there and the waste yarn stops that row from being ripped.  I can then pick up those stitches and go from there.
I've learned to go to a separate room, close the door and get those hard rows done without interruption.  I think I have to do them two more times before I'm finished.
The pattern is well written and the problems are my own fault for not paying enough attention.
What are you knitting?