Several years ago, I was hosting Quiltathons monthly.  What's a Quiltathon?  It's a weekend or weekday when we plan to get as much sewing done as possible.  We cook meals ahead of time, we do extra cleaning, we make a surprise desert we can pull out of the fridge and our family thinks we've slaved in the kitchen for hours and we've been sewing!  Let's do the Quiltathons again!
Previously, we did one on a weekend and the next month, we'd schedule it on weekdays, to accommodate those who preferred weekends vs. week days and vice versa.  How about we schedule them Thursday through Sunday? That will work for those who want week days and those who want weekends and you can do whatever days you wish.  Think of it as almost like a retreat at home.
In the days leading up to the Quiltathon, I'll share some tips I use for getting meals on the table quickly and with as little as possible mess (remember .. I have no dishwasher!)
Not everyone is going to be able to do every Quiltathon and even if I'm doing it alone, it really motivated me to get a lot accomplished.
You are welcome to work on any project you'd like.  There will be link boxes to share your progress.  There may be prizes . . some days . . nothing is written in stone.
Most months I will try to share easy patterns with you but don't feel like you have to do them.  Getting UFOs or other projects completed is what really matters.
There will be a Quiltathon on August 9, 10, 11 and 12. 
That's next week!  There will be a free pattern . . an easy pattern.  It's rectangles and squares and because of the two blocks, except for where the block corners meet, there's no real matching up that has to be done.  And, except for the outer border fabric, you should be able to use stash fabrics and make it scrappy.  Want to do this with me?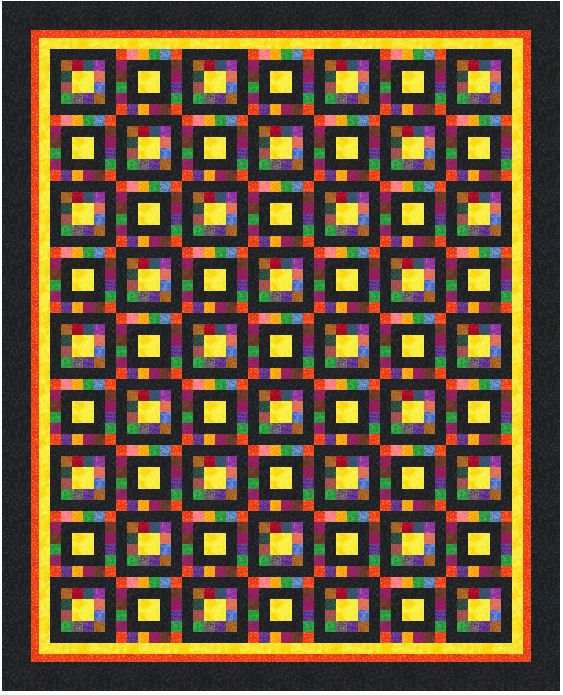 This one finishes at 76″ x 94″.  Want a smaller one?  Make fewer blocks!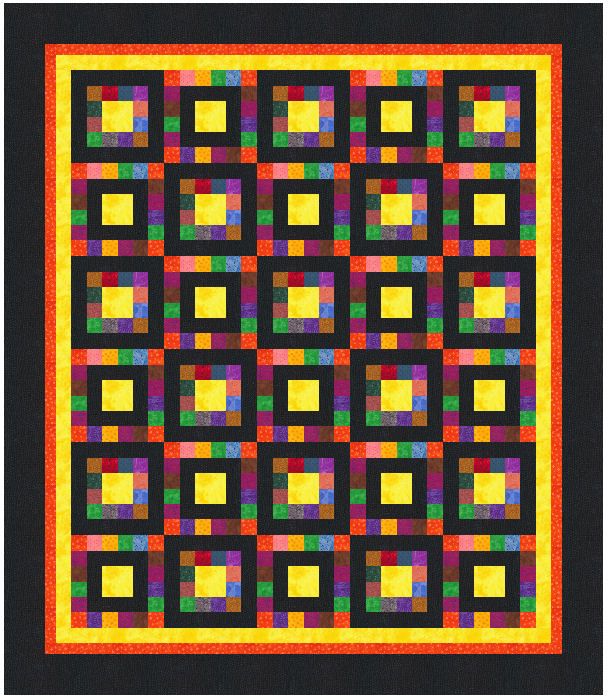 This one finishes at 58″ x 67″.
Of course, you don't have to use the same colors I used but for the quilts as shown, here's the yardage.  These amounts do not include the binding.
Large:
Black – 4-1/4 yards
Yellow – 1-3/8 yards
Orange – 1 yard
Small:
Black – 2-3/4 yards
Yellow – 7/8 yards
Orange – 3/4 yards
Don't want to use black?  Here's one done in blue:
If you want to participate, choose the fabric you want to use for your outer border and the "frames" in the blocks.  Then choose the fabrics for the other two borders.  Whatever color you choose for the first (inner) border, you will want to avoid having any squares in your perimeter blocks that use that fabric (or anything terribly close) because they will blend in with that border.
Anyone want to do this with me?