Often late in the evenings, the cows come to visit.  These hot, dry days, I think they're mostly hanging out around the ponds.  We don't see them as much as we do when it's cooler but they come by several times a week.  Yesterday they came for a visit and Vince went out to give them treats.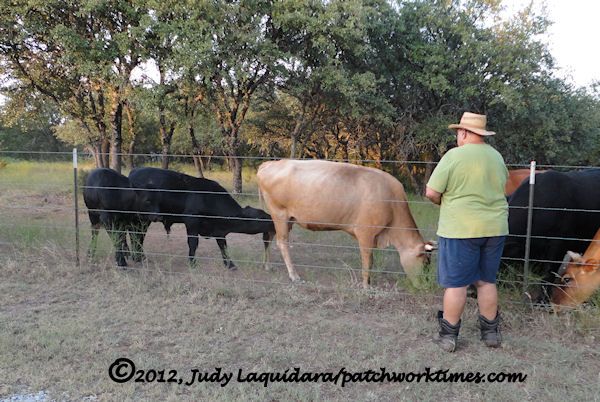 I don't know anything about cows but these little calves are almost as big as their moms and I think it's time they stopped nursing.  They're rough on those poor moms.
Vince gave them all the treats he had in his bucket but some of them wanted more.
Look at those eyes!  Cows have the sweetest eyes!  They were begging for more treats.
Miss Red just would not take NO for an answer!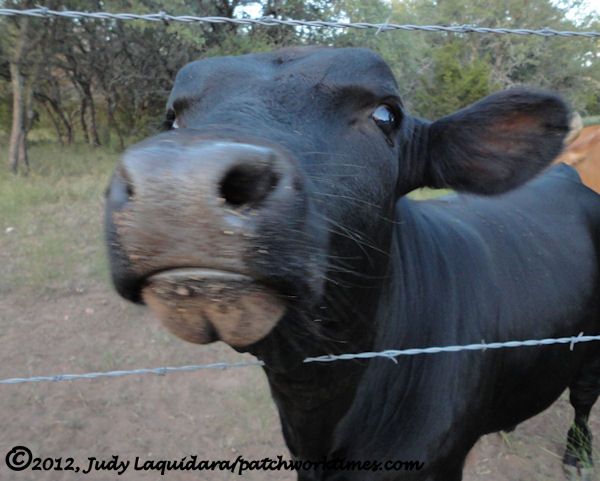 This little calf would not take NO for an answer!  He wanted treats.  He was too busy nursing when the treats were being handed out.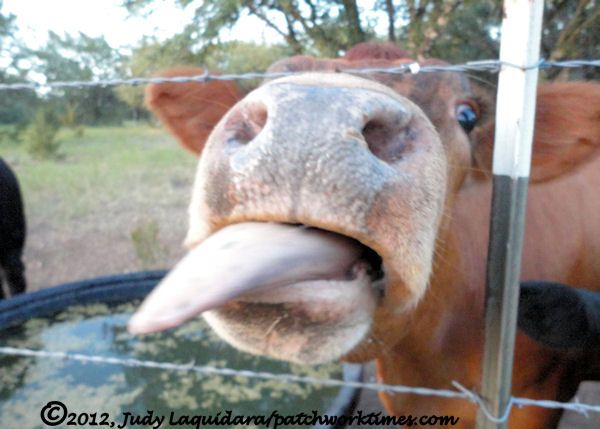 Now . . Miss Red!  Sticking your tongue out at me will get you nowhere!  Didn't your mama teach you not to do that?
Oh, dear!  She's frowning.  I hope she doesn't cry.  She really does get bad treatment.  She's the only one without horns and those other cows mistreat her so we always give her extra treats.  Vince will usually distract the others and I'll go off to one end with treats.  Miss Red knows those are just for her and she'll come down and I shove them to her as quickly as I can and she eats them as quickly as she can before the others realize I'm handing out treats.  Miss Red and I have it down!  But . . she really doesn't need to stick out her tongue and frown like this when she wants more treats than we have to hand out.
Come back this evening  . . we'll give you more then!