With everyone guessing it was a truck that Vince had ordered, you got me remembering how much we need a full size pickup.  No . . we're not getting one.  Yesterday I had to reset a password on some very old account.  The guy on the phone with tech support had to ask me all kinds of questions because I have a different phone number and address from their records.  He asked "What color was the 1996 Chevy pickup that you owned?"  I said "The 1996 Chevy pickup that we STILL own, because we never get rid of our vehicles?  That Chevy pickup?"  We both laughed!
This morning we were going on a little shopping expedition but first, we had to make a stop by the landfill. But first  .. Vince had to load the pickup.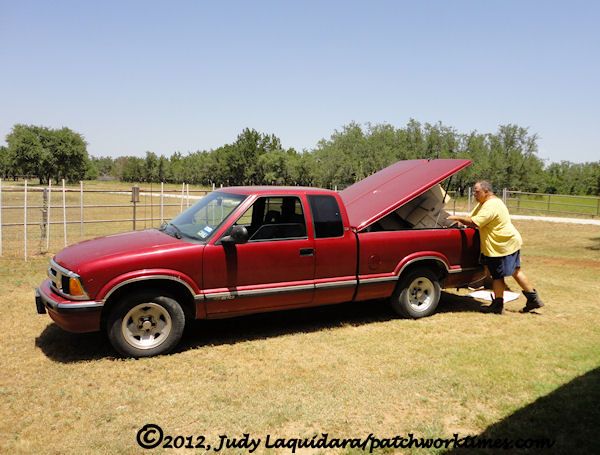 Stuff it full, Vince!  There are lots of boxes!
Can he squeeze just a few more boxes in there?
Oh, yes.  There's room for a few more flattened boxes.  And, what about that outfit?  I'd better not say much.  I have on shorts and boots almost to my knees when working in the garden.
Add a few bags of house trash . . is there room?
Yep, he got it all in there.  Poor old truck.  It looks good for a 16 year old vehicle that lived with lots of snow and salt on the roads.  It still has the best air conditioner of any of our vehicles. I guess I'm glad we have it.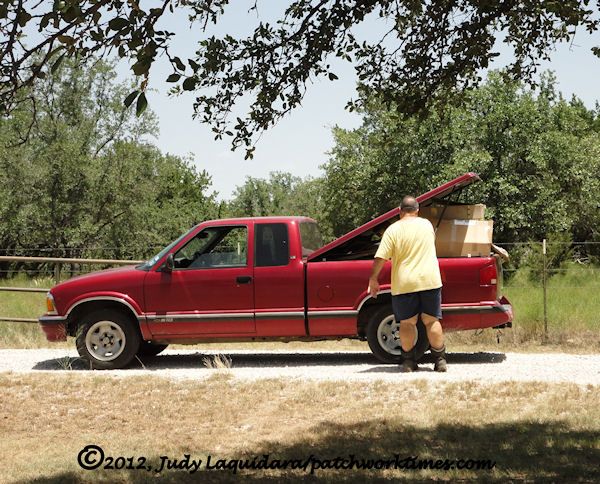 Thankfully he showered and changed clothes and shoes before we went on our shopping expedition.