The things you guessed had me laughing out loud.  Here's my responses to some of them:
New Truck – No . . I haven't even thought much about a new truck lately.  We haven't had any major projects so we haven't really missed not having a full size truck.  Maybe in the spring I'll get back on that bandwagon and hound Vince about buying a new pickup.
Laptop – I do need a new laptop but probably won't buy one til mine quits completely and then I'll be kicking my butt for not buying one sooner.
Gas stove – I'm perfectly happy with my gas stove.  When we build the new kitchen, I'll get a 6 burner but for now, I'm so happy with having a gas stove that I'm not complaining about anything.
iPad, Accuquilt, Kindle – Got them already.
Spinning Wheel – Yes, I'd love to have one but I don't think I have enough hours in my day to add another hobby.
An espresso machine – Ugh!  I don't like anything about coffee!
Goats – I really would like to have a couple of goats but right now, I don't need any more responsibility.
Baby furniture – Already bought the baby bed, the chest, the changing table, the mattress and the high chair.
Trip here for Chad & Nicole – I wish!  I imagine she's not supposed to travel right now.
The Big Green Egg – Might get that some day but I'm just not sure about having to use their charcoal since we don't have a dealer within 100 miles of us.
Here's the winning number: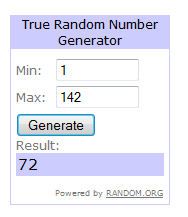 And Comment #72: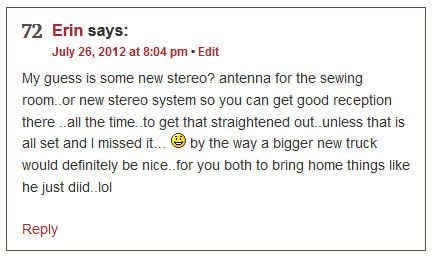 Congratulations Erin.  Please check your email.