Just the two of us . . we still love cakes and pies but a whole one lasts too long or we eat too much. I've been working on a recipe that we like for a smaller cake and I think I've figured it out.   This is the Nordic Ware 6 cup Bundt cake pan that I use.
Guess what I'm having for breakfast!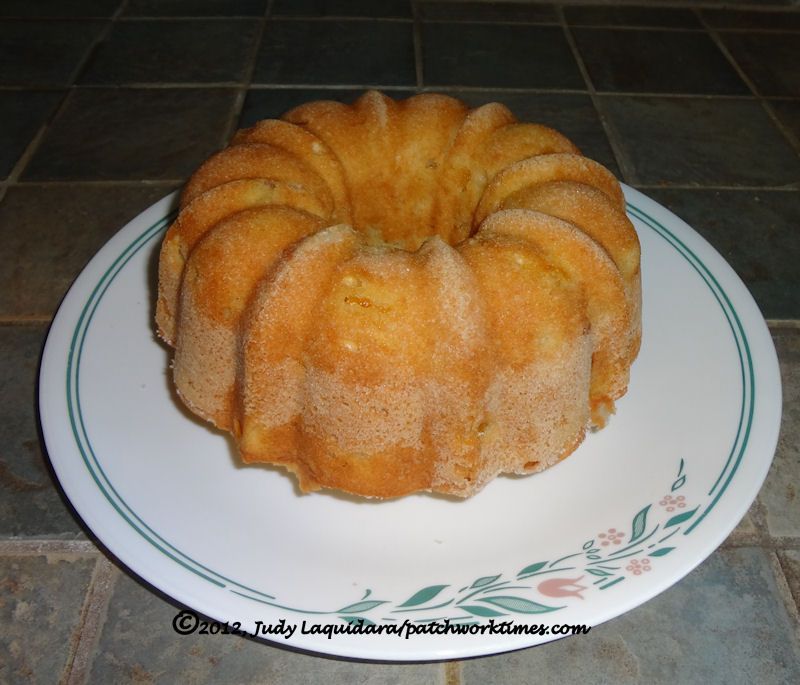 At first glance, you would hardly know it's not a full size cake but it's just sitting on a dinner plate and you can see how much empty space there is on the plate and here's a cute little slice of it.
This is really the perfect size cake when a full size cake is just too much.  And, if you're wanting to bring it to someone or somewhere and don't want to mess with a plate, it fits perfectly into a one gallon zipper bag.  No foil.  No plate to return.
This particular cake is a Peach cake and used fresh, diced peaches.  I've used diced maraschino cherries, along with toasted and chopped pecans and I've used mashed overripe bananas or chopped apples with toasted and chopped walnuts.
Little Pound Cakes
Ingredients:
1 stick of butter, at room temp
1 cup white sugar + 1/4 cup sugar for dusting pan
3 eggs
1 tsp. vanilla extract
1/4 tsp. cinnamon
1-1/2 cups all purpose flour + 1/4 cup all purpose flour for coating fruit
1/4 tsp. salt (use a generous 1/4 tsp.)
1/2 tsp. baking powder
1 cup chopped fruit or 3/4 cup fruit and 1/2 cup chopped nuts
Directions:
1. Preheat oven to 350º. Spray cake pan with Baker's Joy or similar product. Sprinkle the 3/8 cup sugar in the pan and shake the pan to coat with the sugar.
2. In a large mixing bowl, cream the butter and 1 cup sugar til light and fluffy.
3. Add the eggs, one at a time, beating well after each one.
4. Add the vanilla and cinnamon.
5. In a separate bowl, stir together the 1-1/2 cups flour, salt and baking powder. Add to the egg/sugar mixture and beat til blended.
6. Sprinkle the 1/4 cup flour over the fruit and nuts. Stir into the batter, stirring just til mixed in.
7. Pour into the prepared pan.
8. Bake for 50 – 60 minutes. Begin testing with a toothpick or cake tester after 45 minutes.
9. Allow to cool in pan for 15 minutes. Turn onto a wire rack to cool completely before serving.