Thanks to those who have written and asked about Speck.  He's doing 100% better!  He's been neutered but he still has those male tendencies . . if you get my drift.  Last night when I picked him up to put him in the bed, he grabbed my arm and was about to try to have his way with me!  I told Vince I've never been so happy to see him doing that . . he has energy and he's feeling frisky but . . no, thanks!   Any time Vince gets a bit too close to me, Speck growls and snarls at him and he did that again last night so we knew he was on the road to recovery.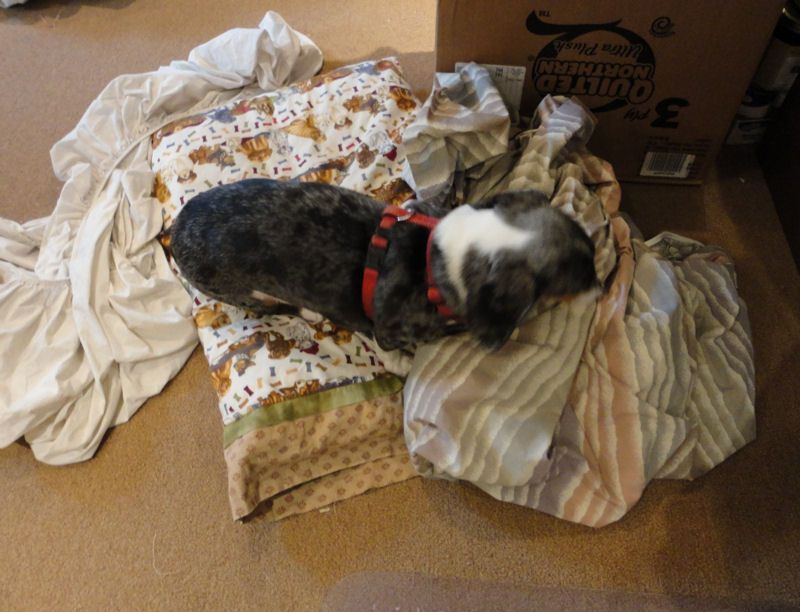 This morning when I asked him if he wanted to go to the sewing room, he was excited!  Lately, he's been going into the crate when I tell him I'm going to sew.  Looking back, and knowing what we now know, he's probably been getting sick for several weeks and we were just attributing it to him getting old.  He had been not having a lot of energy and not getting excited about things that used to excite him but he was still eating well and had not been seemingly in pain til the weekend.
He puts so much effort into getting himself covered up and he never likes it when I help him.
I like our vet so much!  He's an older guy with not a whole lot of personality and at first, I wasn't sure I liked him but they're so good with Speck.  They drew blood and did all kinds of things to him Monday and he never hollered and believe me . . he is a screamer.  If he even thinks he's about to go through something painful, he hollers!
Whew . . at last . . he's where he wants to be.  On his pillow, completely encased in a big, old sheet.  He's right next to my sewing machine and he is comfortable so long as he knows I'm right there close by.
We're both so relieved that he's feeling better.  He still isn't getting as much food as he'd like to get but we're being very strict about giving him nothing more than the prescribed food, in the prescribed amount . . and Speck thinks he's starving.  Starting tomorrow, I can give him 3/4 cup per day instead of the 1/2 cup per day.  You can bet that will make him a bit happier.  He's such a "hound" when it comes to eating . . he never gets enough.