Ever since seeing the fried meatloaf on Diners, Drive-Ins and Dives, I've been wanting to make it.  Last night, I made it!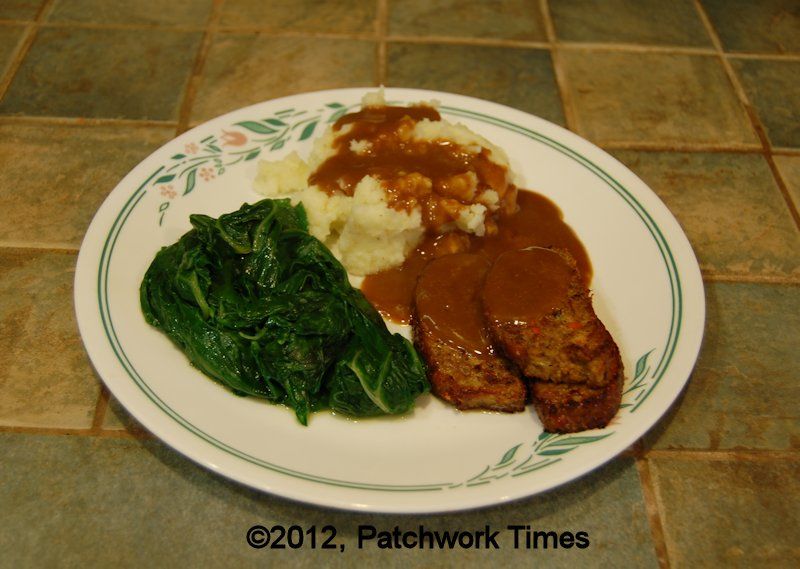 Mashed potatoes, fried meatloaf, gravy and chard from my garden.  Is that chard not beautiful?  OK . . I suppose only a gardener can see beauty in a serving of cooked chard.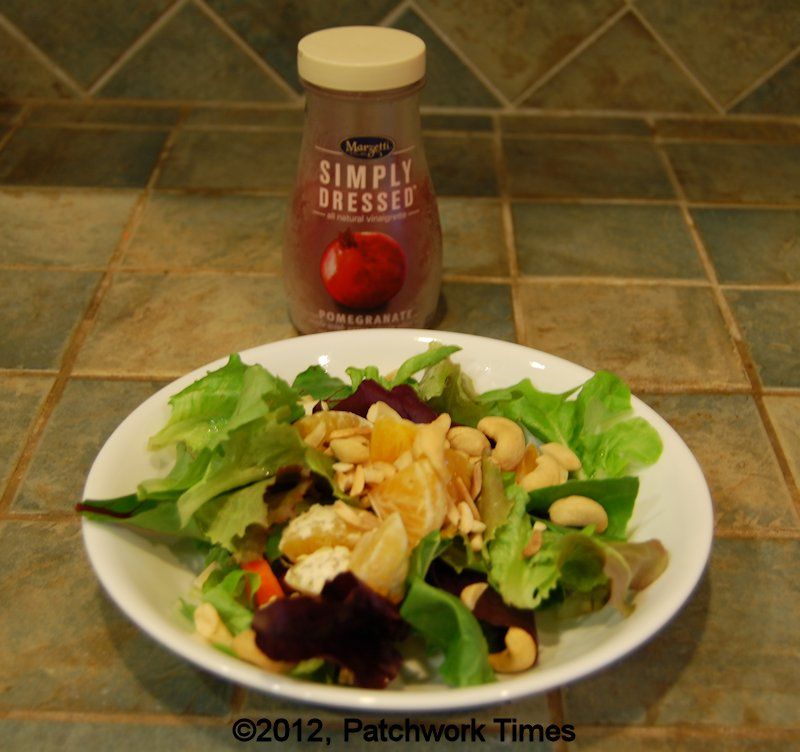 And, we had salad made with a variety of lettuce from my garden, along with cutie orange slices, roasted cashews and almonds.  We love the Simply Dressed Pomegranate dressing from Marzetti.
And, yes . . I see that I need to scrub and bleach my grout or better yet, get new countertop or even better . . a new kitchen!
You would think that with the fresh veggies from the garden, that my blood would be thanking me instead of producing those bad numbers I keep getting!  🙂  Maybe it would be a bit more thankful if there wasn't bacon grease in the chard and if the meatloaf wasn't fried in butter.  Oh well . . I wanted a bowl of ice cream for dessert and I skipped that.
I wasn't careful about measuring the ingredients for the meatloaf but I can tell you enough to where you can make it yourself.
I started out with a little over one pound each of ground turkey, ground pork and ground beef, which was the grass feed beef I got on sale last week.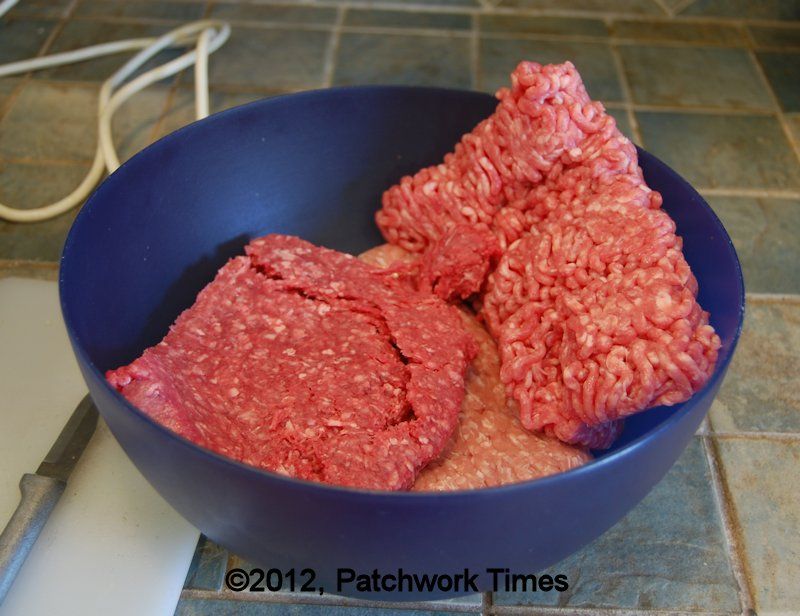 For all the vegetables, I used the food processor to get them finely chopped . . almost ground.
I used 2 medium onions, 2 stalks celery, about 3/4 of one bell pepper, 3 cloves of garlic and 4 carrots.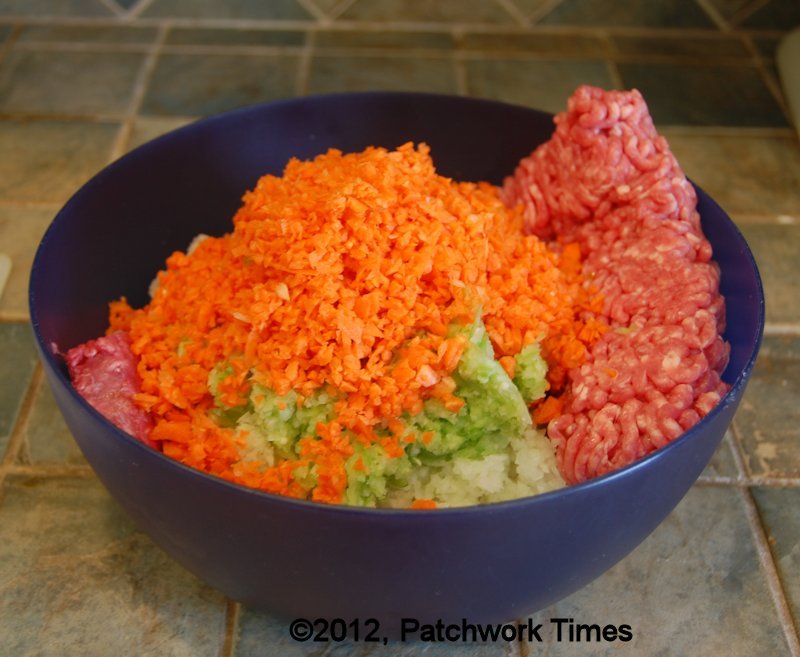 I toasted four slices of bread and ran that through the food processor so I had bread crumbs, I slightly beat (with a fork) 3 eggs, and added salt and pepper.  Roughly, I'd say I added about 3 tsp. salt and probably a bit more black pepper.  It definitely wasn't too salty and could have used a bit more salt.  Use your judgment about the salt and pepper.  I added probably 4 tablespoons of Worcestershire sauce.
I used my hands to mix it all up.  Then, with the aid of my food scale, I divided it into 5 pieces, that were each a bit over 1 pound.  I shaped four of those each into a ball, wrapped each in plastic wrap and then vacuum sealed them and put them in the freezer so we have four more meat loaves waiting to be cooked.
For the one I was cooking last night, I shaped it into a loaf and baked it on a jelly roll pan.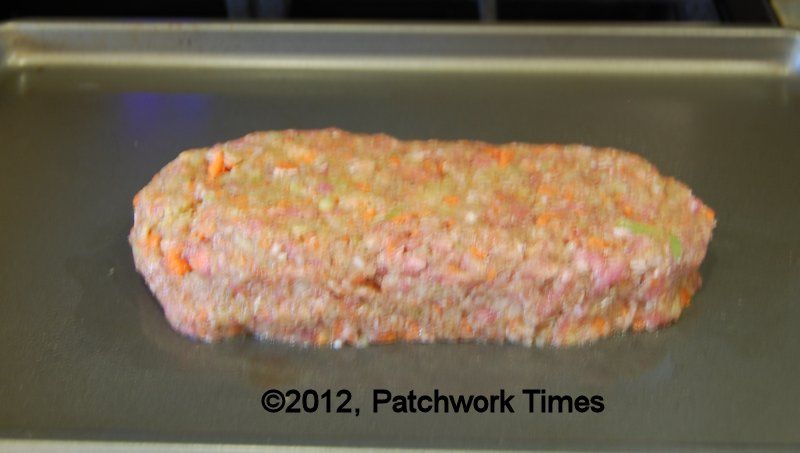 Ugh!  Sorry about the blurry picture.  I could have made it shorter and thicker but I guess that would have taken longer to cook.  It wasn't dry so I'd probably shape it the same way next time.  It was baked at 350º for about 40 – 45 minutes.  Then I took it out of the oven, placed it on a rack and let it cool completely.
You can see below about how thick I sliced the slices but you could slice it as thick as you wanted it.  I heated up about 3 T. butter til it was almost brown and then put the slices in, let them cook on one side til they were getting a crispy edge, then flipped them over and did the same thing with the other side.
From the approximately one pound loaf, we had plenty for dinner and enough for us to have meatloaf sandwiches for lunch Monday.  What's in the pan below isn't all of the loaf.  There were probably three more slices.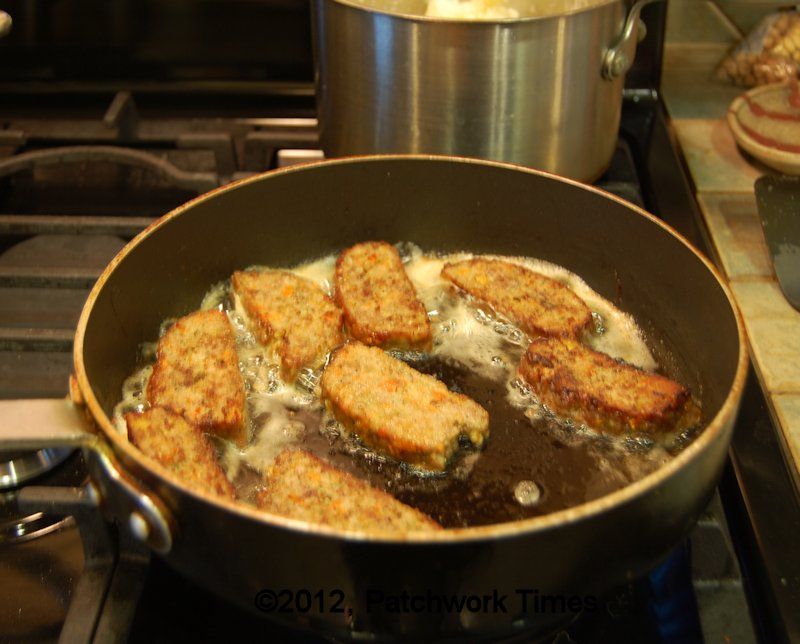 For the gravy, I cheated!  I used one packet of brown gravy mix and one packet of onion gravy mix — the kind you add one cup of water so since I was using two packets, I used two cups of water and then added a few more seasonings to the gravy.
Vince loved it . . even the gravy which I have to say wasn't terrible.  He gave me his ultimate compliment . . "We surely couldn't get a meal like this at a restaurant anywhere near here."
I'm so thankful that I love to cook and enjoy doing it.