You know how I detest leaving home.  I would be so happy if I never had to leave home.  I could order everything I need and UPS could bring it.  I could email Vince my grocery list and he would gladly shop for me.  Well, that's not exactly how my day went yesterday.
When there's lots of groceries to be bought for a holiday, I like to do it myself.  With company coming for Thanksgiving, I had a lot to buy.  Our Brookshire's store had a deal on turkeys.  Let's call this "Turkey Deal #1".  If you buy a Butterball, you got all kinds of stuff free — things like a can of green beans, a can of broth, a can of sweet potatoes, a container of fried onion rings, a can of cream of mushroom soup, a 2 liter drink, an aluminum cooking pan . . it was about a $15 value so my Butterball ended up costing about $10.  I bought other things on sale that I needed for Thanksgiving.  I went home and unloaded the groceries and was going back to Kroger.  I called Vince and told him I probably would not be home for lunch so he suggested we meet and eat Italian for lunch.  We did.  Then I went to Kroger where I got "Turkey Deal #2".  By the time I bought what I needed from there, I got a free turkey!
I went home and put those groceries away but Vince wanted me to go back to Brookshire's because they had coffee on sale.  When I went back, I realized that they had "Turkey Deal #3".  If you buy a Hormel spiral cut ham, which was about $2.50/pound, which is way less than we pay for deli ham, plus I get a bone for soup . . you got a free turkey!
Friday morning, I had no turkeys in my freezer.  Friday afternoon, I had three!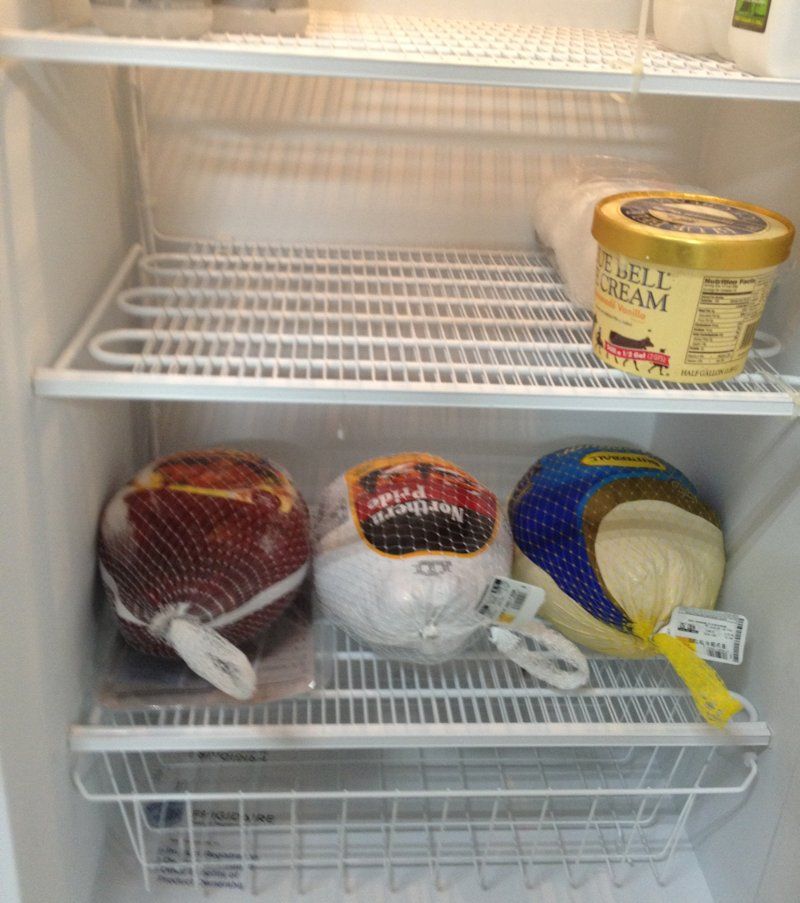 Thank goodness for an empty new freezer.  Oh … Kroger has Blue Bell ice cream for $3.99.  Apple pie and ice cream is on my menu one night next week.
There's a turkey in my fridge thawing.  I'm hoping it will be thawed by Monday so I can give it the rub down with coarse Kosher salt, fresh rosemary and black pepper and let it sit til Thursday morning.  Once it gets thawed and rubbed, it will go into the cooler so I can have space in the fridge to cook several Thanksgiving dishes ahead and keep those in the fridge.  My kitchen is going to be a busy place from about Monday til Thursday.