I'm still using the Digital Velocity iron that a very nice blog reader sent me when mine went out.  I had no idea there were two sizes and she had both and sent me both.  After trying them, I like the smaller one a whole lot better than the bigger one, which was what I had.  I'm still using the smaller one at my big ironing table where I iron yardage and borders and rows — bigger stuff.
When we were at the retreat in February, a retreater, Pam, had a Rowenta that I loved.  It seems that I always love the Rowentas everyone else has but when I get the exact same iron, I don't so much like it.  When my iron went out in March or April, and before I knew the blog reader was sending me her Digital velocity irons, I contacted Pam and got all the info about her Rowenta and ordered one.
I had never opened it til yesterday when I set up the little ironing table next to my sewing machine.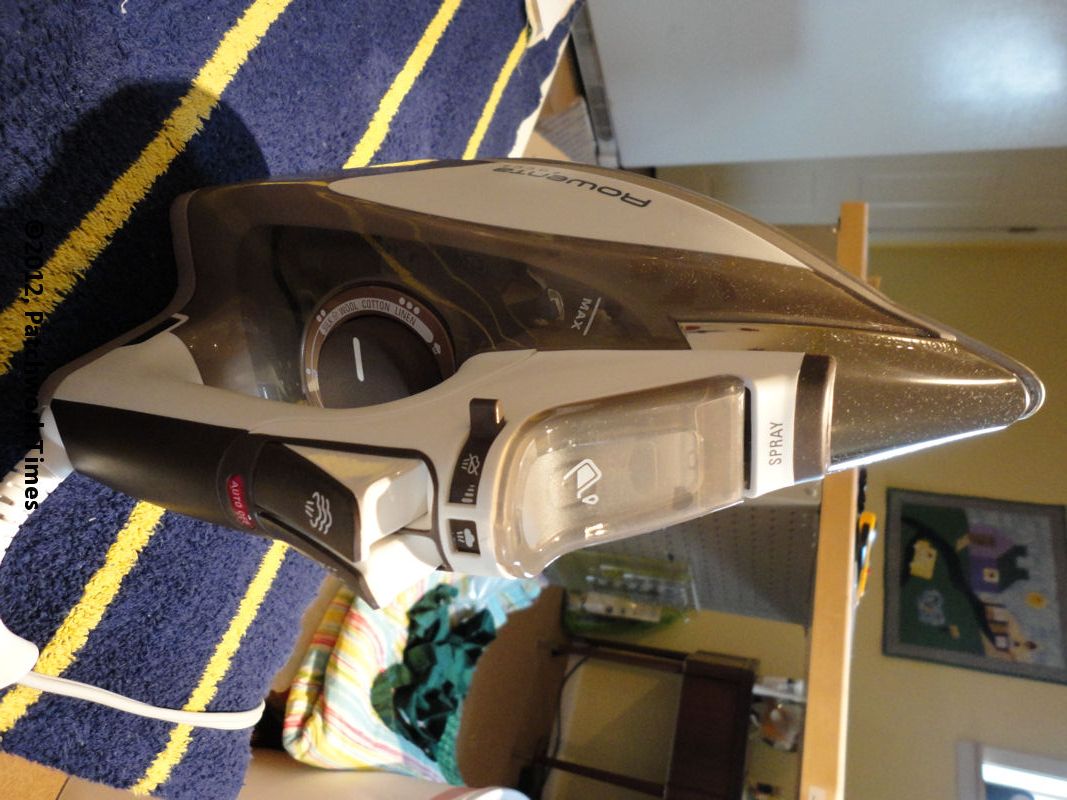 It's a little on the large side and a bit heavier than most irons, and I like that.
If you notice, it's much wider at the bottom and much narrower at the top.  I think that's an excellent design — whether we're talking about irons or quilters!  Wouldn't you agree?  🙂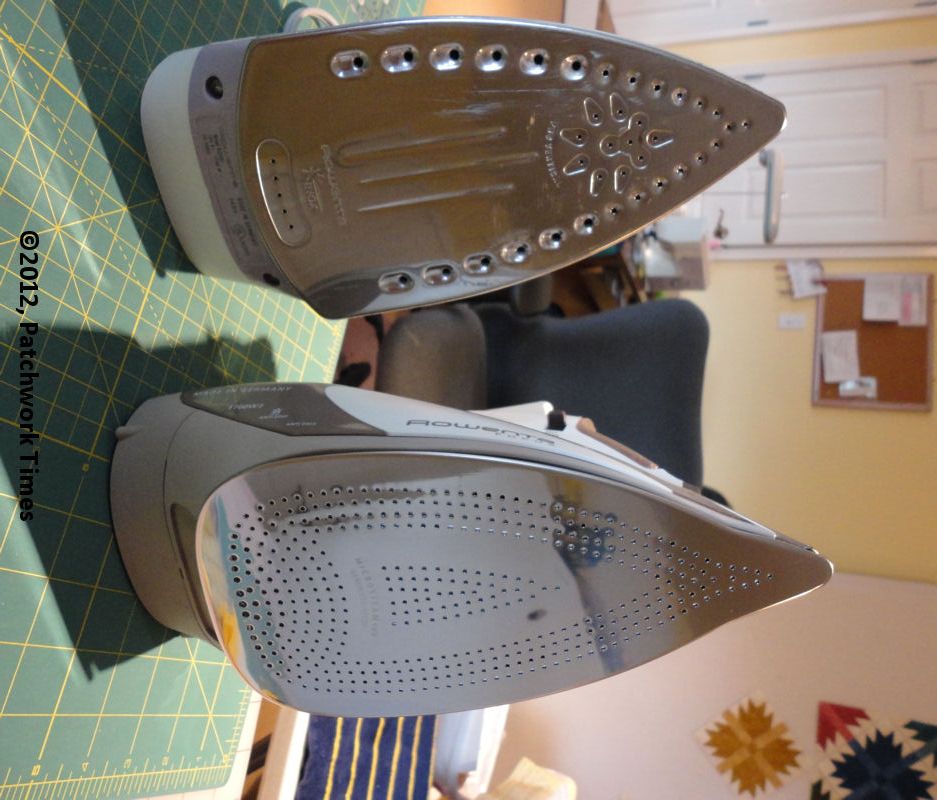 Comparing the two Rowentas that I had handy, you can see the new one (on the right) has a bunch of tiny steam holes, where the one on the left has fewer and bigger steam holes.  I know there's always a debate about whether to use steam or not, to spritz with water or not, to use starch or Best Press or not  . . I love steam and I love Best Press.  This new iron seems to steam quite a lot and I like that.  The brochure said not to use rain water, distilled water, softened water, hard water . . it left me kinda wondering what us folks in central Texas might use.  I was headed out to the well to get plain, straight from the ground water and Vince said no . . use bottled drinking water, so that's what I did.  We'll see how long it lasts.
I'm not recommending anyone buy this iron based on my opinion . . I've used it less than 24 hours and it usually takes at least 2 full days before my Rowentas start leaking so give me a few days before making a decision.  Seriously, I don't even remember how much this iron costs but I'll try to remember to report back on it after about six months of use.  I am pretty hard on an iron because they stay on almost all day every day but dang . . I once upon a time thought that's what they were meant to do!