Vince loves to dig.  I'm so lucky because he never minds planting a tree for me, or tilling up another garden spot.  I'm happy as long as he stays off the trencher because I know that means I'll be without water . . he always cuts a water line as soon as he gets on the trencher.
My main question is . . how many shovels and picks or whatever those things are . . does it take to dig a hole?  I guess one could ask how many sewing machines it takes to make a quilt so I should probably just forget my question.
There's an RV hookup in this area and we had been using that water  for watering the garden but it isn't a freeze proof connection and there's no turn off valve.  If something happens to that line, we have to turn off all the water.  Our house was built to be a deer camp and putting an engineer (Vince) in a house that was built kinda haphazardly almost guarantees that Vince has a project.
So, he's digging up this line, digging to where it can be deep enough to put the drain below the freeze lines, which is only 12″ here, and then he'll re-install the RV water connection and put a couple of water hose connections.  We're going to add a second well as soon as we can get a witcher and driller out here to see where we need to put it.  That second well will be mainly for the garden, will work off a solar powered pump and will also have a hand pump.  Witchers and drillers are in pretty high demand around here and it takes a while to get them out.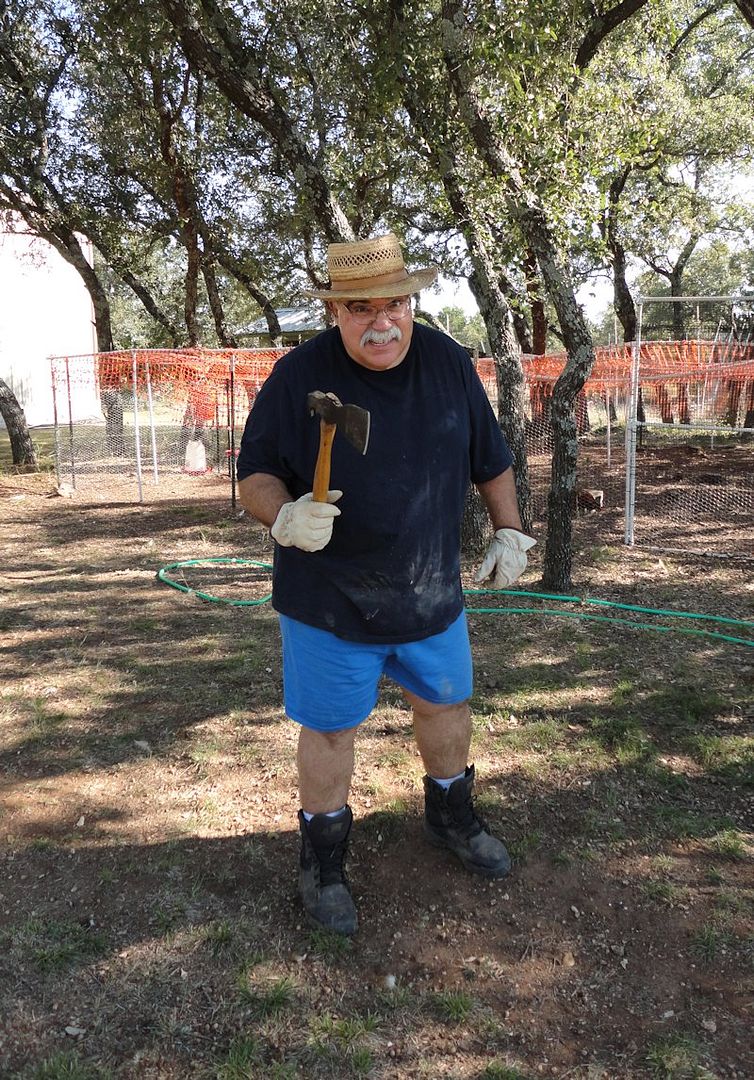 Then he saw me over taking pictures of his handiwork and he came at me with the ax!  Not really.  He went to get an ax because there were some roots in the way of his digging.
And . . what about those blue shorts?  In order to get the best possible markdown rock bottom bargain price, you sometimes have to buy what no other human would be caught wearing.  I think electric blue shorts may fall into that category.  Some days I'm just not sure about that man of mine!  🙂