Just thinking about this recipe, it doesn't sound so good but if you've ever trusted me . . well, don't admit it but you should trust me on this one.   I think it was a pretty easy recipe and considering how much soup it made, it might be fairly inexpensive.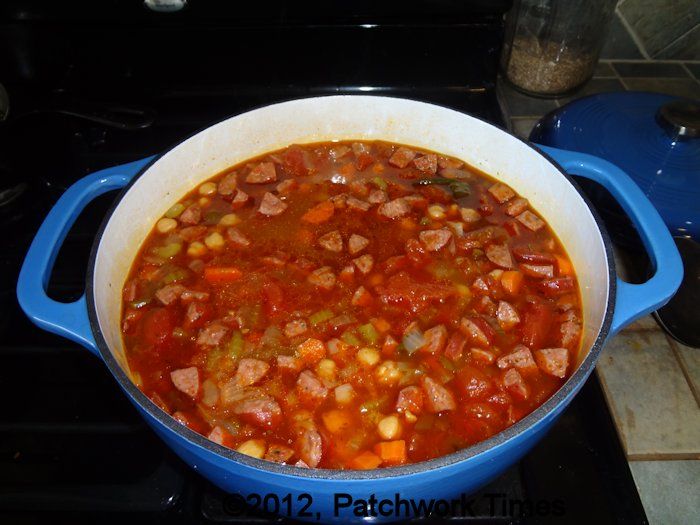 My recipe is an adaptation of this recipe.
Before I start the recipe, the original recipe called for one 6 oz. can of tomato paste.  I think that much tomato paste gives most dishes a bitter taste so I buy tomato paste in a tube.  It's one of the few things I will spend extra money on for convenience but I love being able to use a squirt of tomato paste and not throw out half a can of it.
Ingredients:
2 – 15 oz. cans garbanza beans, drained and rinsed
1 lb. carrots, peeled and sliced
4 ribs celery, thinly sliced
2 medium onions, chopped
1 medium bell pepper, chopped
Canned tomatoes (I used 2 quarts home canned — I guess that's about 3 – 14 or 15 oz. cans of tomatoes)
2 cans beef broth
1 lb. Polish sausage, cut into cubes
2 T. tomato paste
1 tsp. dried thyme
2 tsp. Mural of Flavor (Penzey's)
1/2 tsp. salt (I didn't add salt because there's salt in my canned tomatoes)
1/2 tsp. black pepper
6 fresh basil leaves
1 – 8 oz. container of hummus (optional – I don't always use it and can hardly tell any difference when I use it vs. not use it.)
Directions:
1.  The sausage I used wasn't greasy at all and I ended up having to add a bit of oil.  Brown the sausage.  If there's any oil, drain off all but a couple of tablespoons.
2.  Add the onions, celery and bell pepper and saute.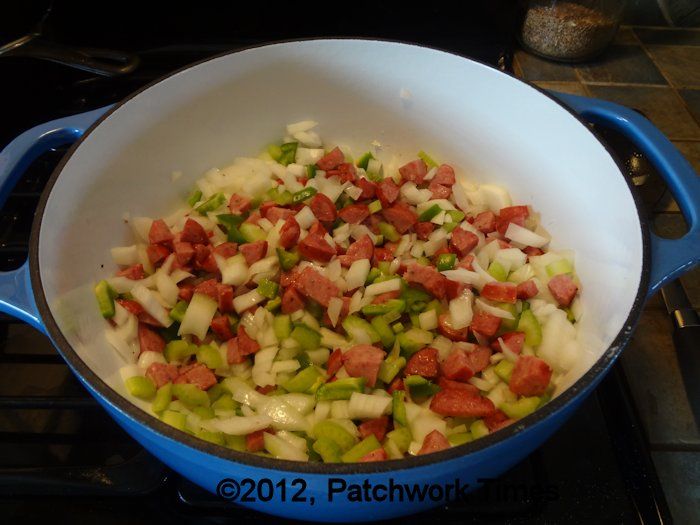 3.  Add the carrots and cook for a couple of minutes..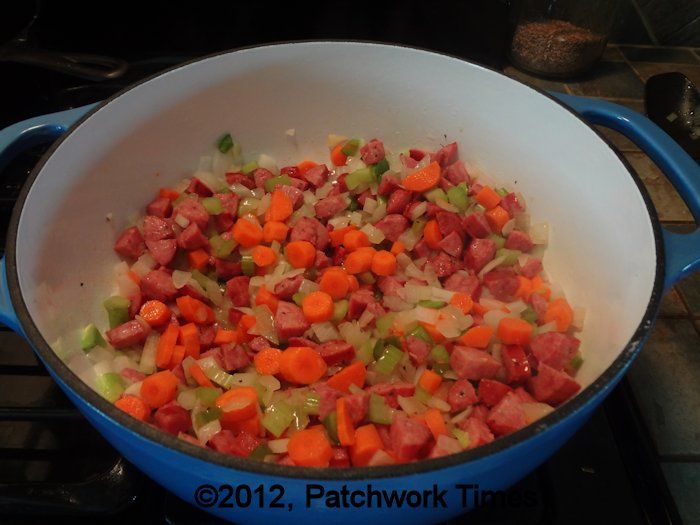 4.  Add the beans, tomatoes, broth and spices.  Stir in the tomato paste.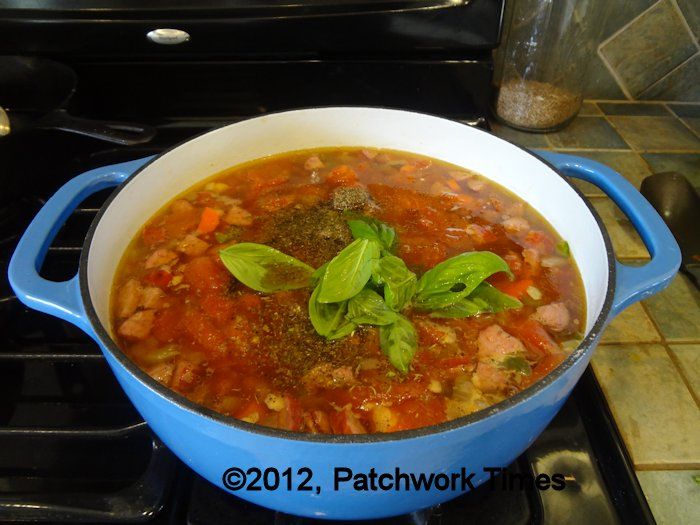 5.  Put the lid on, turn the fire down low and go sew for a few hours.
We had grilled cheese sandwiches with our soup and it was a fantastic meal.  We had plenty of soup with dinner and there was still 3 quarts left over for other meals or for freezing.