There are advantages to letting chickens free range.  They eat mostly bugs and you know there's no shortage of bugs around here!  They're getting a good organic diet. We put feed out for them but they don't eat a whole lot of it.  We give them calcium to make stronger egg shells and they love it, including the roosters.  They're happy . . they entertain themselves all day chasing bugs, eating my flowers, following me around, peeping in my windows, knocking on my sewing room door . . not a care in the world do those chickens have.
The disadvantage is . . chicken poop . . everywhere!  My free range chickens are about to find themselves locked back in the chicken jail.
See the telltale chicken scratch marks in my little pile of dirt?  If that's not enough to tell me they've been playing in the dirt pile, they've scratched and scattered it and there's some of the evidence up on the porch.  That's not all the evidence that's on the porch.  I see several little piles of . . what goes into a chicken comes out . . Helen told me!  🙂
And then I'm in the kitchen cooking and I look out the window.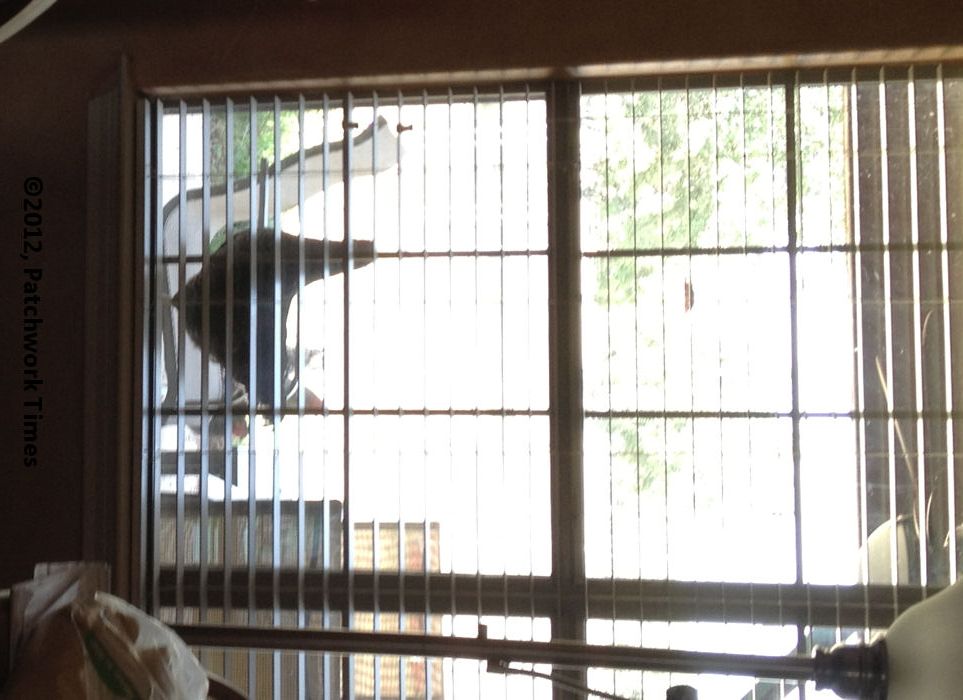 There's the peeping chicken again.  Thank goodness we didn't let all 20+ chickens run loose . . we'd have quite a mess around here, not to mention no privacy since they love sneaking around and looking in the windows to see what we're doing!