The grasshoppers are about to get the best of me! Labor Day weekend and a bit before and a bit after, we planted our Fall garden.  No matter how many years I plant a garden, I'm always as excited as ever to see those seeds sprout.  This past week a friend was over on Tuesday and we were talking about all the plants and which ones were what and how nice they all looked.
Every morning and every evening I water the new seedlings.  Thursday evening I went out to water and lo and behold . . there were no sprouts.  Nothing green!  Only fat, happy grasshoppers!  I'm telling you . . it was all I could do not to cry. I couldn't find a green stem . . no residue of anything alive.  I truly couldn't believe it.  I didn't even mention it to Vince because I so badly wanted it not to be true. Friday morning, I got up and went out there half expecting to find that I'd had a nightmare and all the little green sprouts were really all still there . . but they were not . . nothing was there but a whole lot of grasshoppers.
There seems to be absolutely nothing we can do to control them.  I've tried every remedy I could find, spraying them with cooking oil/soap/water mixture.  Spraying them with ammonia/water mixture.  I've tried the tobacco tea spray.  There are just so many of them.  When we walk into the house, we have to stop and brush grasshoppers off our clothes if we've been out in the yard. Eight chickens running around, catching grasshoppers and the only thing I can tell you for sure is . . there's chicken poop on my porch!  I don't see any less grasshoppers than before the chickens were running loose.  I'm totally at my wit's end with these grasshoppers.
While out replanting on Sunday, I saw two snakes in the garden and 10 million grasshoppers and was constantly keeping watch on these things that look like green honey bees that have already stung me twice.  It was only when I read the back of the cabbage packet and it said "Plant after the daytime temps drop below 75º" that I could no longer hold back the tears and sat down in my chair and had myself a good cry.  I don't think there's a time ever when our daytime temps stay below 75º.  I'm beginning to believe that if we're going to live in central Texas, I should give up gardening and learn to like TV.  That seems much safer for me.  I don't think I can survive without a garden to tend and fresh veggies to harvest.
Our solution . . plastic sheeting.  Surely these grasshoppers are going to leave soon.  For now, I hope my little seedlings will be safe.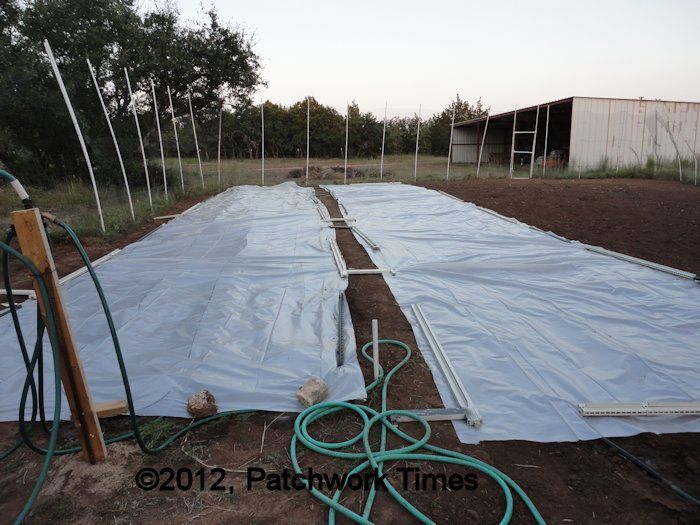 I had extra beet, spinach and lettuce seeds.  I was able to buy carrot, mustard and chard seeds locally.  That's all planted.  I ordered kale seeds and hope they will arrive soon.
I've tried my best to be as organic as possible with the garden and fruit trees but we're at the point where if we can't control the grasshoppers, we'll have nothing — no fruit trees, no vegetable garden, no blueberries, no grapes.  We're going to lose everything to them.  A friend recommended Bayer Fruit, Citrus and Vegetable insect control.  It's a once a year systemic type treatment and I had hoped not to have to use chemicals but . . I'm throwing in the towel.  As soon as the new seedlings are sprouted, we'll pull back the plastic, use the chemicals, put the plastic back for a couple of days til the chemicals do their thing, and then we'll hope for the best.
As I was coming into the sewing room to write this post, I looked out the window . . the window with the holes in the screens where the grasshoppers have eaten, and I saw this sitting on top of a pipe.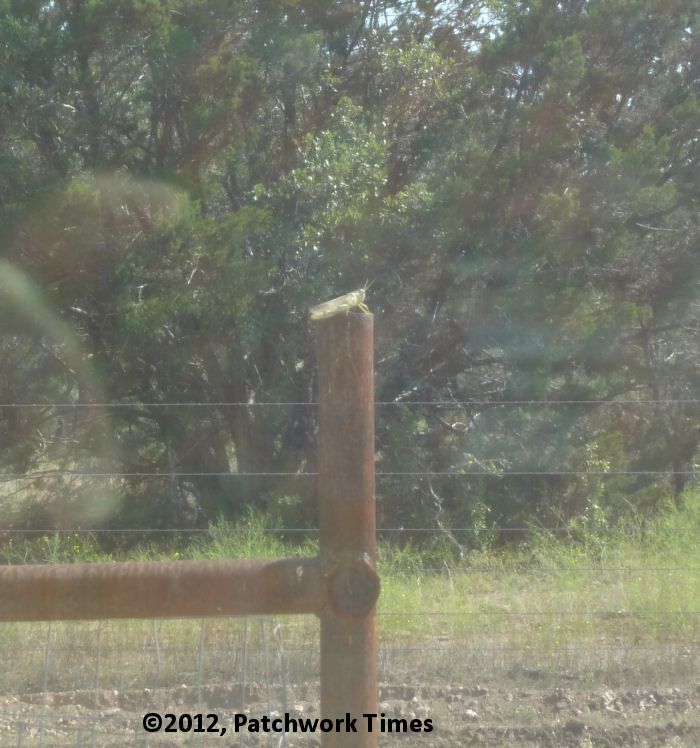 That's a pretty thick pipe and a huge grasshopper.  He's probably stuffed from eating my seedlings!  To say I am totally SICK of grasshoppers would be an extreme understatement.  To say I'm pretty tired of all the critters around here — snakes, scorpions, spiders, moths . . Bloom where you're planted, Judy!  That's what I keep telling myself.