Over the weekend Vince and I were talking about Roscoe and Hattie and thinking maybe there had been a little lover's quarrel.  She had not escaped from the run for 3 or 4 days.  I know some of you think I'm nuts but it's so funny to watch them.  In the mornings as soon as Roscoe sees me coming, he flies down out of his tree.  He runs to the corner right by where the hens come out of the coop and he waits.  I open the door to the run and he stands there watching all 13 hens file out of the coop.  There are 7 red ones that look to me almost exactly alike.  Roscoe knows which one is Hattie.  He waits, on his big rock (trying to look taller and more masculine), until she comes parading by and then he follows her all over . . him on the outside of the fence and Hattie on the inside of the fence.  Like most women, she quickly loses interest and goes off to chase bugs.  Wouldn't my days be wonderful if I lived to catch grasshoppers?  I'd surely be fat and happy!  Oh . . wait . . I am fat and happy!  🙂
So, Miss Hattie had been minding her manners and staying inside the run . . til Sunday.  I was out replanting my seeds and look who came strutting into the garden to see what I was doing.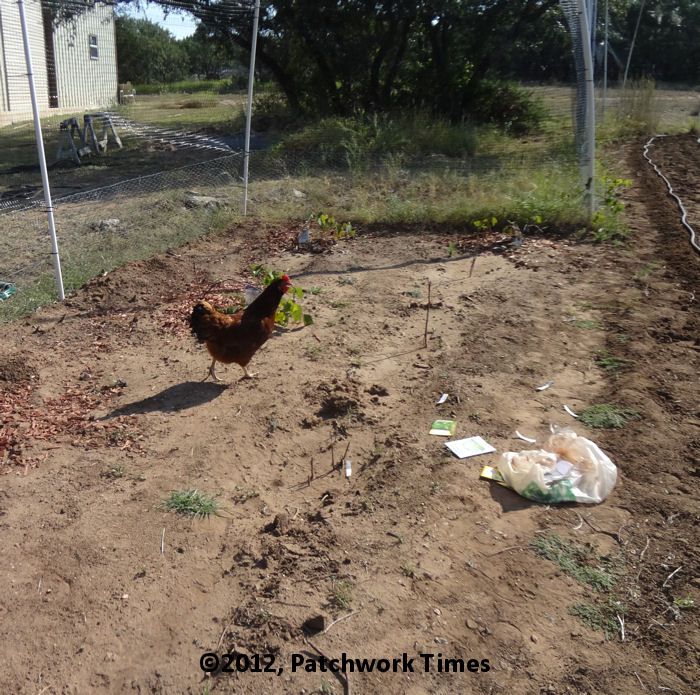 We discussed the sorry state of affairs . . the grasshoppers eating my sprouts.  She gobbled down a few of the scoundrels.  Then Roscoe came in to visit but he had other things on his mind . . if you get my drift!  She was not interested but then they both realized I was planting crunchy little morsels in my rows and they began following along behind me eating my beet seeds.  Maybe I should give up on a garden!
I had to chase them out of the garden and close the gate just to get finished planting.
They had a few good hours together before I put her back in the run and so far, she has not escaped again but I know it's just a matter of time.  She's definitely a free spirit.