Getting a "box of fun" in the mail just makes my day.  Thanks Loopy Ewe!  As if the return label saying "The Loopy Ewe" wasn't enough incriminating evidence that I've ordered more yarn, that big "Box of Fun" sticker is an attention getter for sure.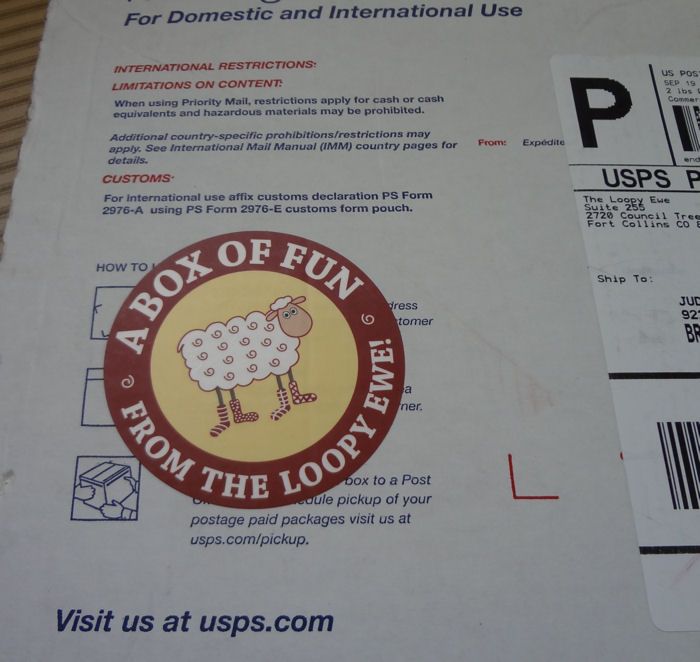 I love yarn and even though I don't need any more (but really . . what's need got to do with anything?),  the only way to get free shipping is to spend $75.  So . . tell me . . would you pay $5 shipping if you needed one skein of yarn or would you spend $75 on yarn . . usable, gorgeous, soft, colorful yarn . . and get the shipping free?  That's what I thought!  That's exactly what I do.
The dreamy yarn on the right is my free gift for completing Camp Loopy.  Told you it was worth it!  It's Smooshy with cashmere from Dream in Color. It's 70% wool, 20% cashmere and 10% nylon.  That's a lot of cashmere!  My feet will be so happy . . some day when I get these socks made.  That skein was free but I had to spend $75 in order to get it shipped to me free.  Sounds like those folks at The Loopy Ewe are pretty smart!  🙂
The other yarns are some I've never used.  Left to right in the picture:
Studio June Yarn – Super Cash Sock – 70% superwash merino, 10% cashmere, 10% nylon.  435 yards.  Color:  Cocoa Dusted Truffle.
Sweet Georgia – Tough Love Sock – 80% superwash wool, 20% nylon.  425 yards.  Color:  Bison.  This looks like something good for socks for Chad, Vince or Dad.
Lorna's Laces – Solemate – 55% superwash merino wool, 15% nylon, 30% outlast.  These are supposed to keep your feet cool or warm.  425 yards.  Color – Grand Street Ink.  I have other colors of this yarn but have never used it.
This might be the last of the yarn I order for the rest of the year . . unless they get some really good stuff in or . . unless I succumb to some Black Friday sale!