We've always had an oak tree at every home we've ever had.  I now remember that I've seen little balls on the underneath side of the leaves occasionally but just a few here and there.  True to form, everything is bigger and more prolific in Texas.  We have quite a few oaks here but only a couple are covered in the little balls on the underneath side of the leaves.  I had no idea what they were.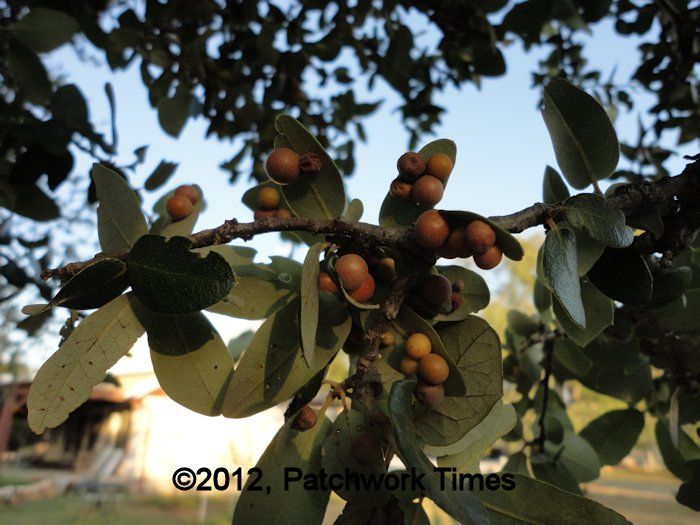 If you enlarge the picture, you'll see that some of the leaves have no little balls but they have holes in the leaves.  I've stood out there for quite a bit of time and rubbed the little balls off the leaves.  I've researched and googled everything I could think of and have finally determined that they're galls. When I rubbed the little balls off the leaves, the chickens pecked at them but would not eat them.  That was weird.  If we crush the little balls, we really don't find anything in there.
This is a very interesting article about how they're formed.
They say these will get really red as we get into fall and they're sometimes called oak apples.  They also say the wasps that hatch out do not sting but what I say is . . we just don't need any more bugs around here . . no stinging bugs, no non-stinging bugs, no nice bugs, no bad bugs . . we have enough . . no more bugs, please!
While I was out taking pictures, I came across what looks to be a perfect acorn!
I think if there's a prize for a perfect acorn, this one should win.  Isn't it just so pretty?  Yes, I believe I've found a perfect acorn.
But, look at all the acorns that are no longer perfect!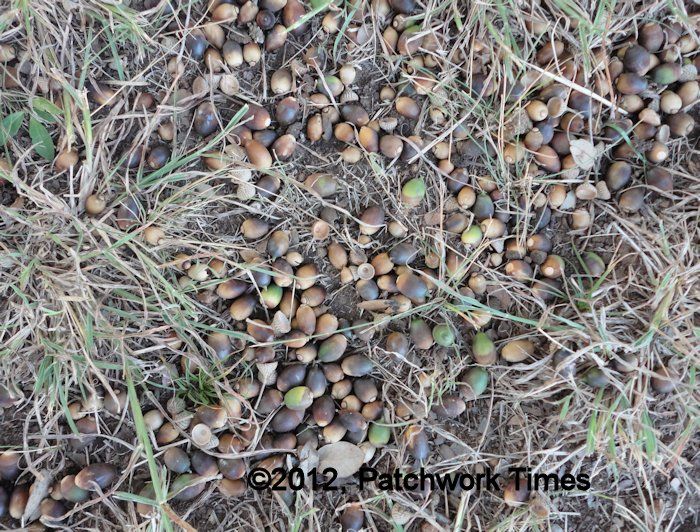 Our ground is totally covered in acorns.  When walking outside, it's crunch, crunch, squish, squish!  (You know what the squishy stuff is, right?  Remember what Helen said . . what goes in a chicken comes out the other end — kind of juicy!)
How did this blog post go from gall wasps, to acorns to chicken poop?