Instead of a "Peeping Tom", we have a "Peeping Dom" . . Dominique chickens!  Six of them to be exact!
Someone . . maybe several someones, convinced me to let some of the chickens out to help with getting rid of the grasshoppers.  Those six chickens eat a million grasshoppers a day but they haven't made a dent in the grasshopper population.  What they have done is covered my entire yard in chicken poop and now they've decided that the front porch is an excellent place to relax and enjoy their days . . and you know what chickens do non-stop!  If you forgot, you might want to read Helen's little educational comment about chickens.  She was definitely right about what goes in . . well, let's not get too graphic here but let's say that I'm pretty tired of scrubbing my front porch and I'm tired of chasing them off the porch.
But worse . . they've resorted to walking around the house, hopping on the window ledges, looking in the windows til they find us.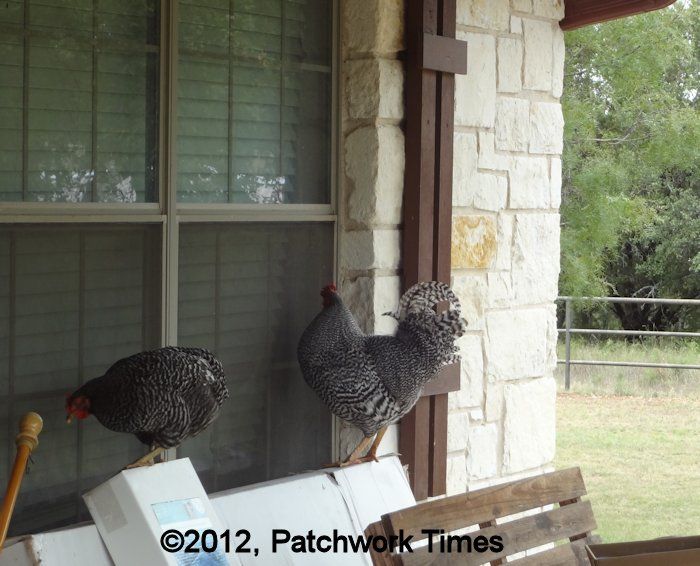 Sunday I decided to take a nap.  I had just gone to sleep when I heard a noise at the bedroom window.  I kept trying to figure out what it was and then finally I opened my eyes.  The blinds were open and there were three chickens on the window ledge looking in at me.
OK .. no one is in this room.  Let's go check out another room but . . how do we get down from the top of this box?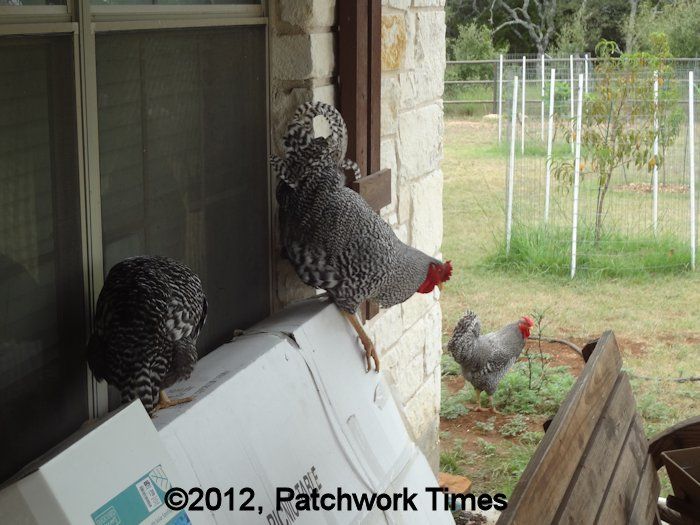 The rooster decided to slide down the box.  See the other rooster in the background?  He loves eating the purple blossoms on my plants.  I think their days of free ranging are about to end.  In the summer it's ok to wear flip flops and leave them at the door but in the winter, it's not going to be so easy to leave shoes outside the door and there's no way shoes can be worn inside the house . . not with all the chicken you know what in my yard.  Gross!
They're so used to being able to roam around the whole area, I don't know what will happen if we keep them penned up.  Maybe it's time for chicken & dumplings, or gumbo!