If I wasn't so embarrassed, I would have taken a "before" picture but I just couldn't bring myself to do it.  I have excuses as to why my room was so horrible.  First . . I'm a slob!  Second . . it doesn't really matter.  All that matters is I'm a slob and a pack rat!
Yesterday morning I walked into the sewing room and said "This is no longer a fun place to be!" so I started cleaning.  Only the back half is clean . . the front half is cleaner than it was, but still needs work.
And to some of you really clean folks, you're probably thinking this is not clean but for me, this is immaculate!
When we built the sewing room, because it was built into an existing building, I could not put in floor plugs without chipping out some of the foundation and I didn't want to do that.  I also didn't want plugs hanging down from the ceiling so I tried to arrange things so that everything that had to be plugged in would be along the walls.  It just didn't work out like that though.  Yesterday I gave up and moved the cutting table to the right and moved the table with the laptop and the Singer 301 to the middle . . kinda switched those two around.  I do most of my sewing on the 301 so now it's halfway between the ironing board and the cutting table.  I'll get something to put over those cords . . maybe!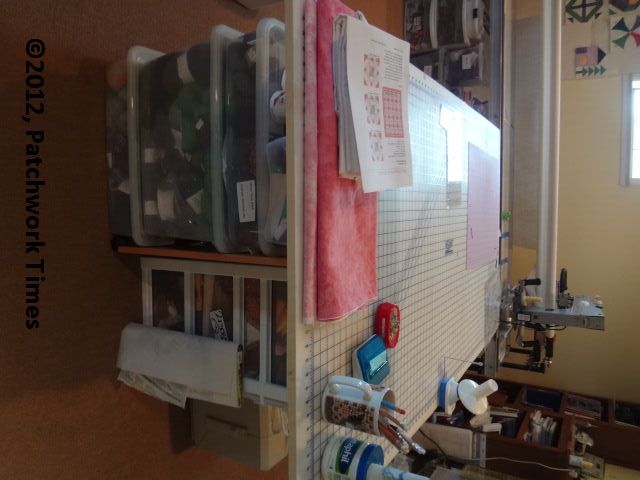 There was barely room on top of the cutting table for me to trim up some 2″ half square triangles so you can imagine the clutter that was on there!  Gone!  Clean!  I can now measure and cut without things falling off or cutting something that wasn't supposed to be cut.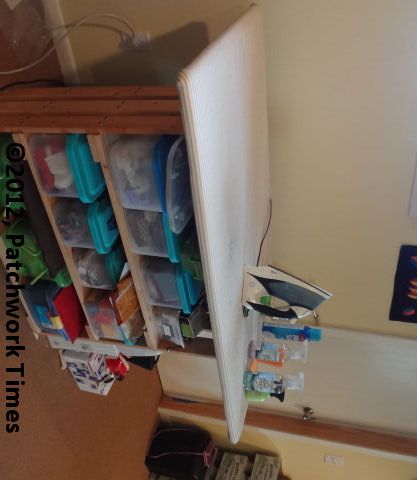 The ironing table is clean!  Just like the cutting table, I had barely enough room on one corner to press the border on a big quilt.  Why do I let things get that bad?  Oh . . yes . . because I'm a slob . . and a pack rat!
Room on the sewing table to sew!  Nothing is piled on top of the extension table!  Nothing is on top of the  laptop!  The laptop is there so that if I'm working on a quilt that is in EQ, I can look at the components and not have to print everything but I generally print everything anyway so I may put the laptop away and give myself more room on the table . . for what though?  More clutter?  I'll have to think about that.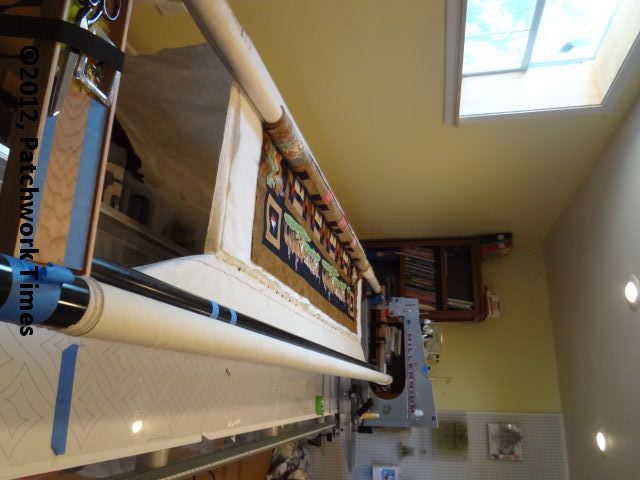 The Texas top is loaded but no quilting has been done.  Maybe I'll sew a while and then quilt for a few minutes, then sew for a while.  I'm really pretty excited to be sewing with a clean cutting table, a clean sewing table and a clean ironing table.  I'd like to think I could keep it clean but I know I won't.