Who would have thought there would be so many shades of pink and that so many of them would not play nicely together!  Either my pink stash is severely lacking or there's a box (or two) of pink fabric hiding somewhere around here.  I struggled to come up with these choices.
The center "pair" is actually my favorite but I am 1″ short on the light pink fabric.  I calculated and re-calculated and no matter how I figure it, I'm 1″ short and it just will not work.
I like the pinks on the left but they're more raspberry pink.  In real life, they don't looks as purple-ish lavender as they do in this picture  . . on my computer screen anyway.
So, that leaves the pair on the right. Compared to the fabric on the left, the fabric on the right is more rose colored than I would have chosen but when the other fabrics are removed, it's a pretty pink.  I was a bit concerned that the light might be too light to show up against the background but I decided that I would use some of my beloved Itty Bitty Polka Ditty by Lakehouse Fabrics.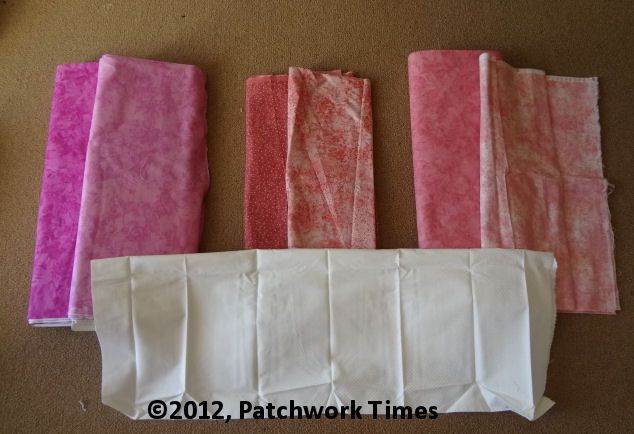 I think it will work just fine . . the two fabrics on the right, along with the bright white.  But, I sure do like that pink combo on the left too!  Can't start on it til I finish piecing a top and get another top quilted  . . which I'm so hoping to have done by Wednesday night so I can start the pink quilt on Thursday morning.