There was enough yarn left over that I didn't need to worry about running out but sometimes halfway through a sock, it's kinda hard to know.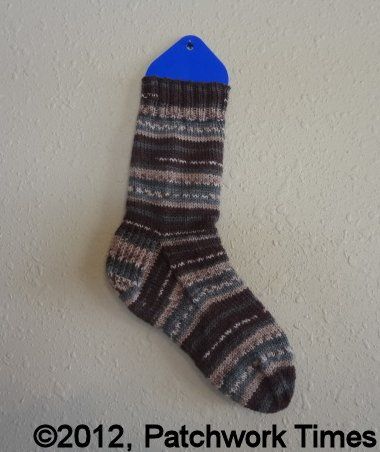 I feel a bit inadequate to give knitting advice but I'm pretty good at knitting socks.  It's been almost exactly 6 years since I knitted my first pair and I wish I'd kept track of how many pairs I've knitted during this time.  You can read about my beginning sock knitting here.
There are many ways to make socks.  As far as construction techniques, there's "toe up" or "cuff down".  Hopefully this will not insult your intelligence but  .. toe up is where you cast on and start with the toe, work the foot first and then the heel and then the leg.  Cuff down is where you start with the cuff, work the leg, then the heel and then the toe.
The advantage to the "toe up" method is that you get the foot done, which obviously HAS to be the right size, and then you work the leg.  If you have only enough yarn to make a 2″ leg, then you make a 2″ leg.  If you have enough to make a 7″ leg, and that's what you want, then you make a 7″ leg.  There's a whole lot of wiggle room with the length of the leg but you can see that making a 2″ foot would not be a very useful sock.
Here's why I make all my socks cuff down.
It's the method I prefer.  I get something in my head and it's really hard to clear it out but starting with the toe seems so backwards to me and the few times I've done it, I felt like I was breaking the rules and once I finished that sock, I was so happy to be done with it.  It just wasn't comfortable for me.
I'm as picky about the leg length as I am about the foot length.  A short sock drives me nuts and I know I won't wear anything with a leg shorter than 6″, though I mostly make 7 or 8″ lengths for the legs.
If I'm going to run out of yarn, I don't mind using a similar weight and content yarn to finish off the toe or a few inches behind the toe in a different yarn.  Any time anyone sees my socks, that part is mostly inside my shoe anyway.
I have never run out of yarn.  (You know what will happen now that I've said that).  There are several yarns that I use over and over to make socks and I always have plenty of yarn left over . . often as much as 1/4 of a skein, so running out of yarn is rarely an issue for me.
Another topic that came up while making Chad's socks, because I so rarely make men's socks and because this was a thicker yarn, was the size needle and the amount of stitches to cast one.  One reader wrote that she always casts on the same number of stitches whether making socks for herself or her husband.  I don't do it that way.  The pattern that I always use for my basic socks is the same pattern Susan sent me six years ago.  It's Pattern #29, Classic Socks for the family by Yankee Knitter Designs.  It includes instructions for fingering, sport and worsted weight yarns, as well as sizes for child's small, child's medium, women and men.  I can't imagine that there's a better cuff down pattern out there for plain socks.
If you've ever looked at sock yarn, you know that most of it is quite fine and is called fingering weight yarn.  Even some of it is lighter than others.  There are thinner yarns, such as Wollmeise, Lorna's Laces Shepherd Sock, Tosh Sock, etc. require a few more stitches to be cast on than do the thicker yarns such as Bugga or String Theory Caper.  All of those mentioned are yarns that I use a lot!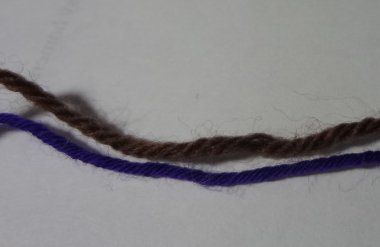 Can you see the difference in the width of the yarns?  The purple is Wollmeise and the brown is the yarn I used for Chad's sock.
When looking at yarns, most will give the number of yards, as well as the weight of the skein and a suggested gauge which is how many stitches per inch you should get using a certain size needle.
Wollmeise, for example, is 574 yards and weighs 5.31 oz.  Info also given is that using a 2.0 – 2.75 mm needle, you should get 8 – 9 stitches per inch.
String Theory Caper yarn is 400 yards and weighs 4 oz. and you should get 7 stitches per inch on a 2.75 mm needle.
In theory, if I cast on 60 stitches using a 2.75 needle, with the Wollmeise yarn, I would get 7.5″ while I would get about 8.5″ and this extra inch can make a big difference when stretching around a thicker or thinner leg.  Since most yarn is white stretchy, especially with the ribbing, it may never make a huge difference but sometimes . . it could.
My suggestion is to pay attention to the information provided with the yarn, which is usually also provided on the website if you're ordering.