Back in the spring, I was still getting food from the co-op.  I stopped when the garden began producing but I had gotten some sweet potatoes.  Everything from the co-op was organic.  Some of the sweet potatoes sprouted so I cut them up and planted the slips. It was towards the end of April or the first of May and the garden was already full so I had to stick them here and there.   I put four slips in one section, two in another spot and two in front of the second gate that we never used but I had not planted in front of the gate.
About a month ago when Vince tilled up the peas, I told him it was ok to go ahead and pull up the sweet potato vines because they hadn't made any potatoes.  There were tons of vines!  The vines from the remaining four slips had entangled themselves with the watermelon vines and it was a huge mess in that corner of the garden.  Yesterday I took the shovel and chopped all the vines and we hauled them out.  I decided to dig to make sure there were no sweet potatoes.  Oh, my!  There were so many sweet potatoes!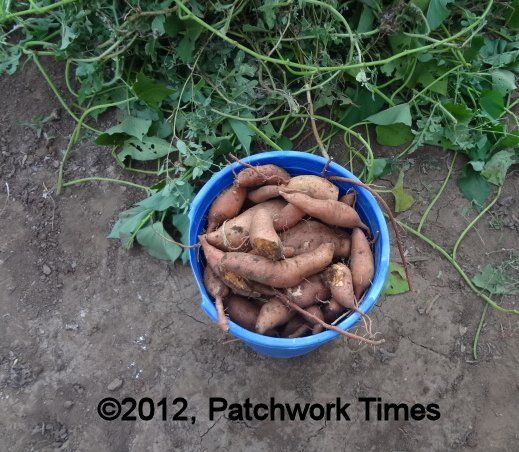 We filled a five gallon bucket and thought we were done.  When Vince began tilling in that area, he kept running over more potatoes so he stopped and dug more and dug up about another five gallon bucket of sweet potatoes.
Vince, who has never had much farm life, couldn't get over the color of them, and how much different they looked from store bought sweet potatoes.  For dinner, I baked a big one and we split it.  He kept saying it was the best sweet potato he's ever had.  He's so easily pleased!  🙂
I was pretty excited to get that many sweet potatoes from "free" discards, and especially when I thought I wasn't going to get anything from those slips.  I see a sweet potato pie in my immediate future.  🙂