Grab your Kleenex . . this is a sob story if I've ever heard one!  Here's what's on my needles at the moment.
At first glance, it probably looks like I've made a lot of progress since the picture last week . .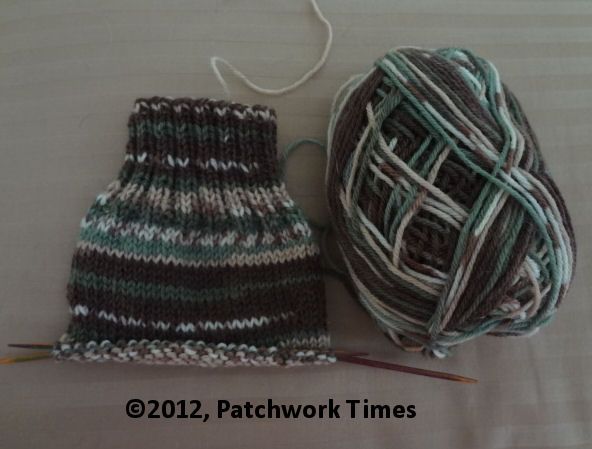 The yarn is Kroy Socks Jacquards by Patons.  This is an inexpensive yarn that I love.  I love wearing it . . it wears so well.  It is 75% washable wool and 25% nylon.  It's a bit thicker than most of the yarns I use, which is good because it knits up more quickly but . . that's where I ran into a problem.  Since it's a bit thicker yarn, I used a bit larger needle.  I originally cast on 60 stitches, which is what I do with thinner yarn and smaller needles.  I got down to the heel and realized that not only were the socks probably too large for Chad but there was a chance I would run out of yarn.  I ripped the whole darned thing out.  Are you crying yet?
I did a bit of research and decided I should cast on 48 stitches.  I did that and got down to the heel and decided they were going to be too small.  Are you boo-hooing like a baby now?  At this point, I seriously thought about just finishing them and having myself a pair of camo socks.  But then I looked online and wasn't sure I could still get this yarn in this color so again, I ripped it all out and started over.  Stop crying!  People are looking at you funny!  🙂
Then I researched some more, and maybe I said a bad word . . but maybe I just thought it and didn't really say it . . and that's a whole lot different from really saying it!
I decided that casting on 56 stitches should work.  And then I said to myself . . Seriously?  What's the difference in 60 stitches and 56 stitches?  You should have just stuck with the 60 stitches and been done!  Yep, that's what I think too.
56 stitches . . come rain or shine, too large or too small . . that's what they're going to be.  Are you kinda wishing I'd forgotten to do "What's on the Needles?" today?  🙂