Sometimes I just look at Vince and wonder what goes through his head.  No doubt, he does the same thing with me.  I suppose all husbands and wives do that to some degree but he just says the weirdest things.
All day he was home.  Most of the day he was in the house . . doing you know what . . it involves a remote control and Netflix.  He was well aware that I was cooking a chicken in the solar oven.  He watched me season it and even asked what all kinds of seasonings I was putting on it.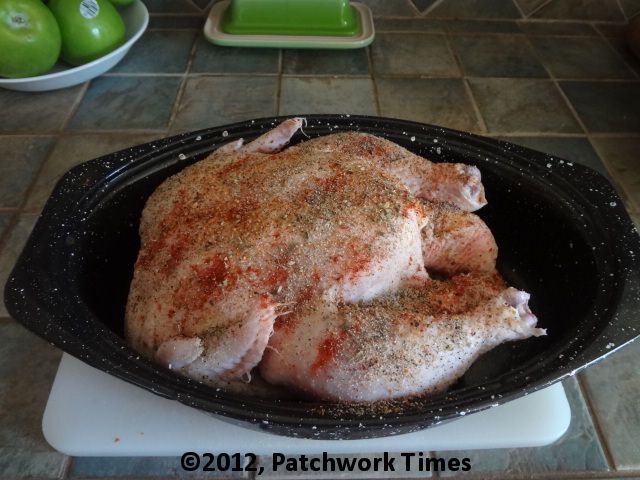 I was sewing and I asked him if he noticed the solar oven shadows off balance, would he please either turn the oven or call me to come and do it.
When I brought the cooked chicken into the house and took the lid off, it was so perfect!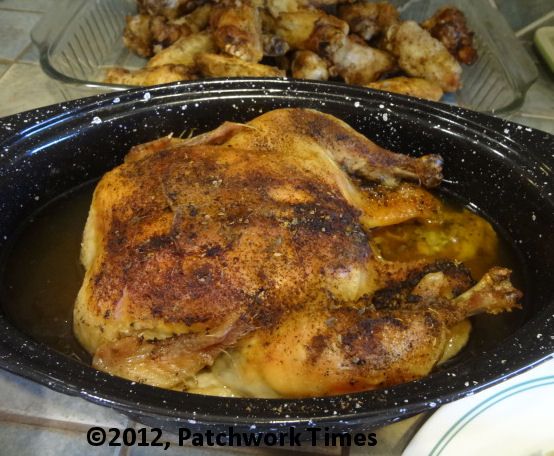 I was heading back outside to get the baked potatoes out of the oven and here's our conversation when passing in the family room:
Me: Go look at how nice the chicken cooked.
He went and looked at it and when I came in . .
Vince: Where did you buy the chicken?
Me: Huh?
Vince: Where did you buy it?
Me: What difference does that make?
Vince: Why did you want me to look at it?
I just wanted him to see how pretty it turned out.  I still don't get how it mattered where I bought it . . Kroger, Wal-Mart or Brookshire's . . that's pretty much where I shop. It was Kroger. I told him it was Kroger and he said "ok". Strange, don't you think?
Vince told me that his baked potato out of the solar oven was probably the best he had ever had!  He had his all fixed up before I sat down and he insisted I take a bite.  They were delicious . . as was our whole dinner tonight.
The potatoes aren't in the picture but it's cream peas (that I grew and canned), roasted chicken from the solar oven and pretzel rolls.
The wings in the background are the beginnings of hot wings . . for the Clemson/Auburn game tonight.  I do believe I'm up for "Good Wife Award" this evening!  🙂