I much prefer fresh eggs to storebought eggs . . eggs from happy, loved, well cared for chickens versus eggs from chickens that are raised under not so great conditions.  My red chickens, which are the "production" chickens, which are my pets, who love to sit in my lap and be petted . . they stay in a pen.  It's about 30′ x 40′ so they're not squeezed into a tiny place.  They have a little grass but not a whole lot.  We give them corn cobs, strawberries, cantaloup, watermelon, most anything we think they might like.  Probably 80% of their food intake comes from the food (chicken food and treats) that we give them.  They definitely get lots of treats and they get lots of love but they aren't really "free range".  According to the USDA, the definition of "free range" is:
FREE RANGE or FREE ROAMING: Producers must demonstrate to the Agency that the poultry has been allowed access to the outside.
There's a whole lot of room for interpretation in that definition.  How long are they allowed "access"?  Is the "outside" a fenced area with concrete or pure dirt and no grass?  How many chickens per square foot?  Just know that when  you're buying eggs from "free range" chickens, those chickens may or may not be treated as we think they should be.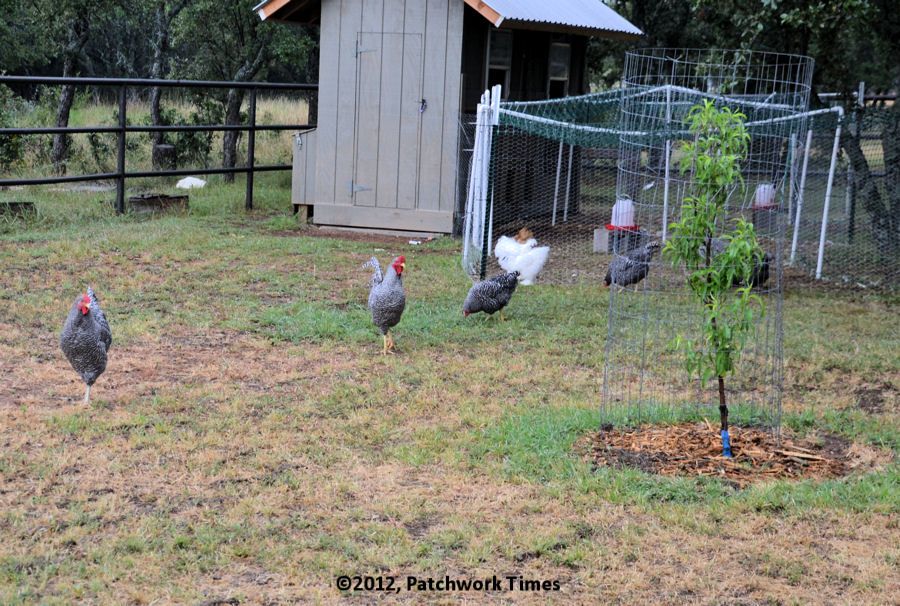 My Dominque chickens are allowed to free range according to my definition of free range.  I let them out each morning . . with the big stick in my hand because I have my daily run in with the bad rooster before I can get away from their door.  I detest that rooster and he seems to feel the same about me but he loves Vince.  Vince comes home and he's the most well behaved little demon you've ever seen!  I'm still fattening him up and then he's going to become stew!
The Dominiques eat lots of bugs.  As soon as I let them out in the morning, they run for the tall grass and they chase grasshoppers and crickets around for a couple of hours, then they go back into their coop and snooze til mid-afternoon and then they come back out and chase bugs again.  They hardly eat any of the feed we give them . . they're stuffed with grass and seeds and bugs.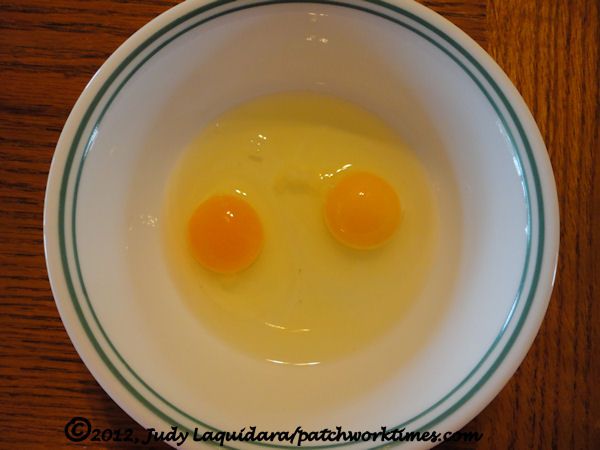 Can you see the difference in the color of these two yolks?  The one on the left is from the bug eating Dominique hens and the one on the right is from the production chickens who mostly eat what we feed them.  We could feed the production chickens things like alfalfa or other greens and that would brighten up their yolks.  As they are now, they're not pale or watery by any means so we probably won't do anything but it's interesting to see the difference.
Speaking of eggs, from my 13 production hens, we've been getting 13 eggs per day for the past 10 days.  Pretty good considering last week was so hot.  They're such good layers.  I have 3 Dominique hens and I get about 9 eggs per week from them.  See why my red hens are called "production" chickens?